We need your help! Join our growing army and click here to subscribe to ad-free Revolver. Or give a one-time or recurring donation during this critical time.
---
A stunning new investigative report from the Washington Post has uncovered another lie by the Biden regime. Despite all the hoopla and gnashing of teeth about Russia, it turns out the Pentagon has been secretly purchasing oil from Vladimir Putin and his cronies, and at inflated prices, to boot.
Lo & Behold — The Pentagon is powered by Russian oil

An investigation by the Washington Post finds the US Department of Defence to be complicit in sanctions evasion, with its supply contracts for jet fuel and naval diesel made from Russian oil https://t.co/ojyn3G1vB1

— Kashish Parpiani (@kparpiani) November 15, 2023
After Western nations announced bans on Russian oil last year in response to the invasion of Ukraine, a Greek refinery that serves the U.S. military moved quickly to adapt. Within months, it told investors it had stopped accepting the forbidden oil and had found other sources instead.

But there was a reason Russian petroleum, on paper at least, could so easily be removed from the supply chain.

Petroleum products that originated in Russia kept flowing to the Motor Oil Hellas refinery on the Aegean Sea in Greece, a Washington Post examination of shipping and trade data found. They just took a new route, hundreds of miles out of the way through an oil storage facility in Turkey, a journey that obscured Russia's imprint as ownership of the products changed hands multiple times before they reached Greece.
The Post successfully traced the fuel's journey, revealing that at some stage, its origin was altered and listed as coming from a different country. Sneaky.
The Post used shipping and other records to track the flow of fuel oil, a category of materials used to make products the Pentagon buys for ships and planes. The Project on Government Oversight, a nonprofit watchdog group based in Washington, surfaced some of those shipping records while preparing a report with information from Data Desk, a consulting firm that investigates fossil fuel companies.

Over the past two years, Dortyol received 5.4 million barrels of fuel oil by sea, all but 1.9 million from Russia, according to shipping records and trade data from Refinitiv, a financial-data firm that specializes in commodities markets. Since the European Union sanctions took effect in February, Russian shipments to Dortyol totaled 2.7 million barrels, or more than 69 percent of the fuel oil shipped by sea to Dortyol during that period.

Also since February, The Post found, Dortyol has shipped 7 million barrels of fuel oil overall, of which 4.2 million barrels went to Motor Oil Hellas. Those shipments accounted for at least 56 percent of all the fuel oil the Greek refinery received by ship.

The precise amount of Russian-origin fuel oil in the products the Pentagon purchases could not be determined. Those products are refined using multiple ingredients that cannot all be tracked through production.

It also could not be determined whether, at some point during its journey, the fuel oil from Russia was relabeled as having come from another country. The documents that describe the provenance of an oil shipment, known as certificates of origin, are not public records.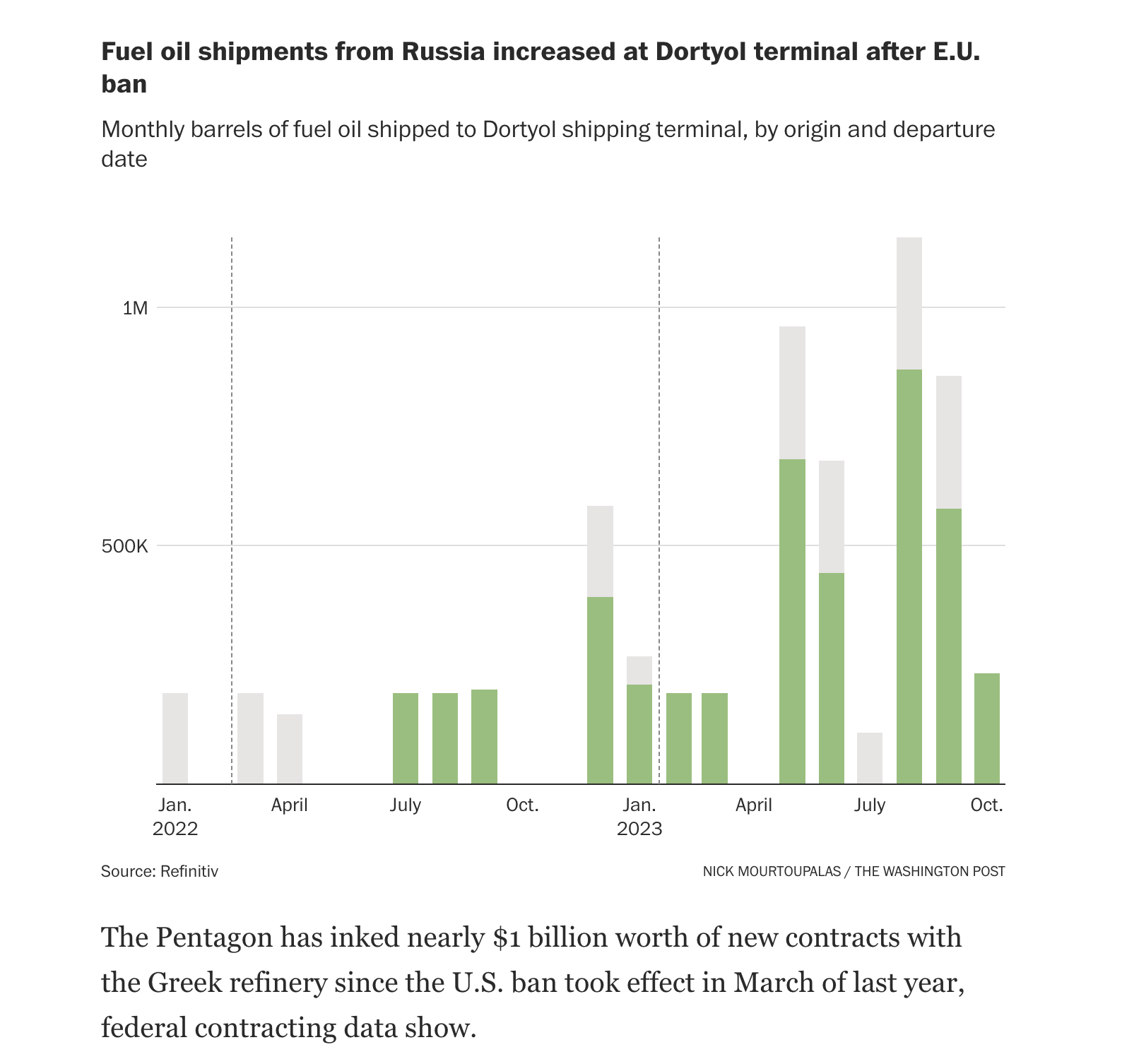 This story underscores the need for a free and impartial media that's not poisoned by politics and hidden agendas. The investigative capabilities of large media corporations are crucial for revealing the truth to the American people. This is probably why the regime has taken over and weaponized our media—to prevent such investigations from happening regularly. This particular story likely slipped through only because various factions on the left want to see Biden removed from the 2024 ticket.
---
SUPPORT REVOLVER — DONATE — SUBSCRIBE — NEWSFEED — GAB — GETTR — TRUTH SOCIAL — TWITTER