We need your help! Join our growing army and click here to subscribe to ad-free Revolver. Or give a one-time or recurring donation during this critical time.
---
Suddenly, according to one radical black left-wing professor, anyone who questions the potential racial element of a murder is merely "having a political agenda to perpetuate." Oh really? That's interesting. Where was this perspective in the wake of the deaths of George Floyd and Michael Brown?
Fittingly, this new claim emerges in the wake of an incident where a group of "diverse, equitable, and inclusive" teens violently assaulted a white teenager, leading to his death.
Now, the associate professor of African American Studies at UNLV, Tyler Parry, has voiced his opinion on the matter, labeling it "political" to suggest that a group of black and brown teens beating a white teenager to death could constitute a hate crime.
Professor Tyler Parry says that mentioning race in the context of this incident brands you as a political hack.
Associate Professor Tyler Parry, with UNLV's African American and African Diaspora Studies, said that in his view, those seeing the beating as an example of a racist attack tend to have a political agenda to perpetuate.

"I find it interesting, just another point that I think about whenever I see these debates online, as to what is or is not paid attention to, I never see these same people posting videos of white kids and black kids getting along," Perry said.

"The vast majority of interactions between white and nonwhite people are perfectly fine," he said. "I imagine there are more instances at Rancho High School of white and black kids getting along and having a certain sense of camaraderie than there are of black kids attacking white kids and vice versa."
Interestingly, we don't seem to recall any African American Studies professors suggesting in 2016 that "the vast majority of interactions between white police officers and nonwhite people are perfectly fine."
Ironically, Professor Parry has a tendency to label almost everything under the sun as "racist," yet he excludes this particular crime from the mix.
In case you were wondering, Professor Parry endorsed a far-left statement from his university, UNLV, after the death of George Floyd.
"On Black Life, Police Violence, and White Supremacy"

A statement from the faculty in the African American and African Diaspora Studies Program @unlv @unlv_iges

Many thanks to AAADS coordinator @javonism for initiating this bold statement

Please sharehttps://t.co/nPTek2CTMh

— Tyler D. Parry (@ProfTDParry) June 4, 2020
On Black Life, Police Violence, & White Supremacy

The murders of George Floyd, Breonna Taylor, David McAtee, and the less publicized transman Tony McDade at the hands of the state represents a long-standing, brutally racist tradition that is as American as the U.S. anthem itself. The "Star-Spangled Banner," for instance, informed us that Black subordination was embedded in the nation's founding, "No refuge could save the hireling and slave/From the terror of flight or the gloom of the grave." Indeed, two centuries after the anthem was penned, post Emancipation, post Reconstruction, post Jim Crow, post the Harlem Renaissance, the Black Arts Movement, the Civil Rights era, the Black Power Movement, and various Black feminist and Black queer movements, a nation that celebrates whiteness is still unable to imagine Black life and livability. Consequently, Black people are still facing "the gloom of the grave." In this way, the justified anger and hurt displayed in the current protests are as much about George Floyd as they are about the countless names of Black people that are too numerous to fit in this short statement. More still, the protests are about the structural ways in which anti- Black racism and white supremacy persistently work to make Black life unlivable.
Here's more from Parry on Floyd's death and how "long-lasting change" is needed.
A quick look through Parry's Twitter account suggests that he often engages in promoting division and racism as if it's his career.
Curfews are racist.
Grateful I could contribute a few thoughts to this excellent piece on the racist history of curfews.

Please read and distribute to your networks. Also, it would be great for your courses in the Summer/Fall semesters https://t.co/bvey7GZ1MO

— Tyler D. Parry (@ProfTDParry) June 4, 2020
The entire state of California is "racist."
An interesting case that surprises many for what it argued about segregation, race, and ethnicity. When I taught students in Orange County about this case they were always 1) a bit shocked that California is racist and 2) by the case's reliance on "whiteness" as a main argument https://t.co/MByvraoNr9

— Tyler D. Parry (@ProfTDParry) April 15, 2020
COVID reminds Professor Parry of "racism."
Stephen Moore's statement about the COVID-19 protestors reminds me of the historical reality that white racists always appropriate the symbols of Black activists.
Ex.- "White Power," coined by American Nazi George Lincoln Rockwell, was appropriated from Carmichael's "Black Power"

— Tyler D. Parry (@ProfTDParry) April 18, 2020
Language is also "racist."
Great piece by @CitizenMurphy on the continued public use of racist language, using local examples to examine a broader national issue. https://t.co/a0mdJoFnbY

— Tyler D. Parry (@ProfTDParry) June 6, 2020
And of course, conservatives are "racist." Parry wrote an entire op-ed for the Washington Post about it.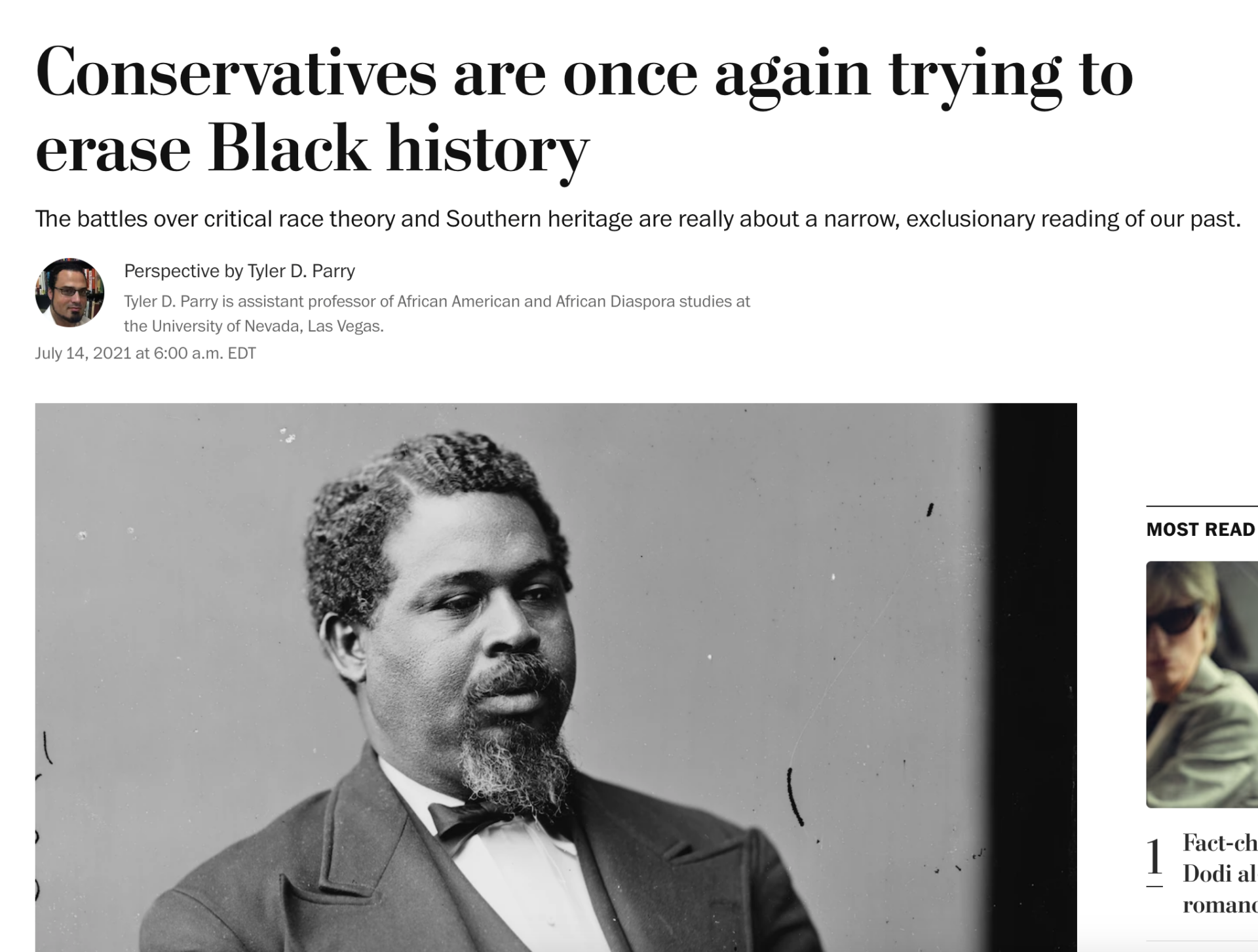 In Professor Parry's view, it seems everything qualifies as racist except for the recent murder in Las Vegas. He appears to dismiss outrage over a potential racial hate crime, like the recent incident in Las Vegas, as mere political opportunism. You have to admit that, in the wake of the Summer of Floyd and the "racial reckoning", that's one remarkably crafty and shameless spin job.
MORE: Photos: 4 Las Vegas teens charged with murder of white teenager are identified…
---
SUPPORT REVOLVER — DONATE — SUBSCRIBE — NEWSFEED — GAB — GETTR — TRUTH SOCIAL — TWITTER