We need your help! Join our growing army and click here to subscribe to ad-free Revolver. Or give a one-time or recurring donation during this critical time.
---
Hamas' gruesome terrorist attack against Israel has left the entire world in shock, primarily at the barbarity of Hamas' actions but also at the monumental intelligence failure on the part of Israel's vaunted security establishment. The tragic attack has also encouraged some healthy critical reflection on the Biden regime's Middle East policy. In a colossal blunder worthy of the legendarily inaccurate financial commentator Jim Cramer, Biden's national security advisor Jake Sullivan just this month bragged that "the Middle East is quieter now than it has been in two decades."
Just last week, Biden's National Security Adviser Jake Sullivan bragged about how "quiet" the Middle East was.

"I emphasize for now, because all of that can change, and the Middle East region is quieter today than it has been in two decades."

Eight days later, Hamas animals are… pic.twitter.com/be9lTuHe7u

— Collin Rugg (@CollinRugg) October 7, 2023
Of course, no one can be expected to predict the future, but this unfortunate remark strikes us as particularly flat-footed. Possibly more disturbing than the Biden team's flat-footedness on the emerging conflict is the distinct possibility that a Hamas sympathizer enjoys a senior role within Biden's national security apparatus. The individual in question is Maher Bitar, who currently serves as the Senior Director for Intelligence Programs on Joe Biden's National Security Council.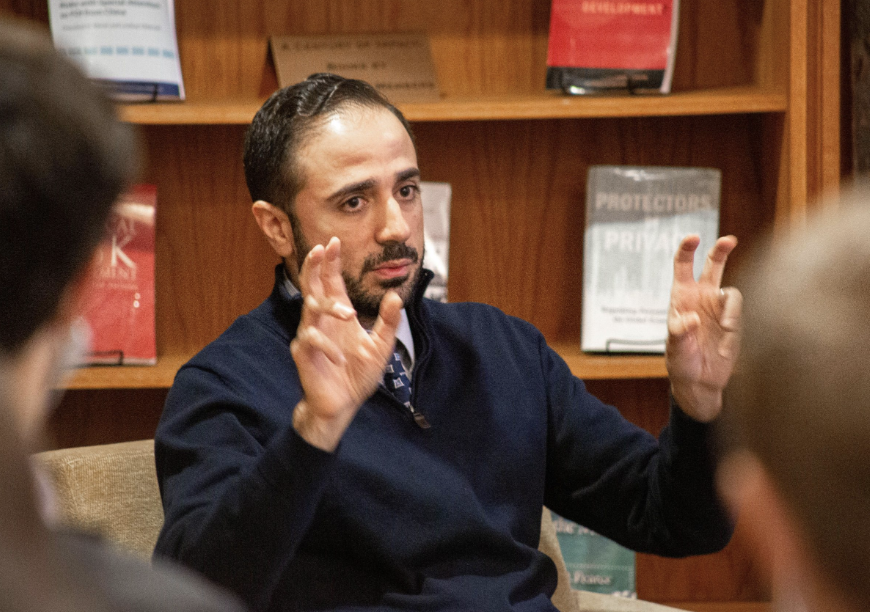 Biden's choice of Bitar for a senior intelligence role within the NSC is largely forgotten, though it generated considerable controversy in the immediate aftermath of Bitar's appointment in 2021. Numerous reports emerged of Bitar's history of activism on behalf of Palestine that extended into support for the BDS movement as well as organizations that have been accused of being friendly to terror groups like Hamas.
The Washington Free Beacon reported that Bitar was not only a member but also an executive director of the controversial "Students for Justice in Palestine" (SJP) group. SJP is known for its radical anti-Israel perspective. SJP students at Vassar College, for instance, drew controversy for selling t-shirts depicting Leila Khaled, a convicted terrorist and airplane hijacker, in order to raise money for the "Palestinian resistance." The SJP has of course responded to the recent Hamas terror attack on Israel by organizing a "Day of Resistance" in support of Hamas' "historic win" against Israel, according to a recent report by the Daily Mail.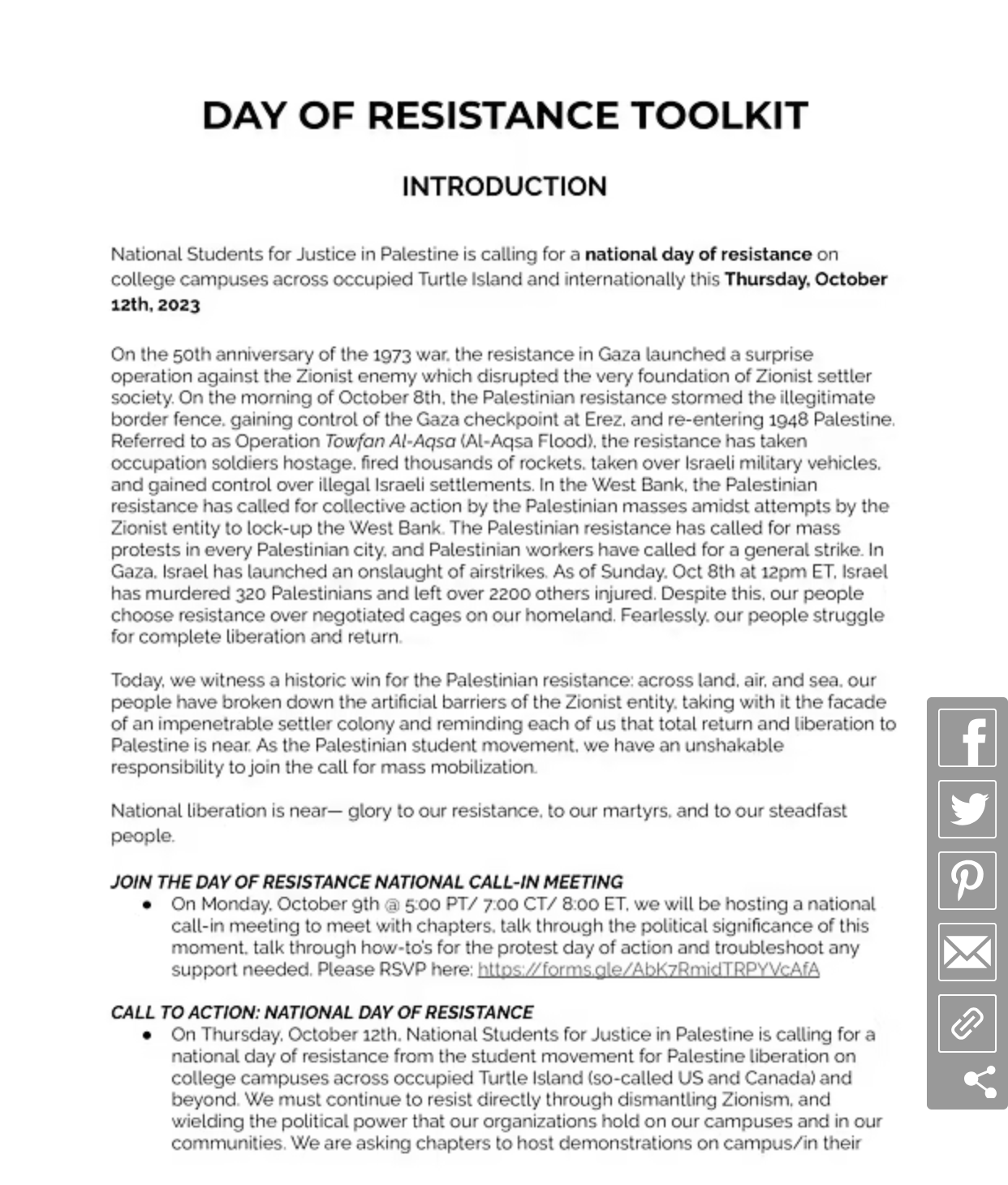 Another SJP chapter at Tufts praised the "creativity" of the Hamas terrorists.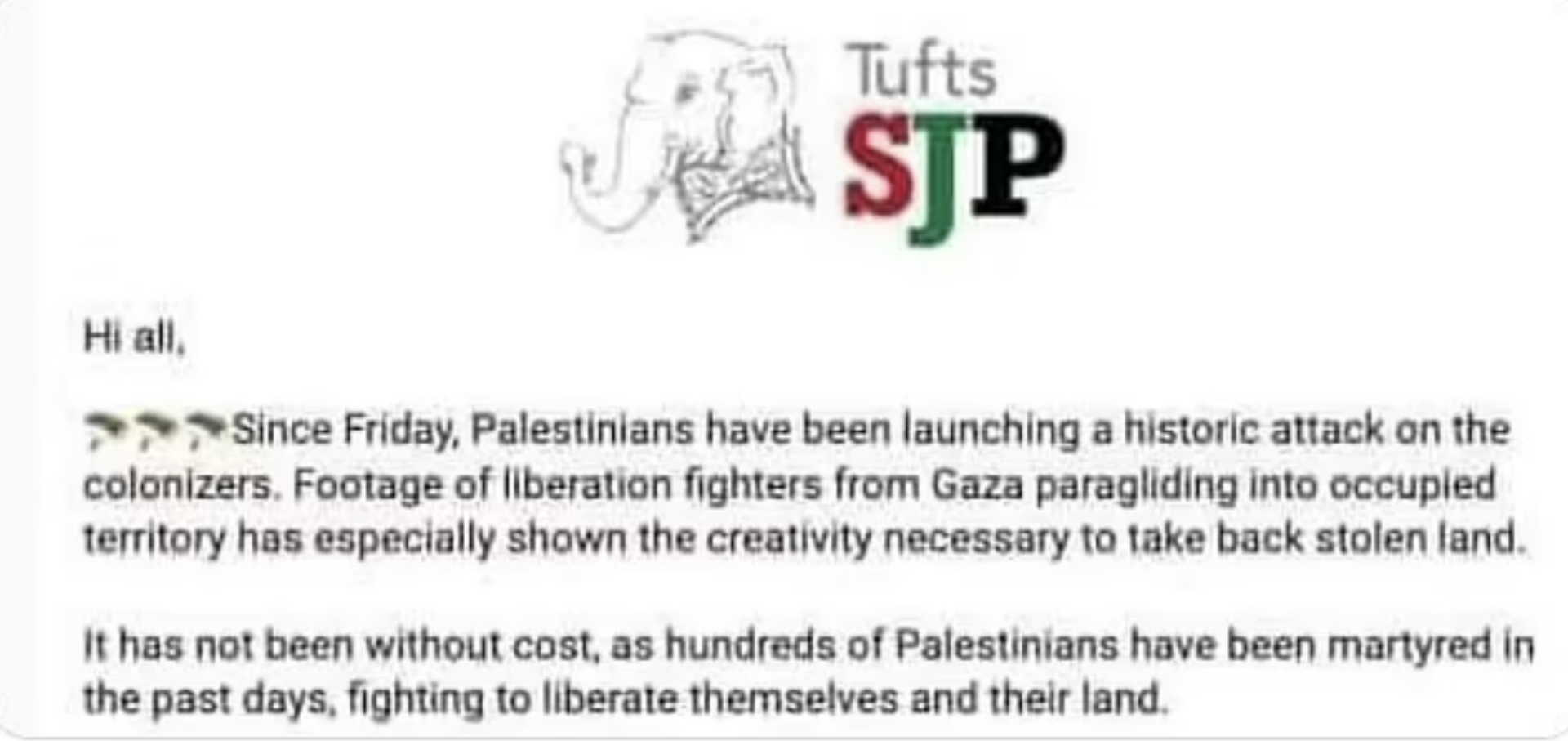 It is rather remarkable that a senior intelligence official in Biden's national security council would have held a senior position in such an organization. Here is Bitar sporting a black and white "keffiyeh," a symbol of Palestinian nationalism to express resistance, solidarity, and revolution. Bitar is standing in front of a sign that reads, "Divest from Israel Apartheid."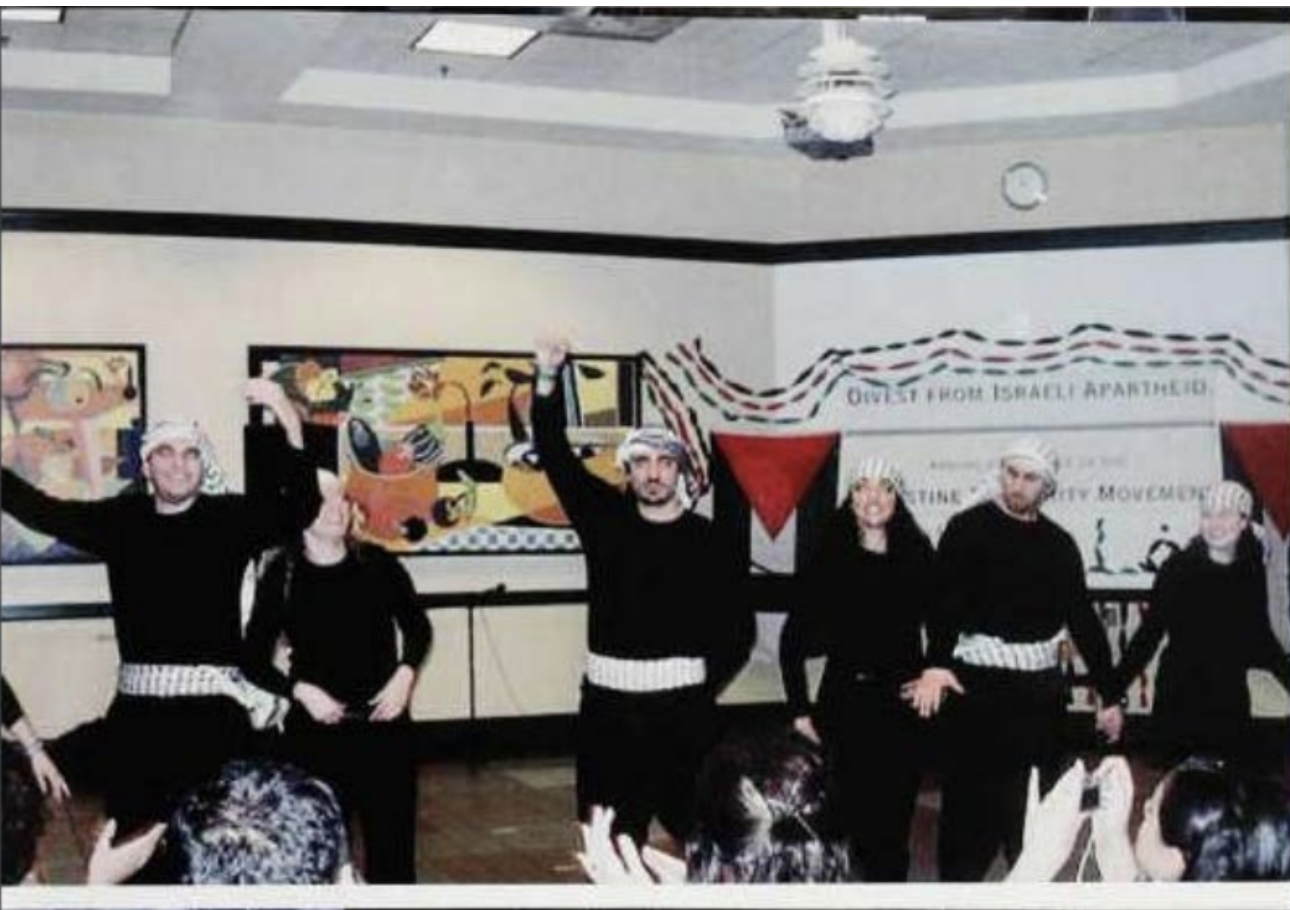 Bitar had the opportunity to implement these views as he rubbed shoulders with many of the key foreign policy decision-makers in the Obama and Biden administrations on his ascent to his top intelligence post in the current Biden administration.
In the early 2010s, for instance, Bitar served in the State Department in the office of the special envoy for Middle East Peace (but of course). Emails made available on Wikileaks suggest that as early as 2012, Bitar was on sensitive e-mail chains deliberating sensitive matters of Middle East policy with none other than Jake Sullivan—yes, that Jake Sullivan, Biden's current NSC chair.
This screenshot is from an email discussing a call with Mahmoud Abbas, president of the Palestinian Authority: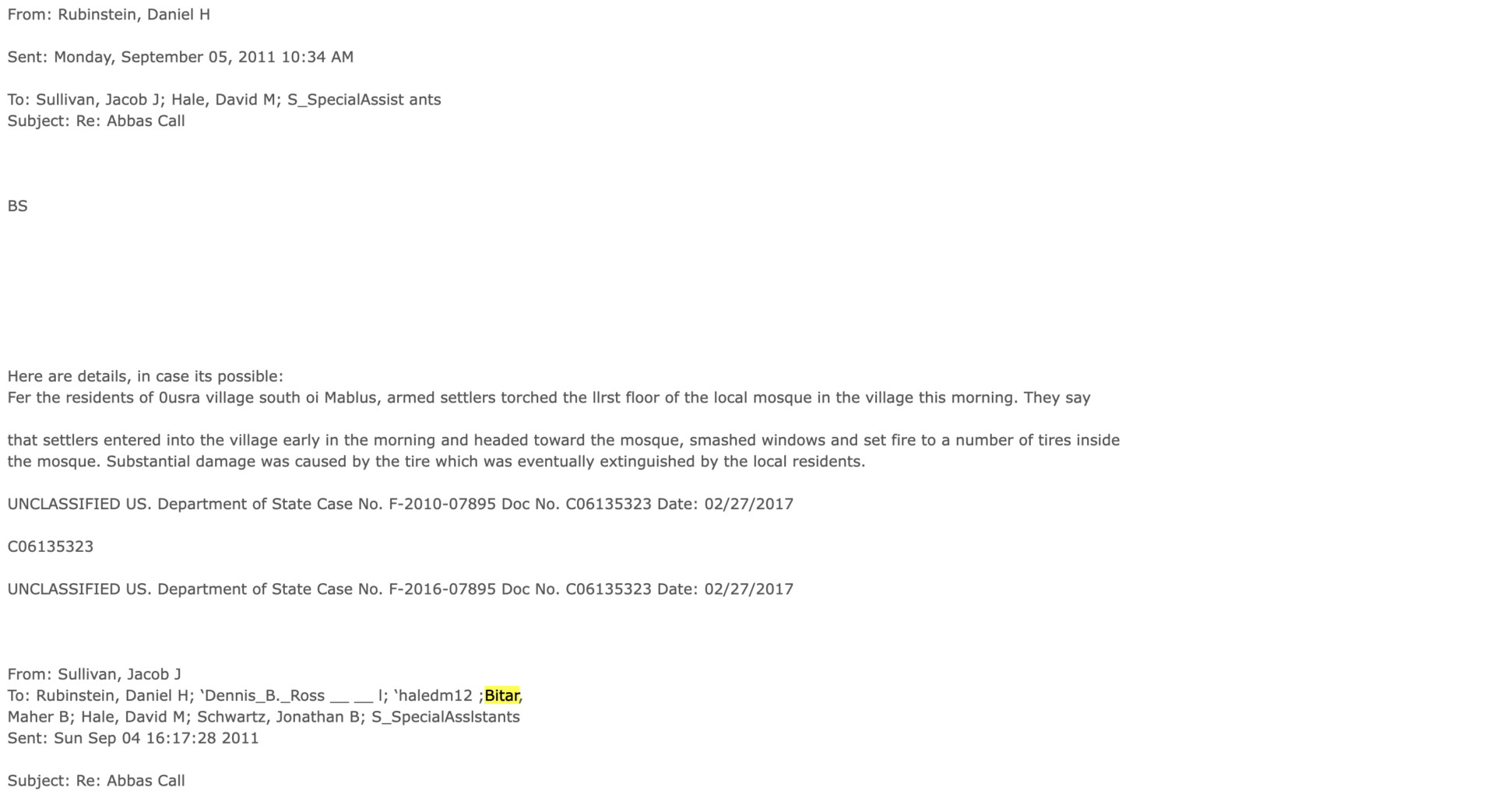 Bitar appears in another email chain originating in an email from Jake Sullivan to Hillary Clinton regarding sensitivities surrounding Abbas' visit to the US (Bibi Netanyahu had ordered Jewish leaders not to meet with Abbas).
Bitar went on from his State Department position to serve on Obama's National Security Council as Director for Israel and Palestinian Affairs (sensible, given his history of support for radical Palestinian groups). Whereas his previous position gave him an opportunity to serve with Jake Sullivan at the State Department, his position within Obama's national security council, particularly on a Middle-East portfolio, would have put him directly in the orbit of one Robert Malley.
If the name Robert Malley isn't familiar to you, it should be. Malley was a key player in Obama's national security team, and specifically a key player in negotiating the JCPOA, informally known as the "Iran Deal." While serving in the Clinton Administration, Malley wrote an article for the Washington Post encouraging Israeli "accommodation" of Hamas. In 2021, President Biden appointed Malley as a special envoy for Iran, in charge of reinstating the Iran Deal, which Trump terminated early in his term. Malley held his position until the FBI curiously removed his security clearance for allegedly "mishandling" classified material. Malley was a deep fixture within the Obama Biden establishment. Given Biden's lax standards for prosecuting any crimes of his allies, one can only imagine what the real story is with Malley and what kind of egregious violations he needed to perpetrate to have his clearance removed. In truth, all evidence points to Malley being at the center of what could only be described as a "spy ring" or Iranian influence ring deep within the government.
The Biden administration's now-suspended Iran envoy Robert Malley helped to fund, support, and direct an Iranian intelligence operation designed to influence the United States and allied governments, according to a trove of purloined Iranian government emails. The emails, which were reported on by veteran Wall Street Journal correspondent Jay Solomon, writing in Semafor, and by Iran International, the London-based émigré opposition outlet which is the most widely read independent news source inside Iran, were published last week after being extensively verified over a period of several months by the two outlets. They showed that Malley had helped to infiltrate an Iranian agent of influence named Ariane Tabatabai into some of the most sensitive positions in the U.S. government—first at the State Department and now the Pentagon, where she has been serving as chief of staff for the assistant secretary of defense for special operations, Christopher Maier.
Incidentally, Malley happens to be childhood friends with Biden's current Secretary of State, Anthony Blinken (though that is a story for another article). What is interesting for our purposes here is to note that Malley and Bitar were contemporaneous at Obama's National Security Council, where they almost surely crossed paths and collaborated as like-minded colleagues who shared a Middle East portfolio.
Indeed, Malley seemed to confirm as much in his public statement congratulating Bitar for his new perch as top intelligence official in Biden's NSC. Malley describes Bitar as a "wonderful colleague, and dear friend."
Can't think of a better choice than Maher. The most professional, principled, dedicated public servant I've had the honor to work with, a wonderful colleague, and a dear friend . https://t.co/ioOBB7rYVl

— Robert Malley (@Rob_Malley) January 22, 2021
Toward the end of his tenure at the NSC, Bitar was detailed to serve as deputy for the U.S. Ambassador to the United Nations, Samantha Power. Power has been a vocal critic of Israeli settlements and once famously seemed to call for a US invasion of Israel if Israel were hypothetically to attempt to commit genocide.
In conjunction with Bitar's own history, these professional associations would seem to paint a larger and more dubious picture in relation to the Obama-Biden Middle East team generally.
Perhaps most interesting of all is how Bitar's troubling associations do not end with matters of foreign policy. Indeed, lost in much of the commentary on Bitar is the fact that he played a major role in the first impeachment of Donald Trump, working as a top aide to Adam "Shifty" Schiff no less in his capacity as general counsel for House Intelligence Committee Democrats.
Of course, an infamous IG report years ago confirmed that the entire basis of Schiff's claims regarding Trump and Russia collusion was a lie, including and especially the discredited Steele Dossier.
On Friday, Democrats on the House Judiciary Committee approved two articles of impeachment against President Trump: abuse of power and obstruction of Congress. The committee vote sends the question to the full House, with a vote expected later this week.

That fast timeline won't allow for much consideration of the question, however, forcing folks to rely on House Intelligence Committee Chairman Adam Schiff's 300-page report detailing his committee's "impeachment inquiry." But following last week' release of the inspector general's report on FISA abuse that proved nearly every sentence wrong in Schiff's last high-profile report (his self-titled "Correcting the Record—The Russia Investigation"), Schiff's work product should be deemed worthless.
As if Bitar and his associations weren't disgraceful enough, we have discovered yet another one of Bitar's friends and colleagues to serve as the cherry on top of this disgraceful bureaucrat—none other than Norm Eisen. In the absurdly titled book "A Case for the American People," Eisen reveals that he had known Bitar since his time at the State Department:

In another passage, Eisen suggests that his relationship with Maher at the State Department was close enough that Maher would visit Eisen in Prague, where he was stationed as Ambassador: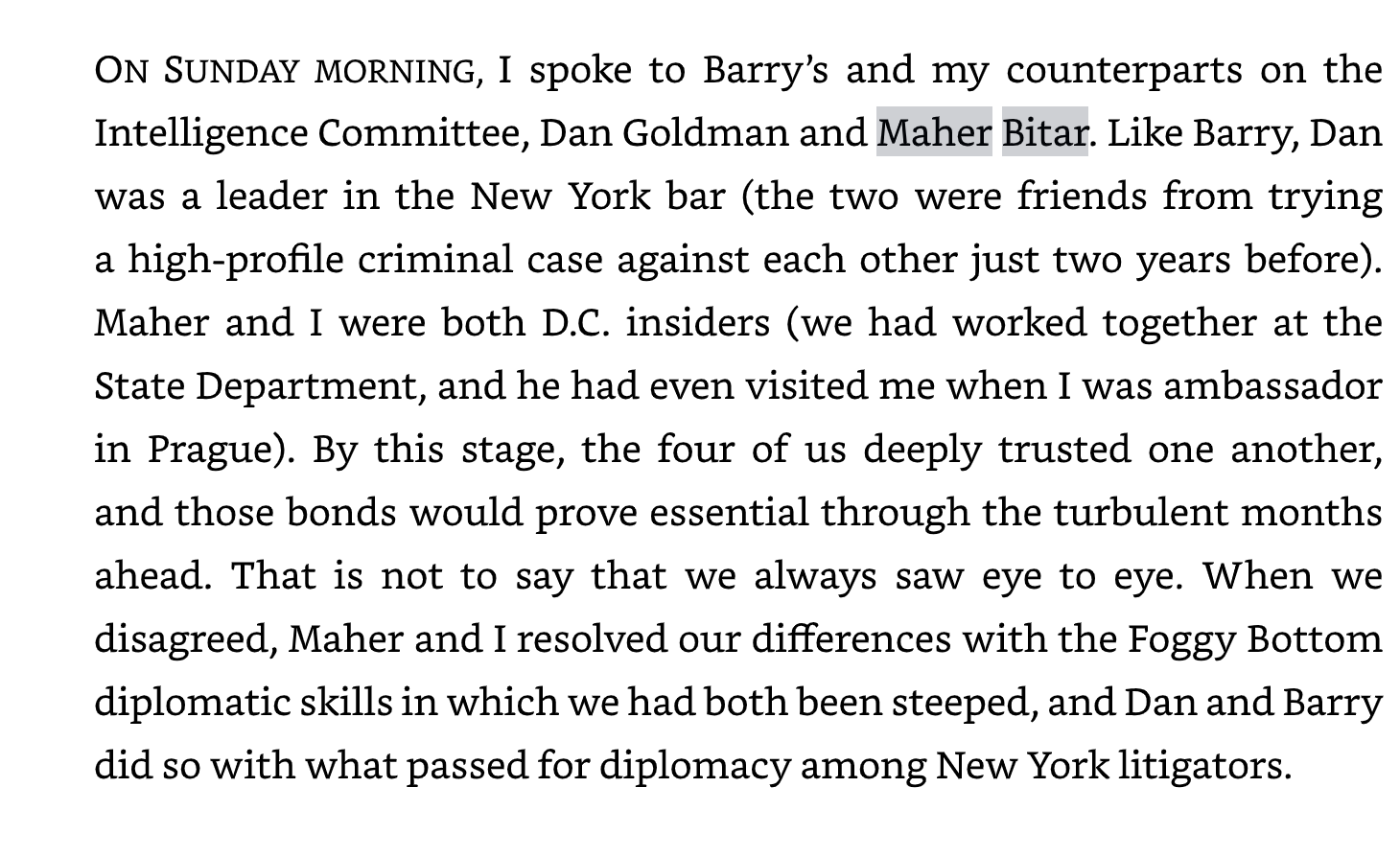 The name Norm Eisen will be familiar to any reader of Revolver. Years ago, we exposed Norm Eisen as one of the top color revolution professionals behind the various lawfare and impeachment efforts against Trump.
READ MORE: Meet Norm Eisen: Legal Hatchet Man and Central Operative in the "Color Revolution" Against President Trump
In a follow-up piece, we exposed how Eisen's fingerprints were all over the Democrats' strategy to use January 6 to impeach Trump.
READ MORE; Democrat Hatchet Man Norm Eisen's Fingerprints Are All Over a Dark New Element of the Jan 6 Witch Hunt
The Eisen connection with Bitar is rather fitting. While Eisen is unquestionably a more important figure (at least for now), both Eisen and Bitar enjoy the dubious distinction of being a menace both in terms of foreign policy and domestic policy. And the careers of both underscore how, in our current hyperpolarized domestic political environment, foreign policy considerations will always be entangled with partisan considerations that would otherwise be extraneous.
In any case, Bitar is clearly a bad actor, is still relatively young, and remains on the upward arc of his career. The recent scrutiny of Biden's questionable Middle East policy team, including Bitar, may be an opportunity to arrest whatever further ascension Bitar may have enjoyed. Unlikely, perhaps, but one can hope.
---
SUPPORT REVOLVER — DONATE — SUBSCRIBE — NEWSFEED — GAB — GETTR — TRUTH SOCIAL — TWITTER