This post is sponsored by our partner Whole Cows. Click here to get 15% off mRNA-free beef today with promo code REV15.
A few months ago, Revolver  heard about the "Whole Cows" cattle operation, and we were instantly curious and excited. We love that it's a conservative, veteran-owned company out of Texas that provides vaccine-free, wholesome beef to the masses, especially at perilous times like this.
Jason Nelson, president and CEO of Whole Cows, is fighting the "war against beef" in America. "There's not only a war against beef but also against Americans being healthy," Jason correctly stated. Mr. Nelson, a physically disabled, highly-decorated combat veteran who has served in two branches of the U.S. military, knows a thing or two about war and how to win, and he's the driving force behind Whole Cows.
CLICK HERE TO GET MRNA-FREE BEEF 15% OFF TODAY WITH PROMOCODE REV15!!
Nelson understands the left's "game" and how they're using climate change to attack beef by claiming that red meat is destroying the planet. Jason says the media helps out by  pushing insects and bugs on everyone, as if eating a cockroach is equivalent to a ribeye steak. Give us a break…
The left is hell-bent on pushing plant-based products, and even lab-grown meat. Even scarier, several state legislatures are pushing for the allowance of mRNA vaccines in beef cattle to safeguard against disease. So, basically, what that means is that you can fight the government tooth and nail to avoid taking the jab, but they'll find a way to get Big Pharma's mRNA in you, one way or another. Thankfully, at least five states have initiated legislation against the use of mRNA in livestock and other consumer goods. This is all great, but it's enough, and that's why Jason Nelson and Whole Cows are 100 percent dedicated to providing customers with vaccine-free, wholesome beef, just as God and nature intended.
As a matter of fact, Mr. Nelson is so passionate about keeping mRNA technology out of beef cattle, that he vowed to shut down his business before selling a single iota of tainted beef.  "When it comes to the beef industry itself, it's under assault from various directions," Mr. Nelson stated. "For them to suddenly declare that cows, not all animals, but just cows, are detrimental to the climate—it's a scam," he concluded. It's a scary scam, and sadly, we're just seeing the tip of the iceberg at the moment.
When we first tried Whole Cow products, we didn't know what to expect from "freeze dried beef." Would it taste good and have a pleasing texture? Would it work in recipes other than Chili and stew? That's when we decided to get the Revolver Test Kitchen involved and asked them to whip up some recipes with Whole Cows beef as the star ingredient to evaluate its versatility, taste, texture, and how it cooks up. The first test was a huge success. The Revolver Test Kitchen made the most creamy and delicious beef stroganoff "lasagna cups." If you didn't see that recipe, you can find it here:
Sponsored Content: Revolver Created an AMAZING Original Recipe With Vax-Free Beef From Conservative, Vet-Owned Company
And now, we're happy to announce that the Revolver Test Kitchen has created a second recipe and it was an even bigger success than the first. Once again, we're so impressed with the quality of the product, its rich, beefy flavor, and its tender, meaty texture. So, without further ado, here is the second  original recipe from Revolver, complete with  photos, and notes from the our very own Test Kitchen…
The package arrived quickly, about 5 days after the order was placed. It arrived very professionally wrapped and the actual beef came in convenient resealable packages. We ordered one bag of New York Strip and one bag of Sirloin. We were very happy to see they were not "beef crumbles." These were actual cubes of real steak.
CLICK HERE TO GET MRNA-FREE BEEF 15% OFF TODAY WITH PROMOCODE REV15!!
The Whole Cows website explains that they sous vide the beef before it is cubed and freeze-dried, which really made for a wonderful beefy flavor. We deviated slightly from the bag instructions and soaked the beef in lukewarm water for about 20 minutes.
We then dried our beef chunks and began to prepare our recipe.
Makes 8 egg rolls
Quick Philly Cheese Sauce
3 Tablespoons butter
2 Tablespoons all purpose flour
3/4 Cup whole milk
1/2 Cup cubed Velveeta cheese
1 teaspoon garlic powder
Salt/Pepper to taste
In a sauce pan melt butter, sprinkle flour, stir to combine, cook for a few moments over low heat to get rid of "flour" flavor.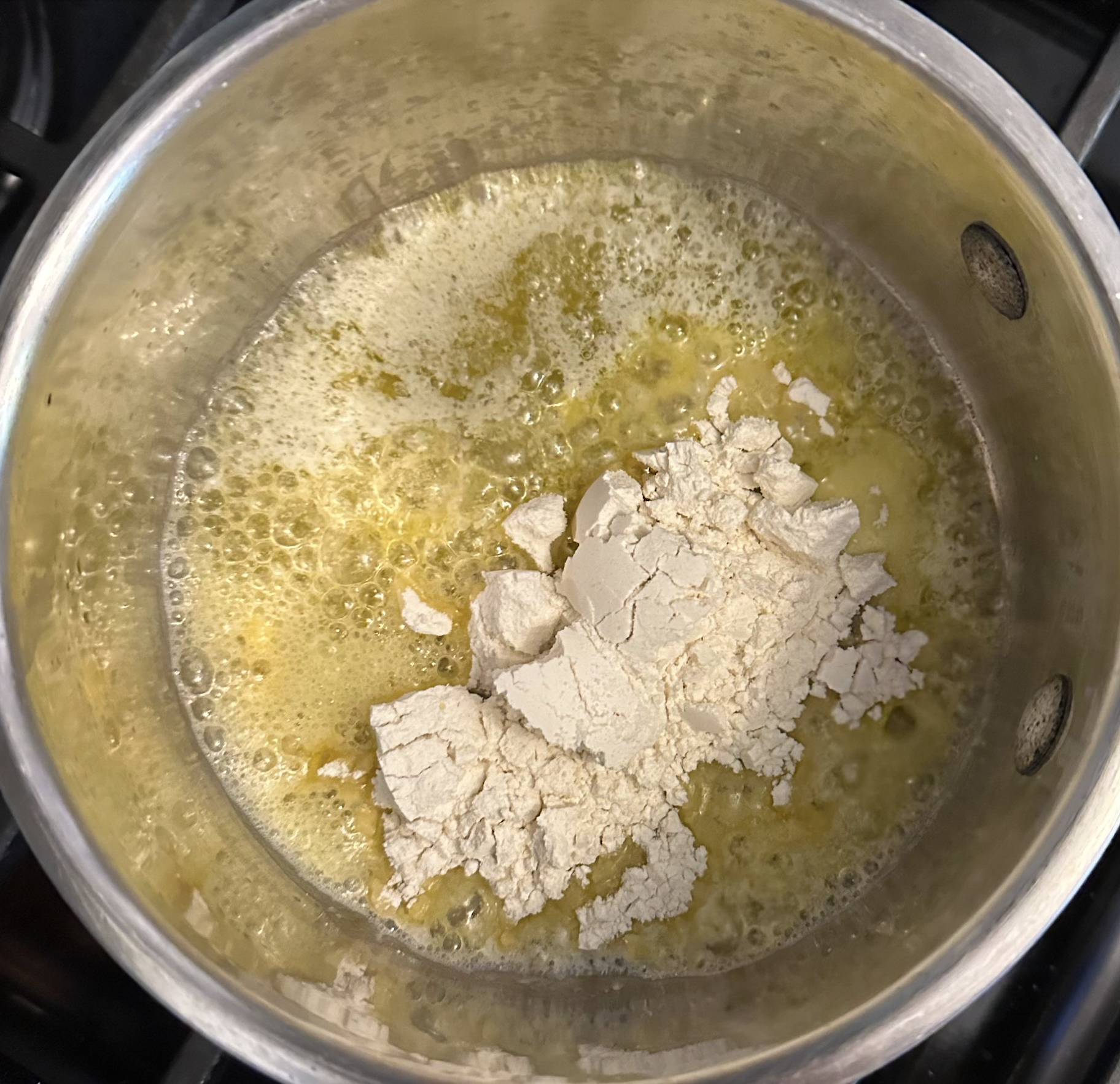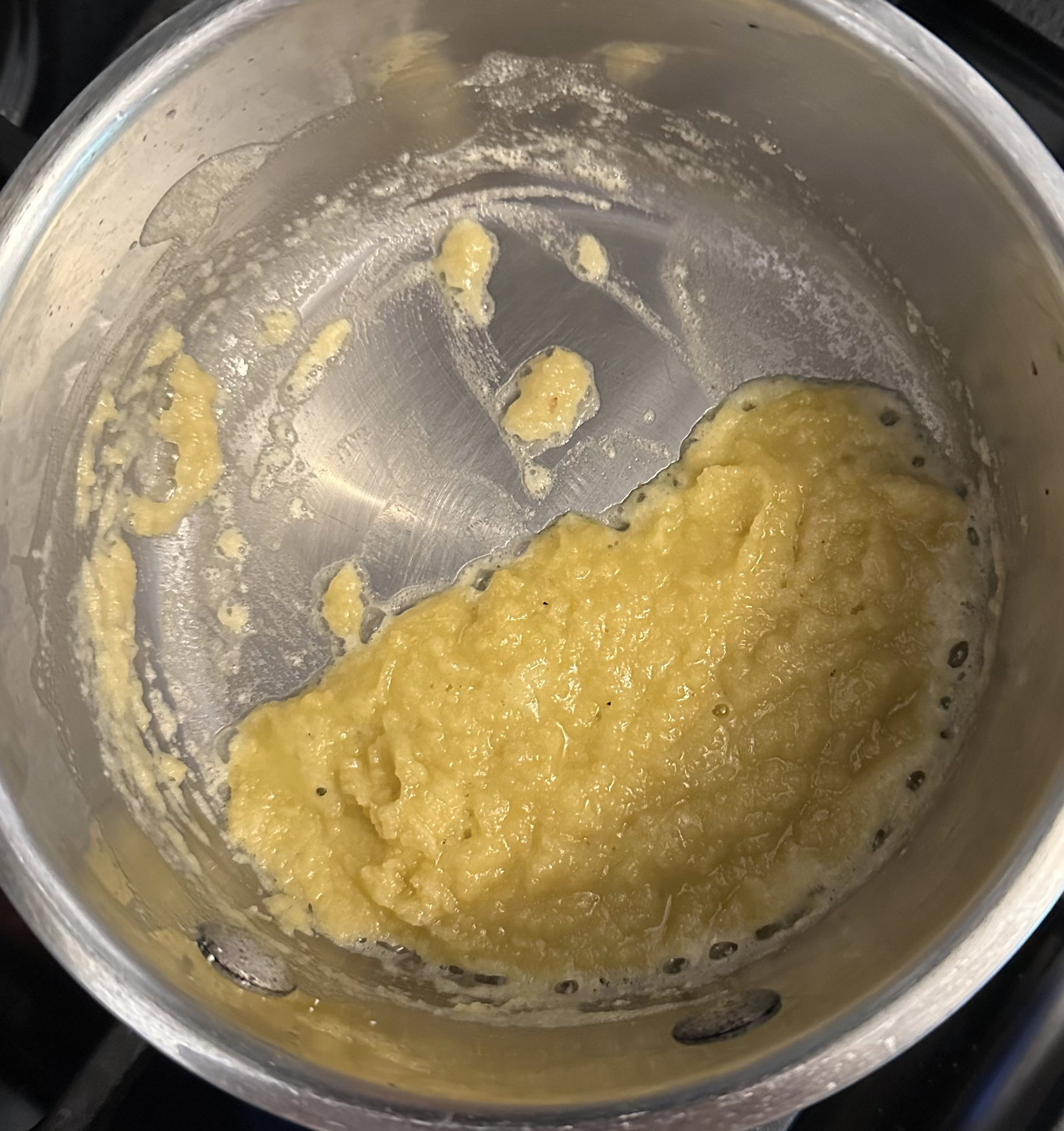 Whisk in milk, constantly stirring, and bring to low boil, slowly add cheese cubes until all incorporated, keep stirring until thick and melty.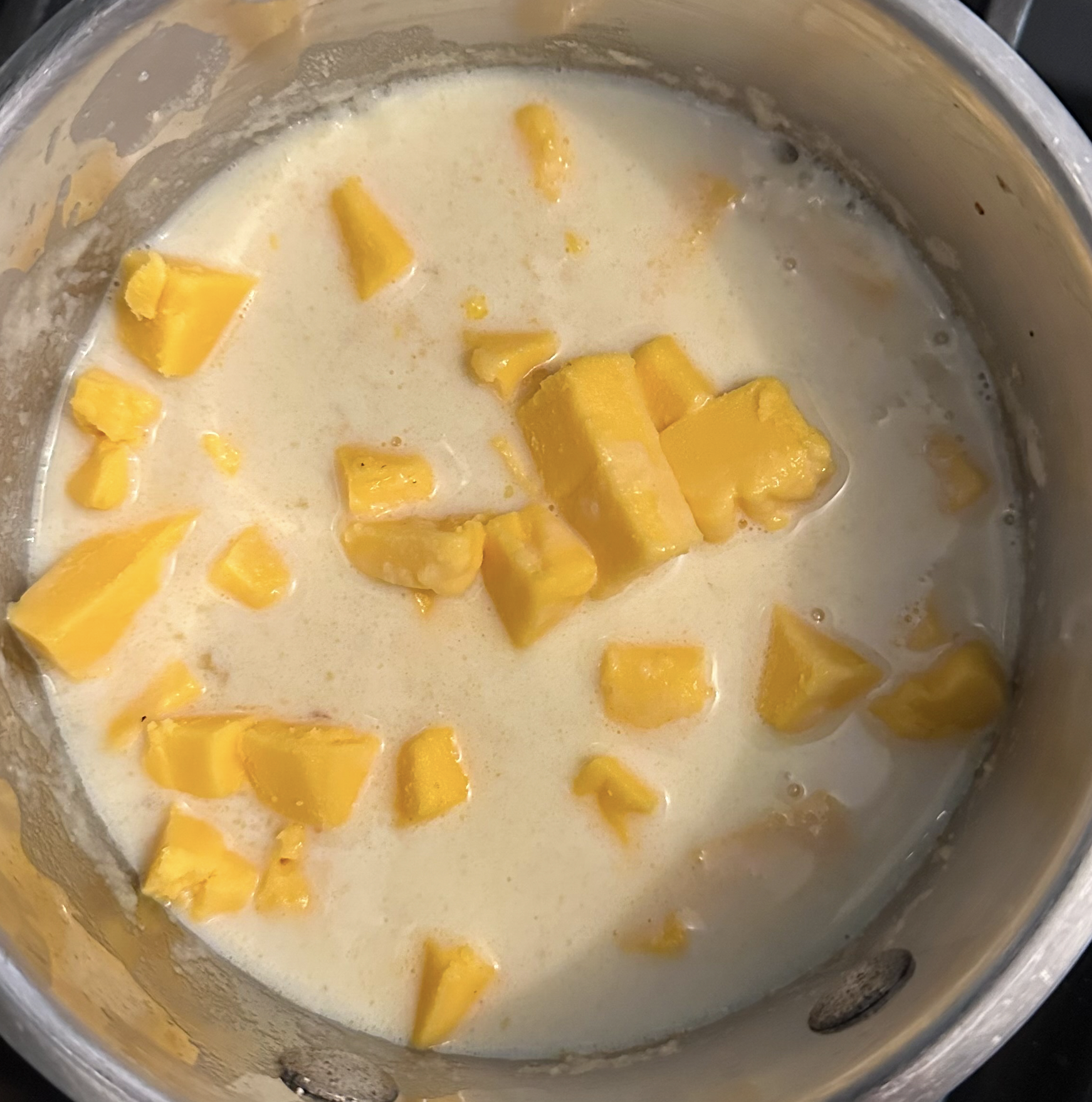 Add garlic powder, salt & pepper, set aside.
Preheat fryer, pan or pot with neutral oil on low heat, making sure it doesn't burn, then get started on your filling.
Filling:
2 Tablespoons butter
1/2 Cup finely chopped onion
1/2 Cup finely chopped red, green, or yellow pepper
8 ounces Whole Cows New York Strip Steak, rehydrated, chopped fine.
Salt & pepper to taste
Sauté onions and peppers in pan with butter on medium heat until very soft.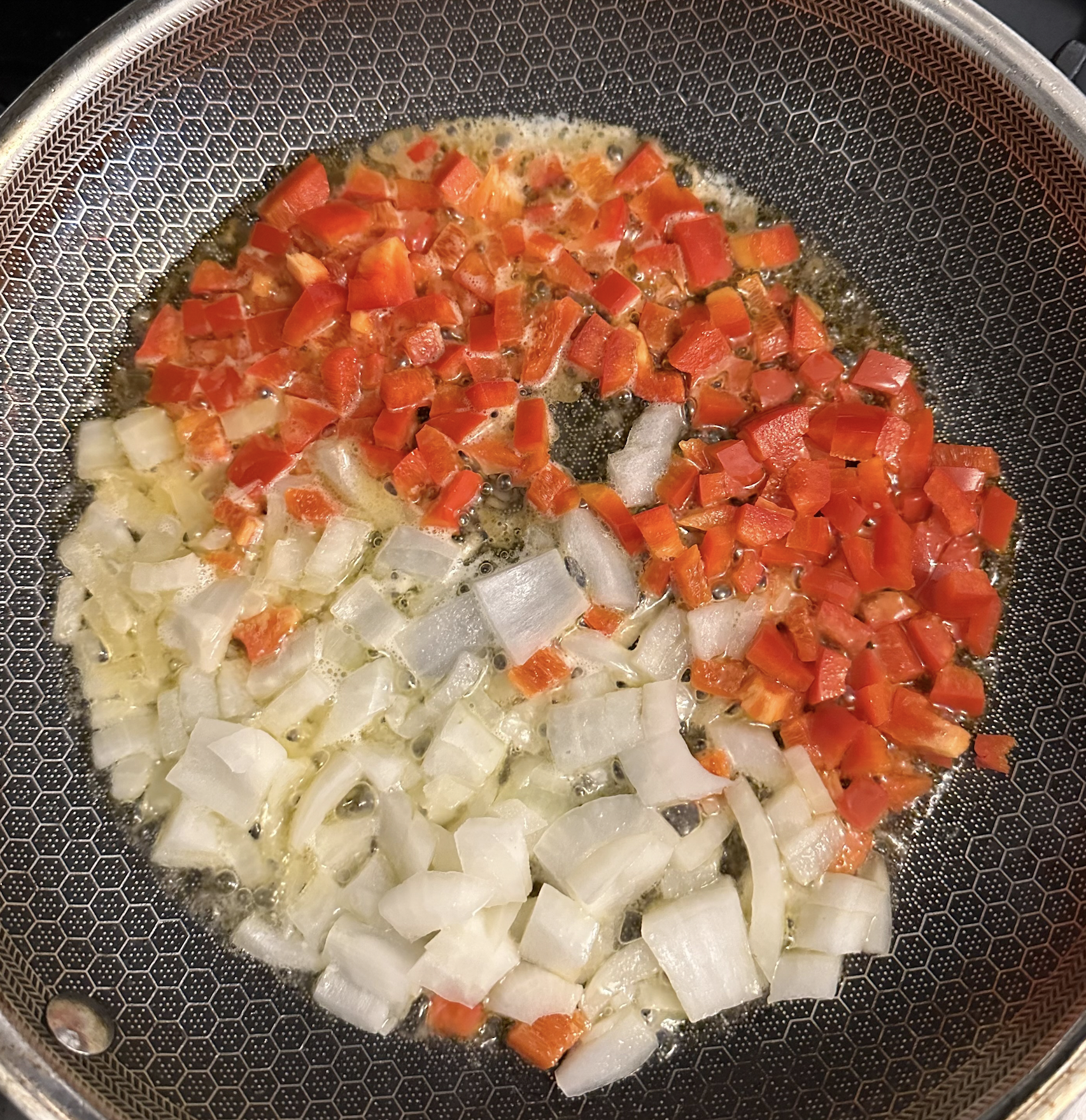 Add chopped Whole Cows NY Strip, salt & pepper to taste, and cook for a several minutes until beef is brown and heated through.
Take half of your cheese sauce and add to steak filling, mix thoroughly. Use remaining cheese sauce for dipping. Note: if sauce is too thick, add some milk. If it's too thin, add more cheese and reheat until melted. 
Your steak filling should look like this: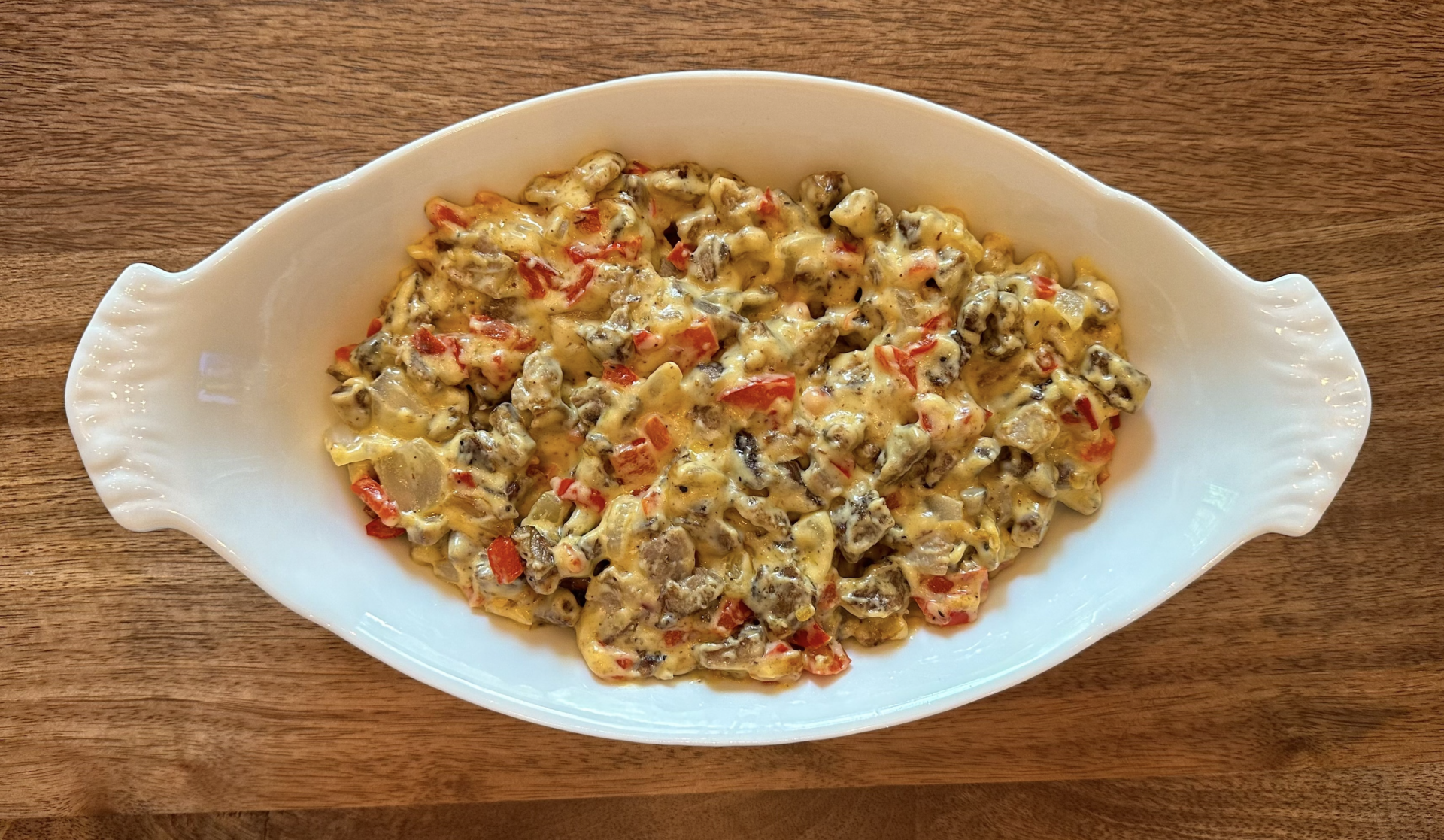 Assembly
8 egg roll wrappers
Small bowl of water
Lay out your egg roll wrapper, add 2 tablespoon of mixture to the center.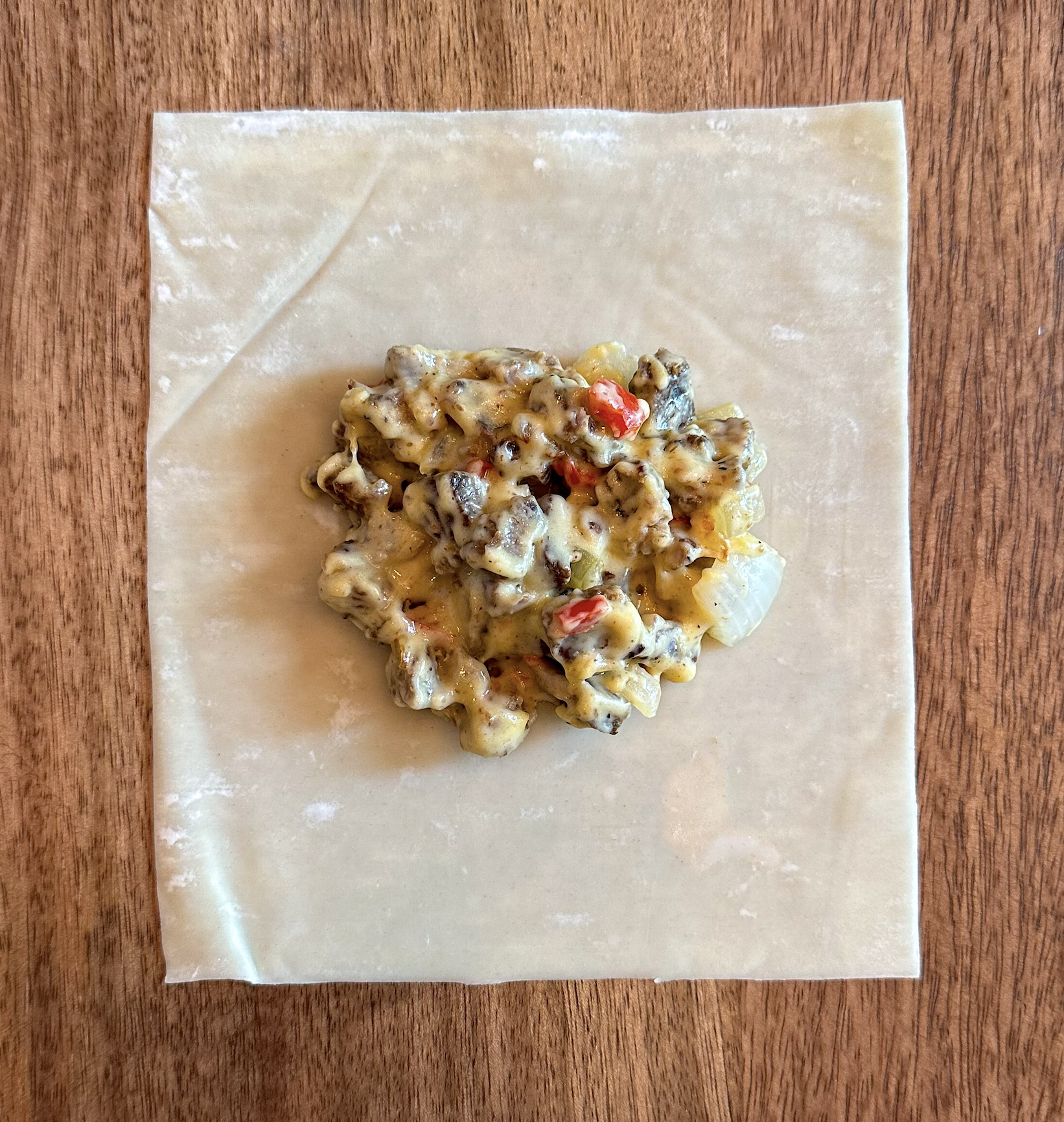 Dab edges of egg roll wrapper with water, and fold two sides in, and then roll up from the bottom. Seal egg roll with dab of water to close. 
They should look like this: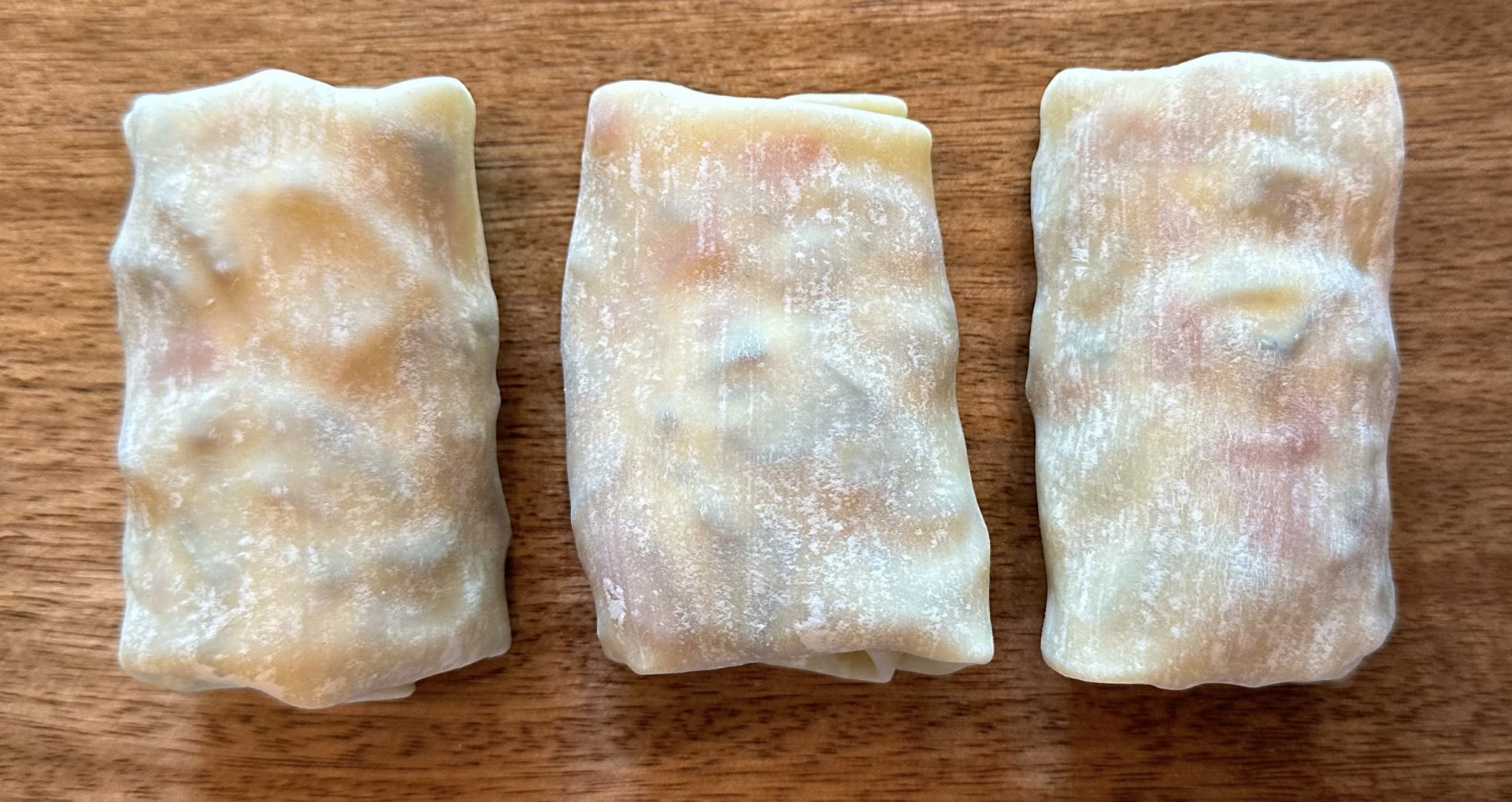 Carefully check to make sure your oil is hot. Adjust your stove heat as needed. The easiest and safest method to check the oil temperature is to stick the end of a wooden spoon into the oil. If you see many bubbles form around the wood and they start to float up, your oil is ready for frying. If it is bubbling hard, the oil is too hot; let it cool a bit and check the temperature again.
Carefully place egg rolls in hot oil, seam-side down and cook for several minutes on each side, or until very golden brown.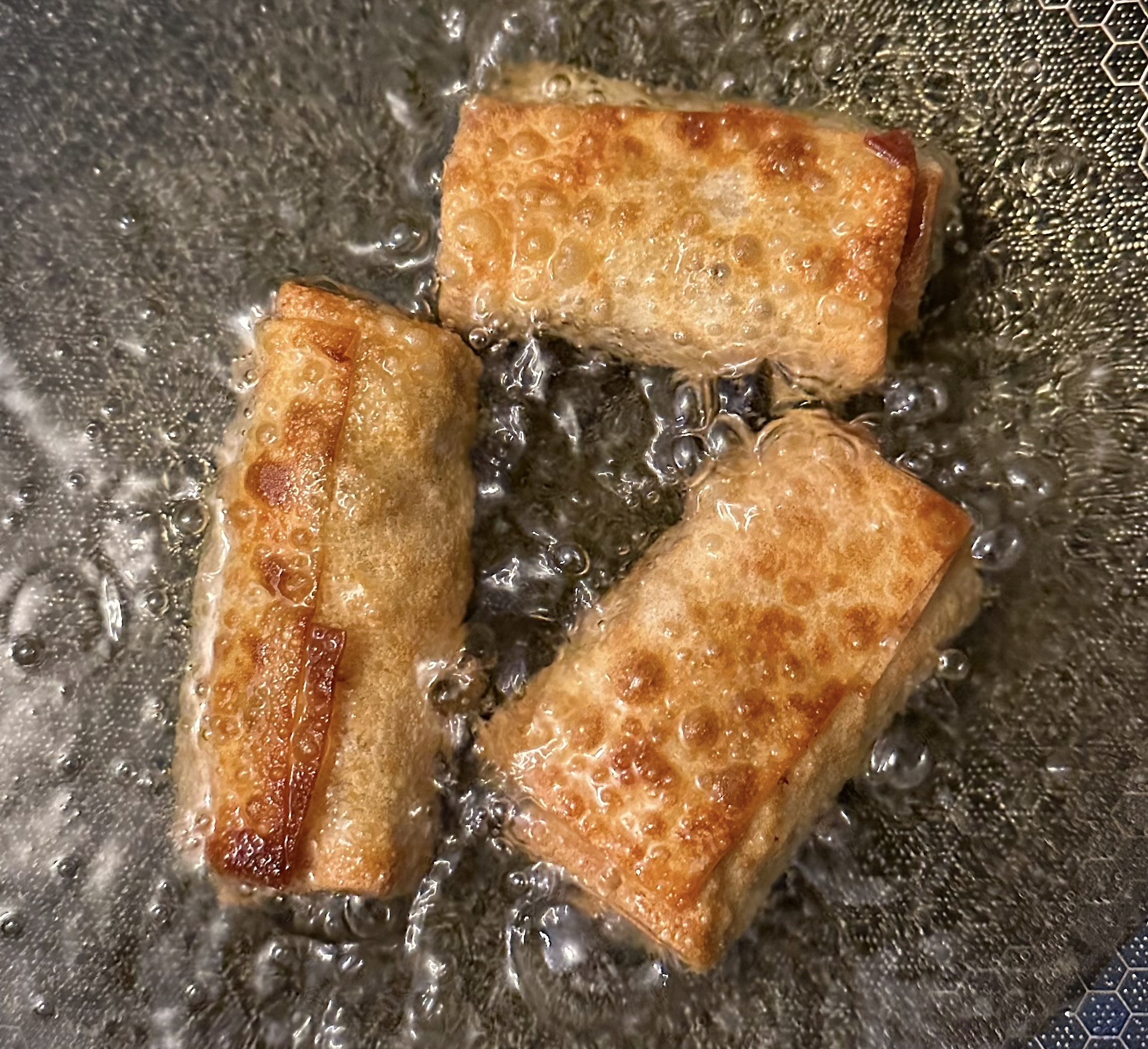 Remove from oil, and drain on paper towel.
Serve egg rolls hot, with nice garnish like chopped spring onion or fresh parsley. Serve cheese dip and ranch dressing on the side.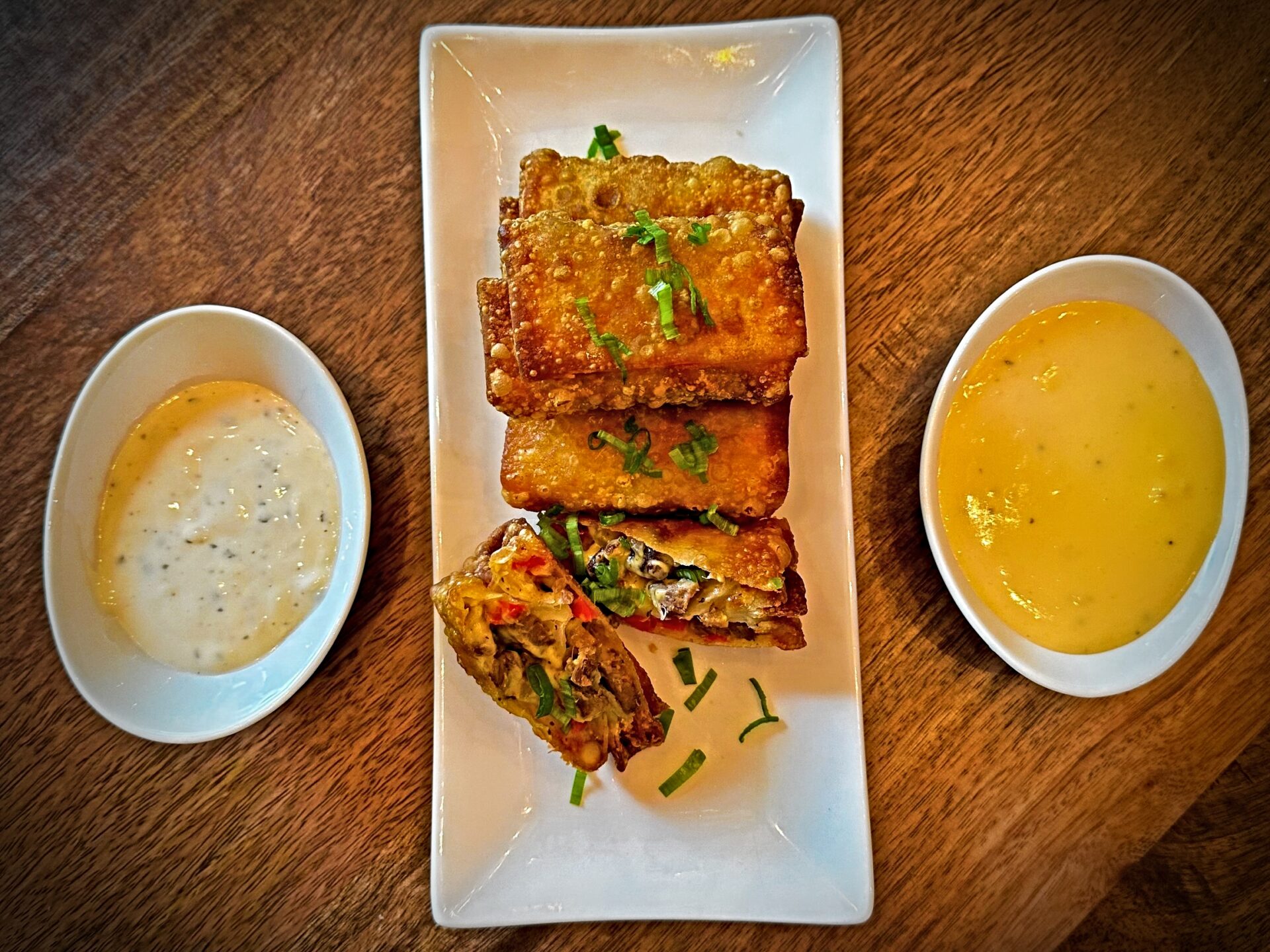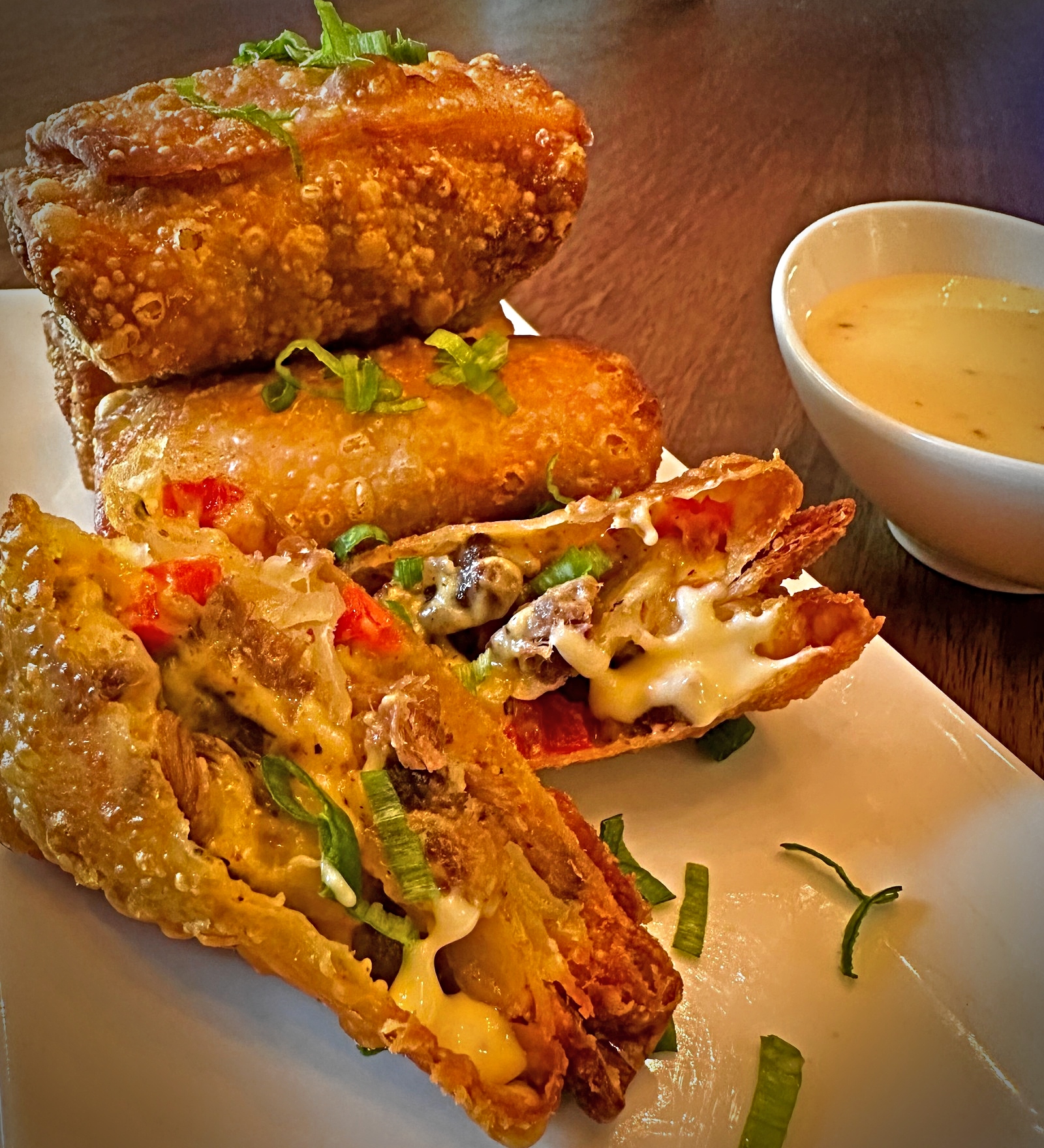 We served these egg rolls at a family BBQ as an appetizer, and they were gone in a flash. So, pro-tip, make a lot! We loved the taste of the rich, beefy New York Strip, and the tenderness of the meat really impressed us as well.
After preparing Whole Cows and serving it to our own families and friends, Revolver can confidently recommend this product to you and your family. And to sweeten the deal even more, we have a fantastic limited-time offer for you: If you order now, you can receive  a 15 percent off Revolver discount. Just click here, and when you get to checkout be sure to enter the promo code REV15.
CLICK HERE TO GET MRNA-FREE BEEF 15% OFF TODAY WITH PROMOCODE REV15!!
We are confident you'll love your vaccine-free beef purchase from Whole Cows, and we hope you try out our delicious "Philly Steak and Cheese Egg Rolls." And after you make them, let us know how much you loved them! We always enjoy hearing from you.
Enjoy!