We need your help! Join our growing army and click here to subscribe to ad-free Revolver. Or give a one-time or a recurring donation during this critical time.
---
New Mexico's Attorney General, Raul Torrez, has hung Governor Michelle Lujan Grisham out to dry. He's made it crystal clear that he refuses to stand in defense of the governor in the face of growing legal battles stemming from her draconian ban on firearm carrying. "While I acknowledge my legal responsibility as the foremost legal representative of New Mexico to provide defense when state officials are litigated against in their official roles, my primary allegiance lies in safeguarding and upholding the constitutional rights of every individual," Torrez asserted.
Ouch. She's on her own.
BREAKING REPORT: New Mexico Attorney General Raul Torrez says he WILL NOT defend Governor Michelle Lujan Grisham in lawsuits she now faces over her BAN on carrying guns.

"Though I recognize my statutory obligation as New Mexico's chief legal officer to defend state officials… pic.twitter.com/fmsR4ttUTk

— Chuck Callesto (@ChuckCallesto) September 12, 2023
Here's a closeup of the letter: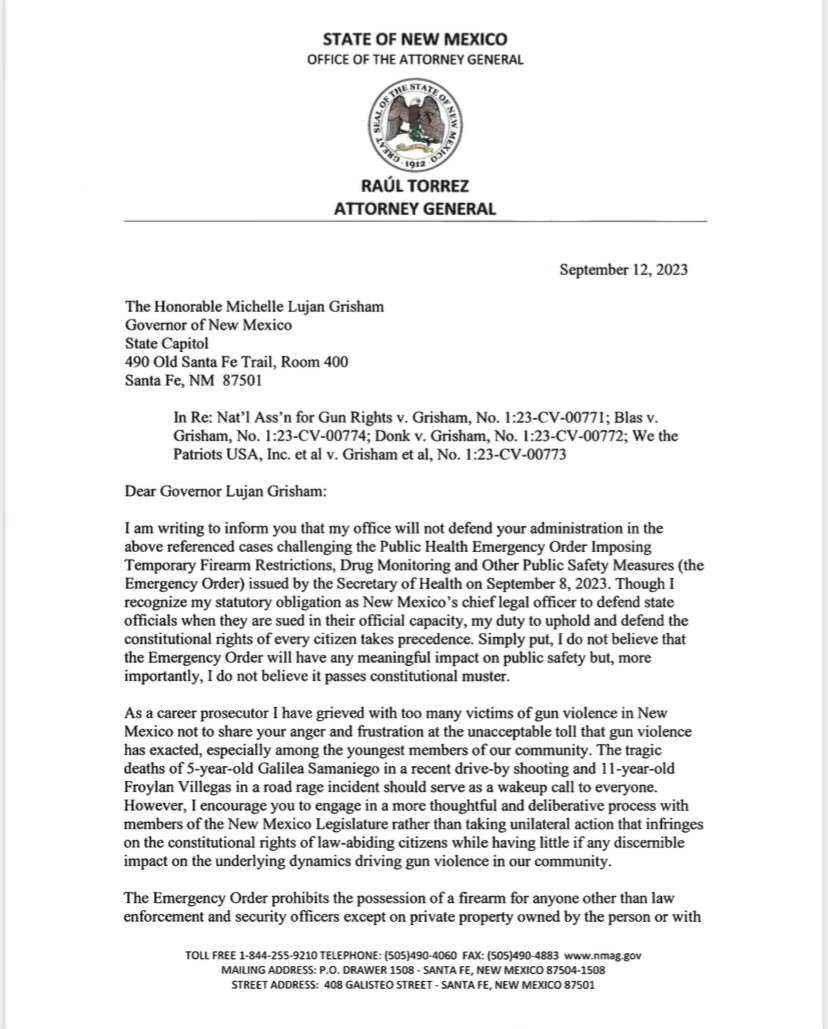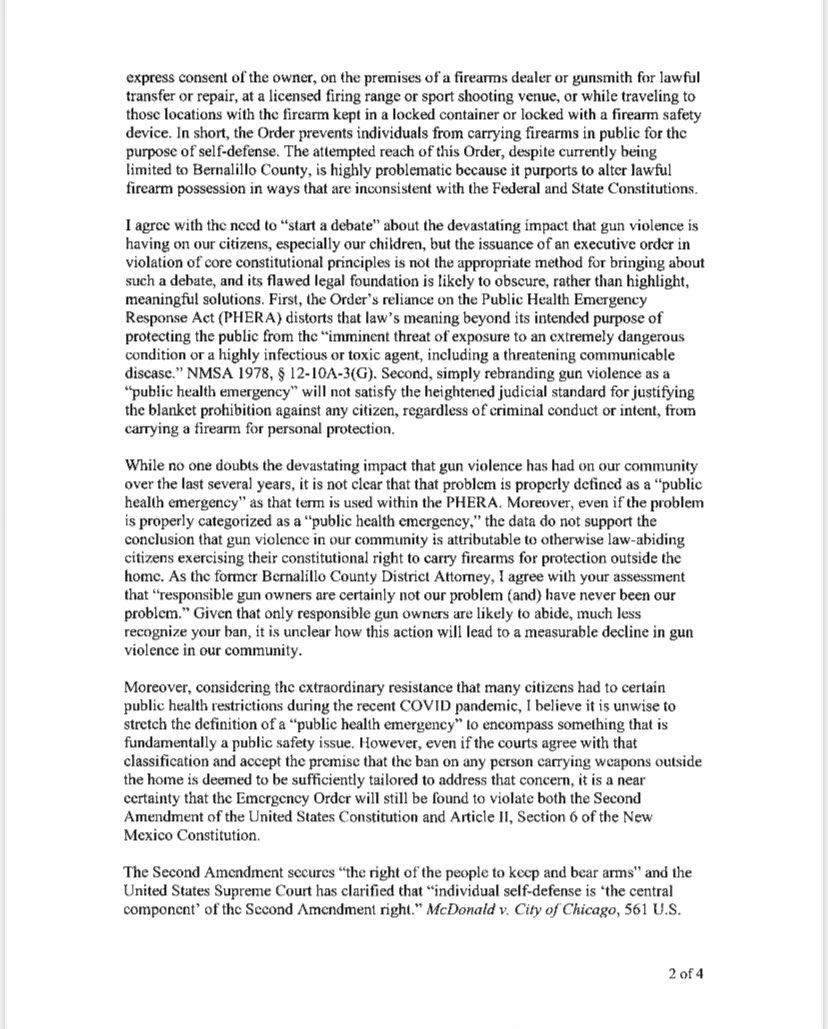 Kudos to him. Defending the indefensible and infringing upon the constitutional rights of law-abiding citizens is a reprehensible act.
New Mexico Attorney General Raul Torrez stated he will not defend the state in pending lawsuits regarding its public health emergency order. That order restricts gun access in Bernalillo County and Albuquerque.

Torrez wrote a letter to New Mexico Gov. Michelle Lujan Grisham regarding four pending lawsuit cases on that public order. Firearms are restricted in those two areas due to their crime rates reaching the threshold set by the governor.

Torrez wrote that despite his role as a chief legal officer to defend officials who are sued, he is also there to uphold and defend each New Mexican's constitutional rights. He also wrote that the order does not hold up to the standards of rights set in the state or federal constitutions, respectively.

Torrez recommended Lujan Grisham to have a more thoughtful and deliberate process prior to taking unilateral action. In that, Torrez also said she restricted the constitutional rights of law-abiding citizens.

The chief legal officer also questioned the use of the public health emergency order in general, stating that
Not sure what this tyrannical woman hoped to achieve with this stunt, but she certainly tested the waters, didn't she? It's now clear to Dems that the temperature is far too hot to go for the "gun grab" they've been planning. Meanwhile, Governor Michelle Lujan Grisham will likely be rewarded for her sacrifice, and Democrats will go back to the drawing board.
---
SUPPORT REVOLVER — DONATE — SUBSCRIBE — NEWSFEED — GAB — GETTR — TRUTH SOCIAL — TWITTER