We need your help! Join our growing army and click here to subscribe to ad-free Revolver. Or give a one-time or a recurring donation during this critical time.
---
Rep. Chip Roy of Texas has never been a "Trump enthusiast." But he's flown under the radar, kind of like Trey Gowdy. Chip, like Trey, is known for his fiery rhetoric that's not always backed up by actions. He has a penchant for delivering impassioned speeches on the House floor, unapologetically telling Biden and others to "go to hell." He also earns a lot of PR points with his unwavering stance on the U.S. border issue. However, when it comes to concrete achievements, many critics label Chip Roy as a closeted NeverTrumper who offers more talk than substance. Consequently, it didn't come as a shock when Chip threw his support behind Governor Ron DeSantis for the 2024 race instead of endorsing President Trump. However, what truly astonishes us is how Rep. Chip Roy targeted the tough and popular Texas Attorney General Ken Paxton in 2020, during the very beginning stages of the Bush-led impeachment plan.
Back in 2020, when the assault on Ken Paxton initially unfolded, Rep. Chip Roy of Texas wasted no time in issuing a statement urging Ken Paxton to step down. Who needs evidence or proof these days? All it takes is a few allegations from so-called "whistleblowers," and everyone rushes into action. One would expect that we would have learned our lesson from the Russia hoax and both impeachments against President Trump, but regrettably, establishment figures like Chip Roy don't seem to appreciate those type of lessons.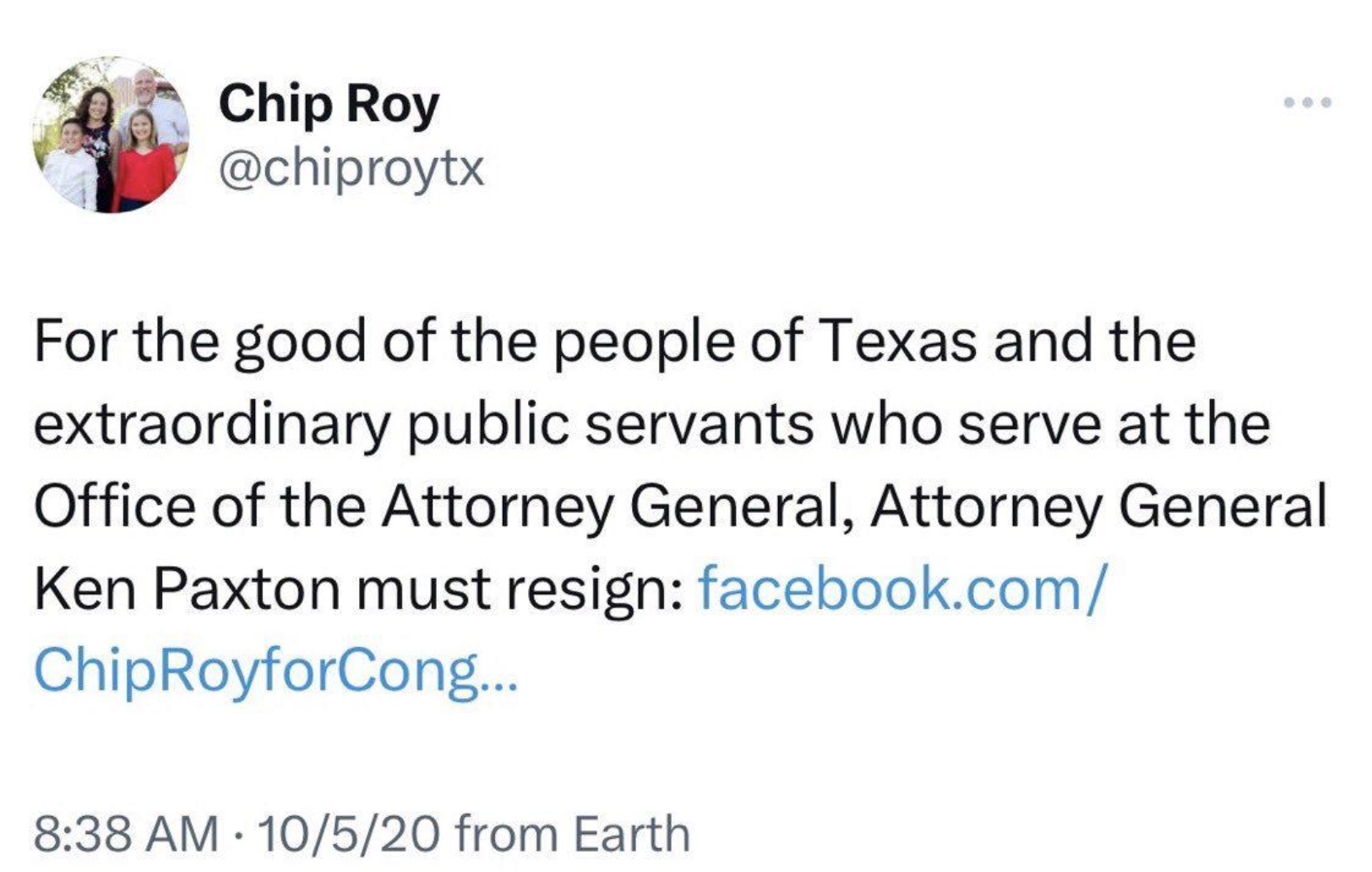 Here's what Chip Roy wrote in his Facebook post on October 5, 2020:
For the good of the people of Texas and the extraordinary public servants who serve at the Office of the Attorney General, Attorney General Ken Paxton must resign.

The allegations of bribery, abuse of office, and other charges levied against him by at least 7 senior leaders of the Office of the Attorney General are more than troubling on the merits. But, any grace for him to resolve differences and demonstrate if the allegations are false was eliminated by his choice instead to attack the very people entrusted, by him, to lead the office – some of whom I know well and whose character are beyond reproach.

The work of the Office of the Attorney General of Texas is too critical to the state and her people to leave in chaos and to risk the work of over 700 lawyers managing almost 30,000 legal cases at any given moment, including major cases before the U.S. Supreme Court, as well as processing over $4 Billion in Child Support.

The Attorney General deserves his days in court, but the people of Texas deserve a fully functioning AG's office.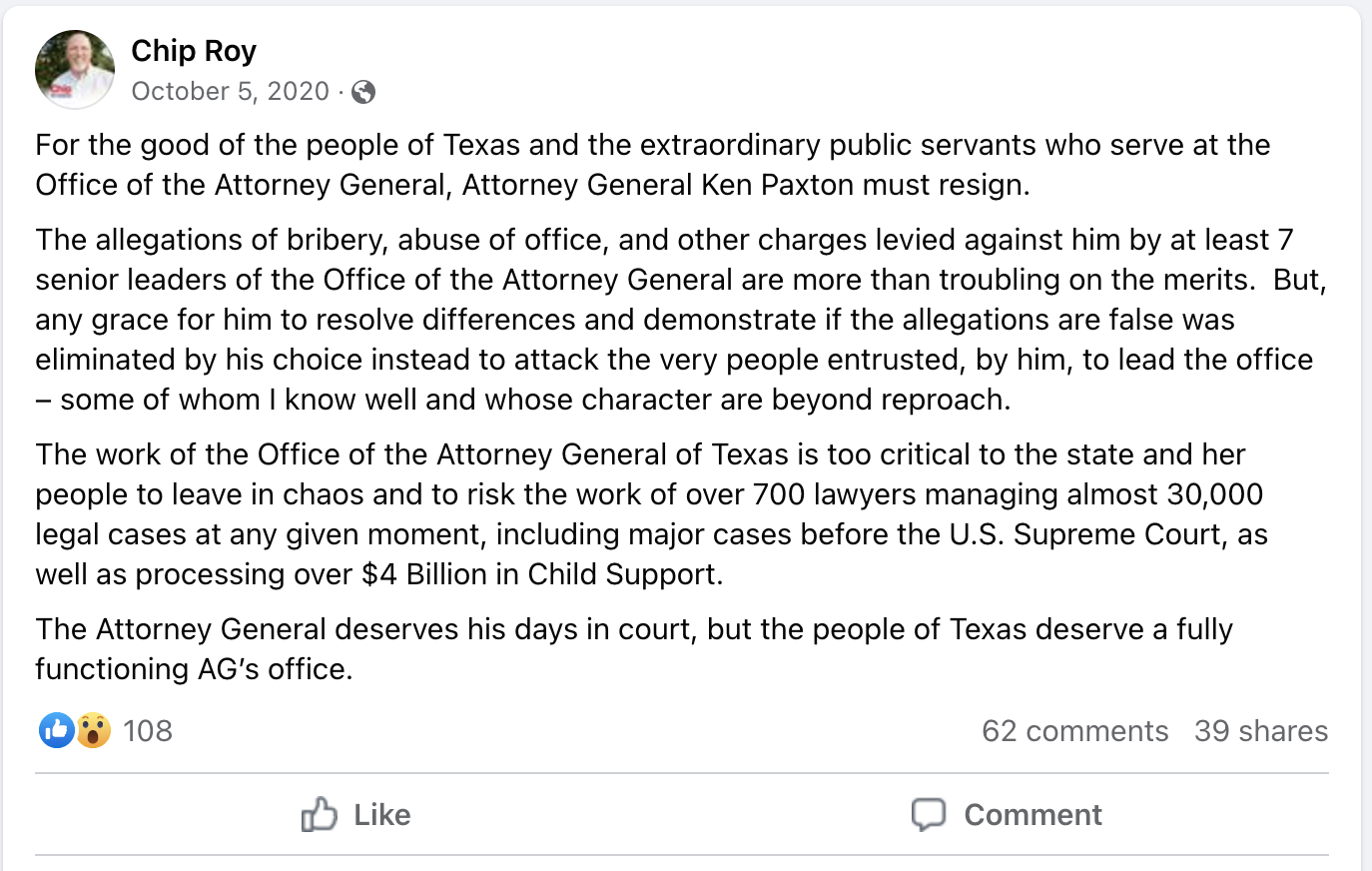 As we are now fully aware, the assault on Paxton was orchestrated by the Bush family and led by George P. Bush, a guy who once pretended to be an ally of President Trump. The whole thing was a setup and turned out to be a complete farce. They had no evidence against Paxton. Nevertheless, even in the absence of evidence, Rep. Chip Roy was among the first to go after Paxton, and in the process helped to validate a politically-motivated sham attack led by the Bushes against an America-First warrior. What does this reveal about Chip Roy's true character, or perhaps more accurately, his true allegiances? Nothing good, that's for sure.
---
SUPPORT REVOLVER — DONATE — SUBSCRIBE — NEWSFEED — GAB — GETTR — TRUTH SOCIAL — TWITTER