We need your help! Join our growing army and click here to subscribe to ad-free Revolver. Or give a one-time or a recurring donation during this critical time.
---
We are delighted to report that "woke" black racists are now turning on each other in a dramatic and public fashion. What's even more noteworthy is that most of the discord is being directed at one of the leading race-hustlers in the business: Ibram X. Kendi — a man who was actually born Ibram Henry Rogers.
Rogers/X. Kendi is an author, professor, race hustler and radical left-wing woke activist. His "antiracism" center, which is based on anti-white racism, recently made headlines when a substantial portion of its workforce was laid off. What's even more concerning is that Kendi's self-proclaimed "antiracism" research center has achieved very little despite significant funding and grants. In fact, since it began back in 2020, the center has only published two research papers.
Race fraud and hustler Ibram Kendi's "Center for Antiracist Research" has spent a ton and produced bupkis!
https://t.co/aqvZxgJ9dR pic.twitter.com/1lB0OWoKSW

— Watching The Defectives (@shannon_alter) September 20, 2023
Where on earth did all the money go?
The Boston University-based center has produced just two original research papers since its founding in June 2020, according to a Washington Free Beacon review. Output from the center's scholars largely consists of op-eds or commentary posted on the center's website. The group's plans to "maintain the nation's largest online database of racial inequity data in the United States" quickly fizzled out, and the database has been dormant since 2021.

The Center for Antiracist Research is the latest left-wing group to fall on hard times. George Soros's Open Society Foundations, which gave $140,000 to Kendi's center, cut 40 percent of its staff in June. The Black Lives Matter Global Network Foundation's revenues fell 88 percent from 2021 to 2022, as support for the movement plummeted to an all-time low.

It is unclear how much money remains in the Center for Antiracist Research's coffers. Boston University did not respond to a request for comment.
What's even more concerning is that the two research papers they published were collaborative efforts with other academics. The Free Beacon piece continues:
In December 2020, the center launched the "Racial Data Lab," which Kendi claimed would "give us the ability to see the hotspots of racial inequity in real time in this country." As of September, the Racial Data Lab only compiled information on COVID-19 infections and deaths. That COVID-19 tracker stopped collecting information in March 2021. The center has since removed the names of anyone who worked on that project from its website.

The center's scholars have produced only two research papers, both of which were co-authored with a number of other academics. Elaine Nsoesie, who leads the Racial Data Tracker project at the center, appeared last in a list of co-authors of the January paper "Association of Neighborhood Racial and Ethnic Composition and Historical Redlining With Build Environment Indicators Derived From Street View Images."
Well, one former employee of Kendi's research center is speaking out. His name is  Phillipe Copeland, and he's not only calling out the research center as a "fraud" but Kendi as well. Grab your popcorn, this is getting fun. Here's the post investigative reporter Chris Rufo shared on X:
A former faculty member at Ibram Kendi's "antiracism" center blasts Kendi for unleashing "employment violence" on his fired employees and suggests that Kendi's "commitment to antiracism is cosmetic and hypocritical."

Woke-on-woke recriminations rising. Kendi the new oppressor. pic.twitter.com/7Fstik0U4X

— Christopher F. Rufo ⚔️ (@realchrisrufo) September 19, 2023
And this is a closeup of the images Chris shared: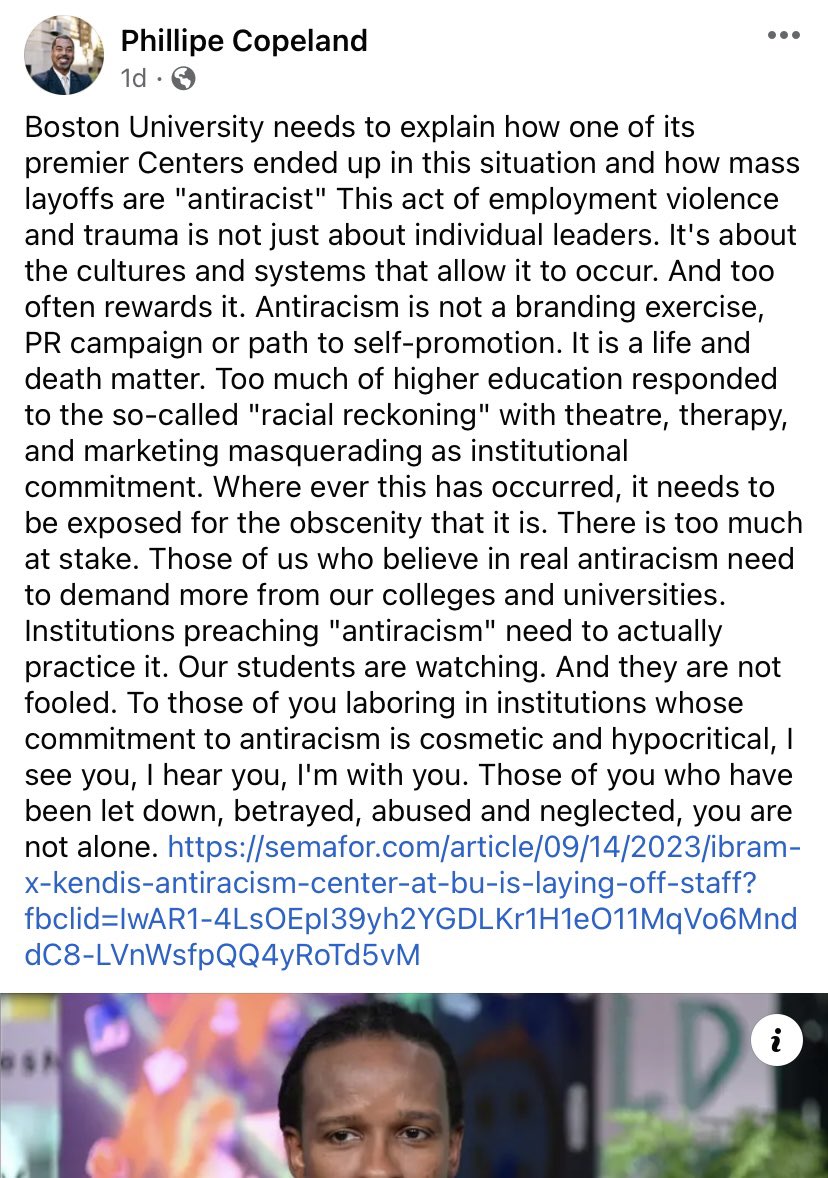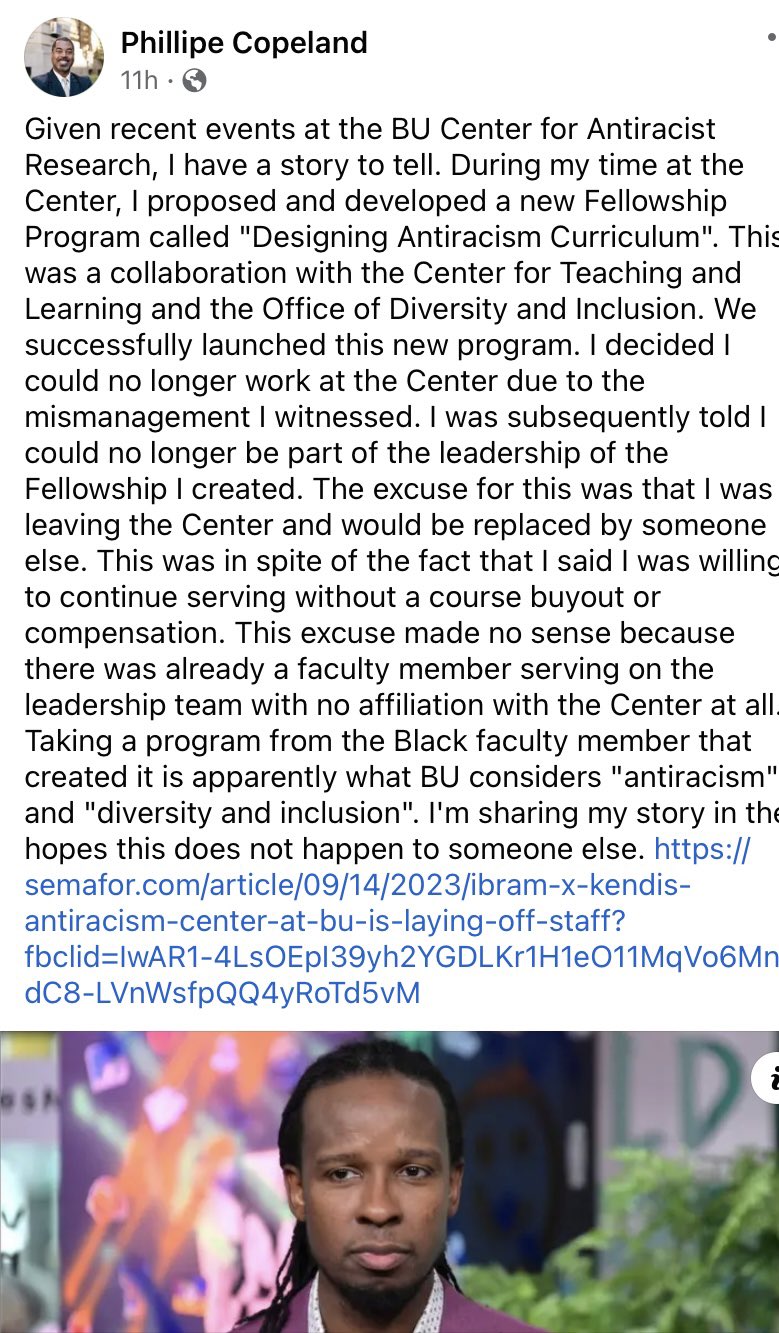 Copeland is so frustrated that he has even approached the New York Times in an attempt to get his story published. Could this be the beginning of the end for Kendi?

We love it when these race hustlers eat their own. Let's hope the feasting continues until they're all devoured.
---
SUPPORT REVOLVER — DONATE — SUBSCRIBE — NEWSFEED — GAB — GETTR — TRUTH SOCIAL — TWITTER