We need your help! Join our growing army and click here to subscribe to Revolver. Or give the gift of Revolver—simply select the annual subscription and select "This is a gift" on the next page. If you want to give extra during this critical time, you can make a one-time or recurring monthly donation — whether it's $1 or $1,000, every bit goes towards the battle to save our great nation.
---
President Trump took center stage when he released his own mug shot – yes, you read that right. Demonstrating a remarkable feat of marketing mastery,
https://t.co/MlIKklPSJT pic.twitter.com/Mcbf2xozsY

— Donald J. Trump (@realDonaldTrump) August 25, 2023
Trump orchestrated a complete and total takeover of the narrative surrounding his pre-arrest, arrest, and the aftermath of his fourth indictment. And in doing so, Trump managed to deflate the hopes of liberals all over the world who had been eagerly anticipating mocking him at his lowest, and most humble moment. But that's not what happened. President Trump completely dismantled the left's hopes of capturing him in an unflattering light. Forget the typical awkward mug shot — what we got instead was an image of defiance. The mugshot was essentially a poster child for "never surrender" and "viva la revolution." And the left are furious, to say the least. Over at The Atlantic, the emotions are swinging wildly between anger and fear. They wanted so badly for their moment to spotlight Trump's so-called demise, but once more, he managed to take control and rob them of that joy.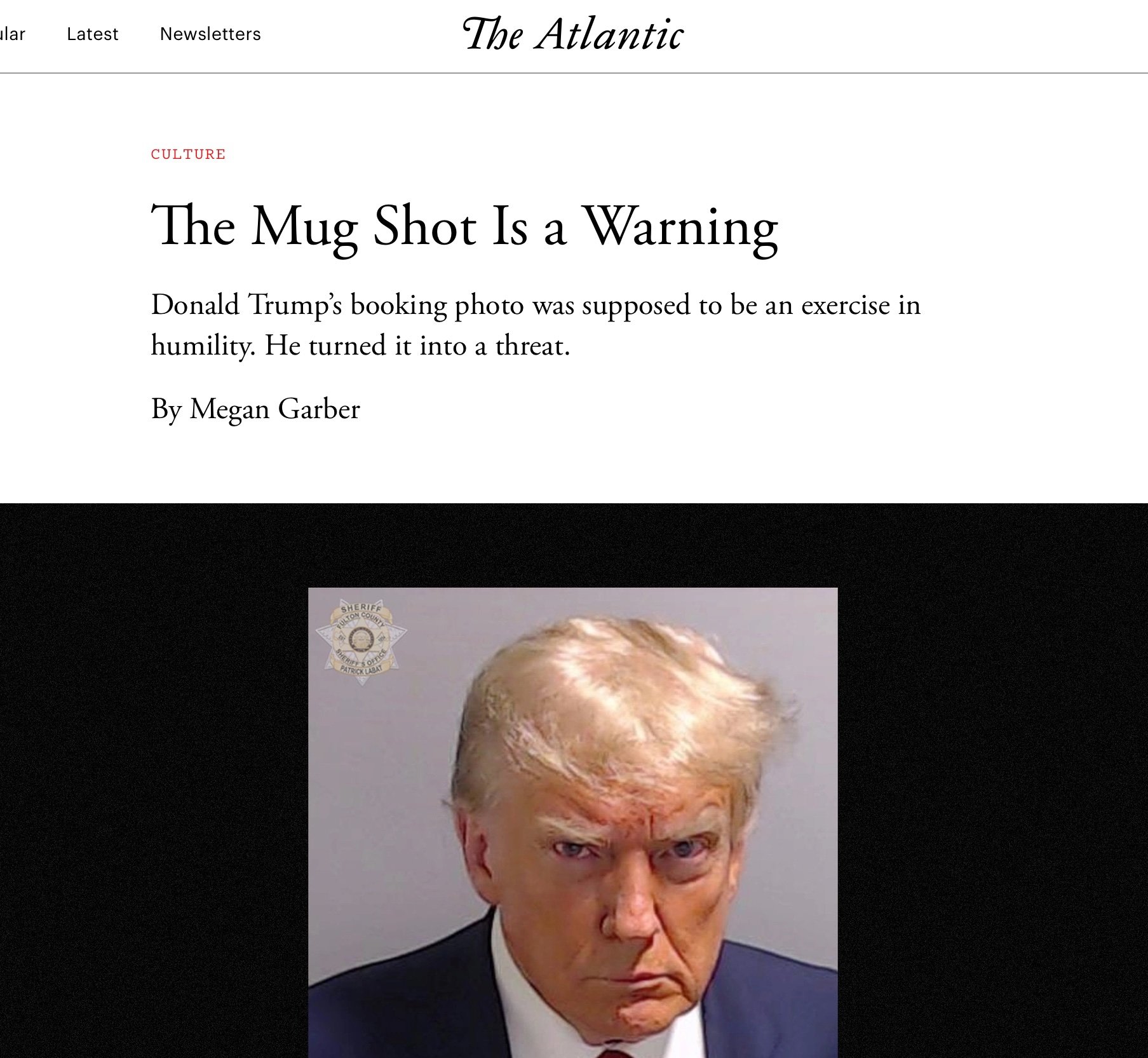 Last night, the 45th president became inmate number P01135809 of Georgia's Fulton County Jail. Trump had his mug shot taken. It was shared with the public. We looked, of course. And he was prepared for our gaze: hair, makeup, angle, pose. In the portrait—it is a portrait, in the end—Trump glares directly into the camera. He seethes. He glowers. He turns in a studied performance. Photos like this are typically exercises in enforced humility. Trump's is a display of ongoing power. He treats his mug shot as our menace.
The left isn't technically "frightened" by the mug shot. They're basically furious that Trump has once again outmaneuvered them. They were hoping for an image of him looking small and humiliated, not resolute and formidable.
The public imagined the picture long before we actually saw it, spending months before yesterday discussing and anticipating it. The preemptive attention was fueled by the fact that the first president to be indicted has also been indicted, at this point, four times. Each new legal proceeding has inspired more talk of the image: Would there be a mug shot? What would it look like? What would it feel like, to see it? The Fulton County sheriff promised that his office would do its part to provide the answers. "We'll have a mug shot ready for you," he said, like a paparazzo making his assurances to TMZ.

Once it became clear that the officer would make good on the promise, the speculation turned into giddiness. Last night, CNN led a countdown to Trump's appearance at the Atlanta-area jail, its chyrons announcing when Trump's plane had departed for Georgia, when it had landed at the airport, and when its passengers had been deposited into the vehicles that would take them to the facility. Trump was given a motorcade, which made its way through the city like a parade of lights and sirens. MSNBC shot it all from above, using the footage as B-roll while its commentators discussed the belated satisfactions of justice.
The left has been anticipating this photo for eight long years, imagining it as their defining moment, not Trump's. But the reality didn't meet their expectations, leaving them profoundly disappointed.
In the process, though, the event that should have been a show of accountability for Trump became an act of concession to him. The typical mug shot, usually taken after the subject's unexpected arrest, bestows its power on the people on the other end of the camera. The alleged criminal, in it, tends to be disheveled, displaced, small. But Trump, trailed by the news cameras that confer his ubiquity, found a way to turn the moment's historical meaning—a former president, mug-shotted—into one more opportunity for brand building. He might have smiled, as some of his alleged co-conspirators did, making light of his legal jeopardy. He might have assumed an expression of indignation, the better to channel one of his preferred personas: the innocent man, victimized.
The left expects nothing less than your complete surrender to their agenda. How rude of you to resist, to challenge their desire to see you fail just so they can feel vindicated. The nerve!
But he did neither. Instead, he looks straight at the viewer, seemingly incandescent with rage, taking the advice he has reportedly given to others: Perform your anger. Turn it into your script. Make it into your threat. His menacing glare gives a similar stage direction to the people who follow him and do his bidding—both in spite of his disrespect for democratic processes and because of it.
Welcome to the age, then, of mug-shot rule. Trump, evidently pleased with his portrait, broadcast it on social media. (The platforms he used included X, formerly known as Twitter, which had once banned him for spreading violent lies to its users.) The image he shared is doctored, of course. Its background is stripped of the Fulton County seal, as if it were a mere headshot for an actor seeking the role of "autocrat." The caption Trump appended to the shot suggests that, in this elemental legal document, questions of legality are beside the point. And it attempts to turn the language of the accusation against itself. ("election interference," it says, baselessly suggesting that the indictment is its own attempt to interfere with the results of the 2020 election. "never surrender!" it adds, applying the same tactic to the photo that existed precisely because of Trump's surrender.)
President Trump really understands his enemy, maybe even better than they know themselves. That's one reason why he keeps landing on his feet. The latest polls show him gaining even more ground in the blow-out GOP primary.
Post debate poll: Trump holds 52-point lead for Republican Nomination

• Trump — 61% (+52)
• DeSantis — 9%
• Ramaswamy — 5%
• Pence — 5%
• Scott — 3%
• Haley — 2%
• Christie — 1%@leger360 | 658 RV | August 23-24https://t.co/mqwYfAttKK pic.twitter.com/6qmYVa5wz2

— InteractivePolls (@IAPolls2022) August 25, 2023
President Trump's mantra of "never surrender" couldn't be a more fitting battle cry — not just for what he's going through, but for our own ongoing fight to save this country. Sure, we've had our share of losses, but don't count us out. We're back and revved up for what's next!
---
SUPPORT REVOLVER — DONATE — SUBSCRIBE — NEWSFEED — GAB — GETTR — TRUTH SOCIAL — TWITTER