We need your help! Join our growing army and click here to subscribe to Revolver. Or give the gift of Revolver—simply select the annual subscription and select "This is a gift" on the next page. If you want to give extra during this critical time, you can make a one-time or recurring monthly donation — whether it's $1 or $1,000, every bit goes towards the battle to save our great nation.
---
If you hadn't already figured out that these sham indictments against President Trump are entirely politically motivated and aimed at interfering with the 2024 election, the regime's latest brazens move should eliminate any remaining doubts. A foreign-born anti-Trump federal judge who happens to have family connections to Marxist ideologues has scheduled the trial for the day before Super Tuesday. It's almost beyond belief.
While January 6th detainees languish in cells, the regime has managed to fast-track Trump's trial, marking it as one of the most swiftly arranged federal cases in DC history. At this point, they're not even trying to hide their shameless election interference… it's all out in the open for everybody to see.
The federal trial over former President Donald Trump's alleged illegal efforts to overturn the 2020 election is slated to start on March 4, 2024 — one day before "Super Tuesday" in the GOP presidential primary. Yet that, just like four indictments and two impeachments, may not stop the steamroller that is Trump's campaign, GOP strategists who spoke with ABC News said Monday.
When a group is desperate like the Dems are right now, they tend to make a lot of forced errors and overreaches that will eventually backfire in their faces. That's exactly what we're witnessing right now. First, there were the sham arrests targeting Trump, and now, we have this absurdly expedited trial date that reeks of political corruption at the highest and most disgusting levels. The situation has gotten so out of control and absurd that even the left-leaning propaganda hacks at CNN can't defend this unjust assault on everything this country is supposed to stand for.
Reporter Byron York shared the transcript of what went down on CNN on X (Twitter).
CNN legal analysts agree that given huge volume of evidence to be examined, Judge Chutkan's March 4, 2024 trial date is 'cutting it pretty close to the line with respect to Donald Trump's constitutional right to fully prepare.' pic.twitter.com/LbVlqPabol

— Byron York (@ByronYork) August 30, 2023
Here's a close-up of the transcript: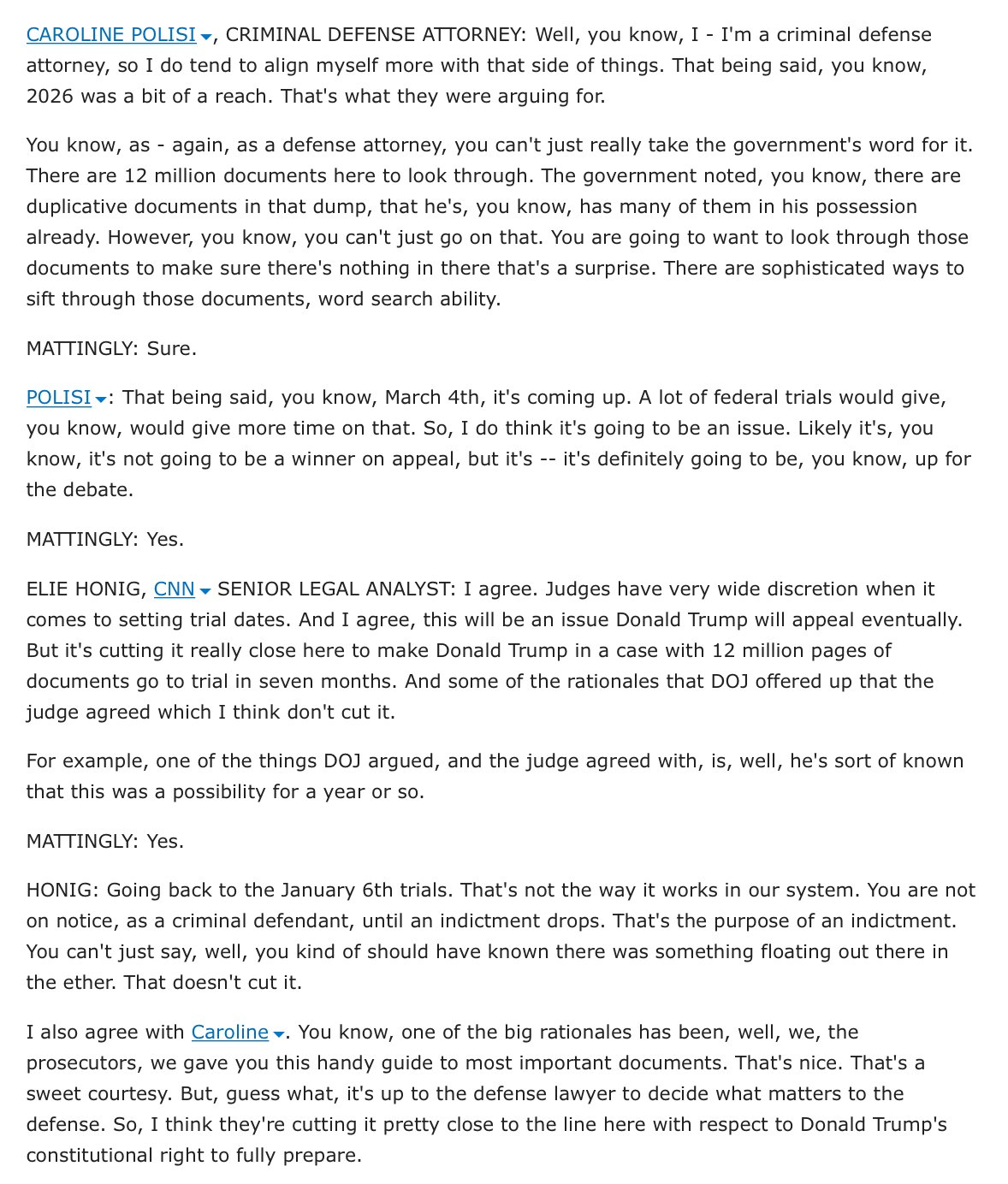 You know the situation is when CIA-run media can't put a positive spin on it. However, at this point, what options do the Dems have? They can't afford to let Trump — an outsider — reclaim the presidency, so they're pulling out all the stops and going for broke, even if it ends up costing them everything. This level of raw desperation really makes you wonder what they're trying to hide from us, doesn't it?
---
SUPPORT REVOLVER — DONATE — SUBSCRIBE — NEWSFEED — GAB — GETTR — TRUTH SOCIAL — TWITTER