MAGA is fighting back against the mob and so are we… but we need your help. Join our growing army and click here to subscribe to Revolver. Or give the gift of Revolver—simply select the annual subscription and select "This is a gift" on the next page. If you want to give extra during this critical time, you can make a one-time or recurring monthly donation — whether it's $1 or $1,000, every bit goes towards the battle to save our great nation.
---
Covid experts are likely scrambling for cover as a new peer-reviewed study has been released. If any of them had any remaining dignity after all the politics, lies, and cover-ups, this study would surely wipe it out. But in the end, it's not the experts who suffer the most; it's all the  people they deceived. According to the findings, heart-related Injuries from a Moderna C•19 Booster Dose were 3000x higher than thought. Researchers found a staggering 1 in 35 healthcare workers at a Swiss hospital had signs of heart injury associated with the booster dose.
So, this study basically tells us that in order to treat a bad "cold," governments around the world created heart conditions in millions of people. The kicker is that the booster appears to impact woman more.
NEW Peer-Reviewed Study Finds Heart-Related Injuries from a Moderna C•19 Booster Dose were 3000x higher than thought. Researchers found a staggering in 1 in 35 of healthcare workers at a Swiss hospital has signs of heart injury assoc. with booster dose. pic.twitter.com/dHnqLPKH2Q

— TexasLindsay™ (@TexasLindsay_) July 27, 2023
Here's a closeup of the document: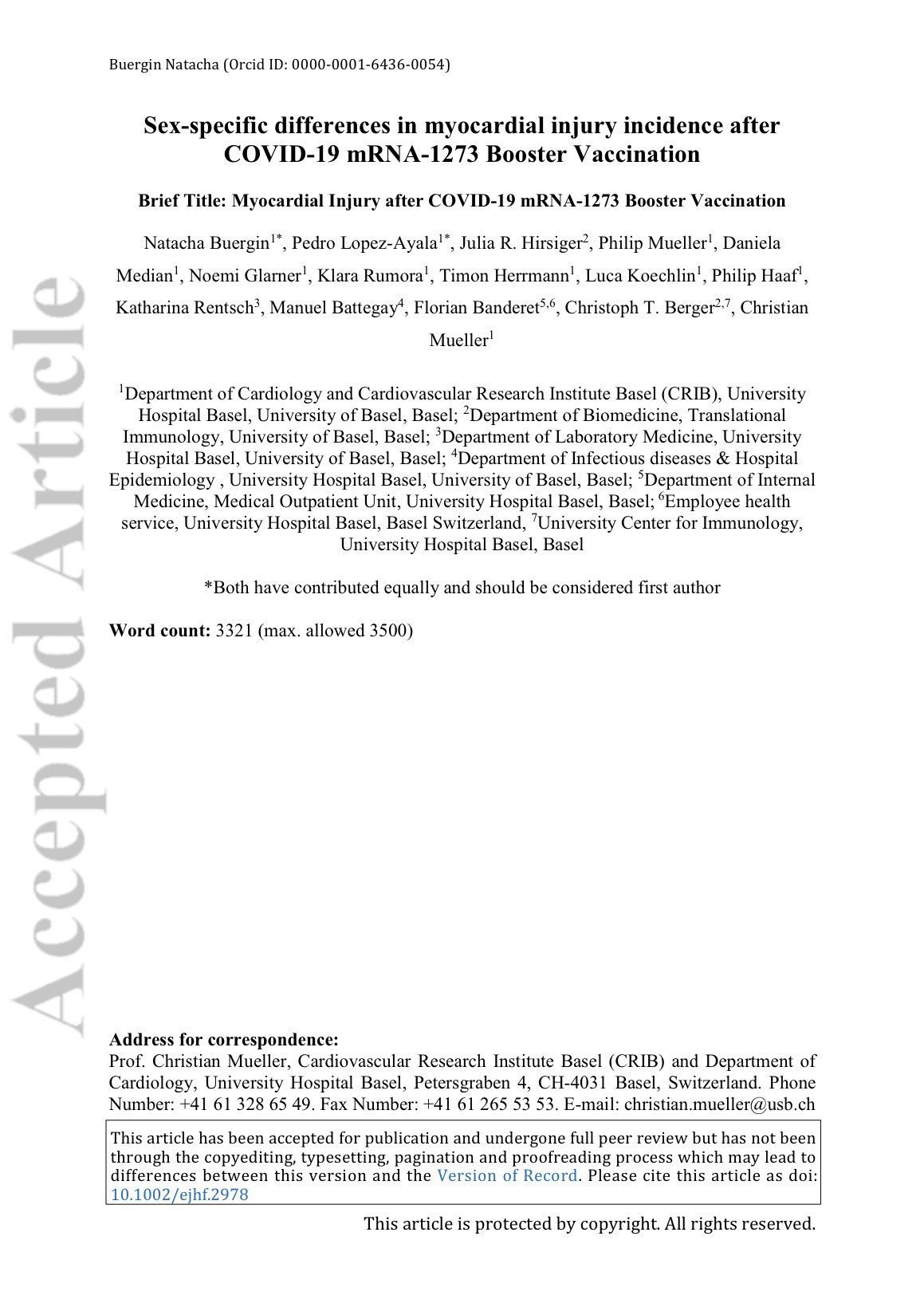 Hospital employees scheduled to undergo mRNA-1273 booster vaccination were assessed for mRNA-1273 vaccination-associated myocardial injury, defined as acute dynamic increase in high-sensitivity cardiac troponin T (hs-cTnT) concentration above the sex-specific upper-limit of normal on day 3 (48-96 h) after vaccination without evidence of an alternative cause. To explore possible mechanisms, antibodies against IL-1RA, the SARS-CoV2-Nucleoprotein(NP) and -Spike(S1) proteins and an array of 14 inflammatory cytokines were quantified. Among 777 participants, median age 37 years, 69.5% women, 40 participants (5.1% [95%CI, 3.7%–7.0%]) had elevated hs-cTnT concentration on day 3 and mRNA-1273 vaccine-associated myocardial injury was adjudicated in 22 participants (2.8% [95%CI, 1.7%–4.3%]). Twenty cases occurred in women (3.7% [95%CI, 2.3%–5.7%]), two in men (0.8% [95%CI, 0.1%–3.0%]). Hs-cTnT-elevations were mild and only temporary. No patient had ECG-changes, and none developed major adverse cardiac events within 30 days (0% [95%CI, 0%–0.4%]). In the overall booster cohort, hs-cTnT concentrations (day 3; median 5 [IQR, 4–6] ng/L) were significantly higher compared to matched controls (n = 777, median 3 [IQR, 3–5] ng/L, p < 0.001). Cases had comparable systemic reactogenicity, concentrations of anti-IL-1RA, anti-NP, anti-S1, and markers quantifying systemic inflammation, but lower concentrations of IFN-λ1(IL-29) and GM-CSF versus persons without vaccine-associated myocardial injury.

Conclusion

mRNA-1273 vaccine-associated myocardial injury was more common than previously thought, being mild and transient, and more frequent in women versus men. The possible protective role of IFN-λ1(IL-29) and GM-CSF warrant further studies.
This horrific news comes on the heels of several very high-profile and public "medical incidents" that occurred over the past week.
A pro-vaxx ESPN reporter collapsed on air.
WATCH: ESPN soccer reporter collapses during live transmission. pic.twitter.com/lz3nTfwCRa

— Insider Corner (@insidercnews) July 24, 2023
Then, in another scary situation at a restaurant, singer Tori Kelly collapsed due to severe blood clots.
Kelly was taken to a hospital after passing out at a dinner in Los Angeles. Doctors reportedly found 'really serious' blood clots. After she arrived at the hospital, doctors discovered blood clots around the Grammy winner's lungs and in her legs
And the biggest medical incident of all involved the 18-year-old son of LeBron James, who suffered a heart attack while practicing on the basketball court.
Bronny James, the 18 year old son of LeBron James, just had a heart attack.

That's not normal.

— Brigitte Gabriel (@ACTBrigitte) July 25, 2023
What's even more concerning is that Bronny wasn't the only player on the USC basketball team to recently suffer from a heart attack.
RELATED: Did you know that LeBron's son is already the SECOND player on the USC team to collapse with a heart attack?
Of course, liberals are up in arms over this study, laughably trying to defend it by saying that the heart damage is "mild" and "transitory," as if that somehow makes any of this better. The presence of any heart damage is extremely concerning, whether it's minor and temporary or not. Nobody knows yet what that could develop into down the road, and you have to wonder how many people would have taken that shot if they knew that "heart damage" of any kind was a high risk.
---
SUPPORT REVOLVER — DONATE — SUBSCRIBE — NEWSFEED — GAB — GETTR — TRUTH SOCIAL — TWITTER