MAGA is fighting back against the mob and so are we… but we need your help. Join our growing army and click here to subscribe to Revolver. Or give the gift of Revolver—simply select the annual subscription and select "This is a gift" on the next page. If you want to give extra during this critical time, you can make a one-time or recurring monthly donation — whether it's $1 or $1,000, every bit goes towards the battle to save our great nation.
---
An eye-catching Twitter thread by Mike Benz, Executive Director of the Foundation for Freedom Online, is stirring up quite a buzz. As you're probably aware, Dana Nessel, the radically anti-Trump Michigan Attorney General has brought conspiracy charges against 16 "grandparents" for serving as "alternate electors" in the contentious 2020 election.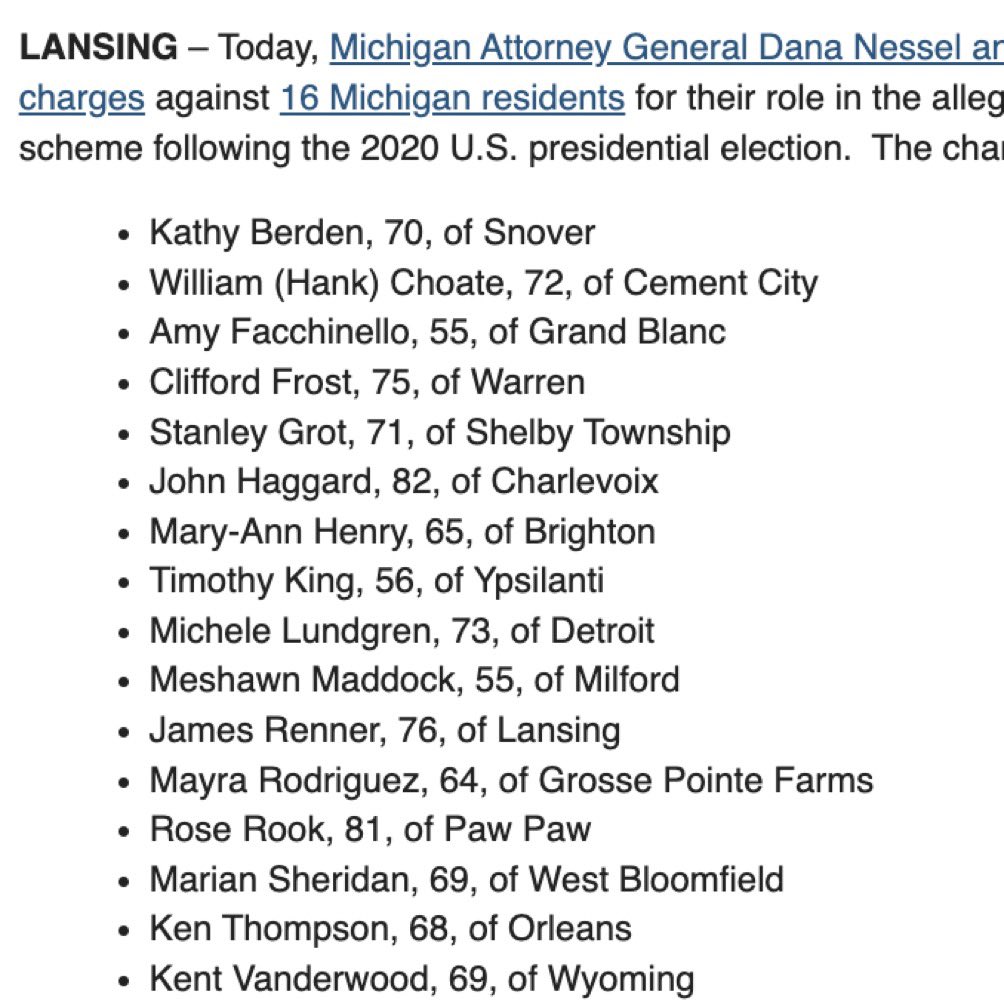 The truly concerning aspect of these charges isn't merely the idea that Whitmer and her crew aim to imprison these older adults indefinitely.
Tyranny is not coming, it's here

— Drew Hernandez (@DrewHLive) July 19, 2023
It's that this move is part of a broader scheme to once again attempt to imprison President Trump and meddle with the 2024 election. As always, there's a calculated reason why Dems are pulling this move, and it has absolutely nothing to do with "justice" or "secure elections" and everything to do with the next round of charges from Biden's immoral and unjust DOJ.
The so-called "fake electors" case is said to be central to Special Counsel Jack Smith's investigation of Trump and his campaign. Former President Trump said Tuesday he had been informed he was a target of the inquiry.
Notice a pattern here? Right on time, much like the last presidential election when the sudden COVID outbreak happened at the most "convenient" moment for the Democrats, chaos ensues. While this bogus case unfolds in Michigan, Mike Benz has uncovered documents revealing what John Podesta, Hillary's former campaign CEO, had planned to ensure Biden's inauguration, regardless of the actual election outcome. What John Podesta plotted was far worse than anything Trump could have ever imagined.
They (the Democrats and Deep State) always accuse you of what they're guilty of doing.
Here's what Mike shared:
John Podesta, role playing Joe Biden in Transition Integrity Project's summer 2020 simulation to ensure a Biden presidency even if Trump won the election, openly plotted sending a separate elector slate

— the same thing DOJ just indicted Trump electors for considering doing https://t.co/N4wv0eCdeB pic.twitter.com/qKxChnqueG

— Mike Benz (@MikeBenzCyber) July 19, 2023
Image:
More here. It's 100x worse than anything the DOJ is alleging the Trump faction didhttps://t.co/Vx1vlfREMP

— Mike Benz (@MikeBenzCyber) July 19, 2023
Source material:
Source: https://t.co/HkwaW6UkV6

Page 17 and then TIP's discussion & analysis after

— Mike Benz (@MikeBenzCyber) July 19, 2023
You can't make this up — Podesta & Co. planned the test runs of their shenanigans for Michigan:
And yes, I know technically it was the Michigan AG's office not the DOJ who brought the charges.

But that's NOT ANY BETTER. Podesta & the TIP simulation squad specifically plotted their state elector switcheroo IN MICHIGAN. pic.twitter.com/0YLmp1aWcw

— Mike Benz (@MikeBenzCyber) July 19, 2023
Image:
There you have it. Our unjust, immoral two-tier "justice" system at work. Democrats have successfully hijacked our judicial system and turned it into a powerful weapon for skewing elections to their favor. The interference we're witnessing in our elections is unprecedented. The current administration will happily destroy the lives of innocent American elders just so they can hold onto power.  These sham trials and misuse of the justice system will leave lasting scars on our country. Our country is imploding, thanks to a bunch of politicians and bureaucrats, both elected and unelected, who are terrified of an "outsider" reclaiming power. Our government is in a state of disrepair, possibly beyond hope.
You can read the full report from Mike Benz here: DHS Censorship Agency Had Strange First Mission: Banning Speech That Casts Doubt On 'Red Mirage, Blue Shift' Election Events"…
---
SUPPORT REVOLVER — DONATE — SUBSCRIBE — NEWSFEED — GAB — GETTR — TRUTH SOCIAL — TWITTER