MAGA is fighting back against the mob and so are we… but we need your help. Join our growing army and click here to subscribe to Revolver. Or give the gift of Revolver—simply select the annual subscription and select "This is a gift" on the next page. If you want to give extra during this critical time, you can make a one-time or recurring monthly donation — whether it's $1 or $1,000, every bit goes towards the battle to save our great nation.
---
An Emmy award-winning ABC reporter known for attacking and criticizing Tucker Carlson has been convicted of possessing the most disturbing and unspeakable child pornography on earth.
His name is James Meek, and he just pled guilty to possessing child porn and could face up to 40 years in prison. However, many experts believe he'll only serve about five years. After hearing what he was watching, you'll probably want him to get the death penalty, as no decent human being would ever want to see such horrors. Human Events editor Jack Posobiec shared a tweet about James Meek and his comments regarding Tucker compared to what he was found guilty of. It's disturbing. Please be warned.
Shot. Chaser. pic.twitter.com/Rqb7qcJ00F

— Jack Poso ?? (@JackPosobiec) July 24, 2023
This is what a monster looks like.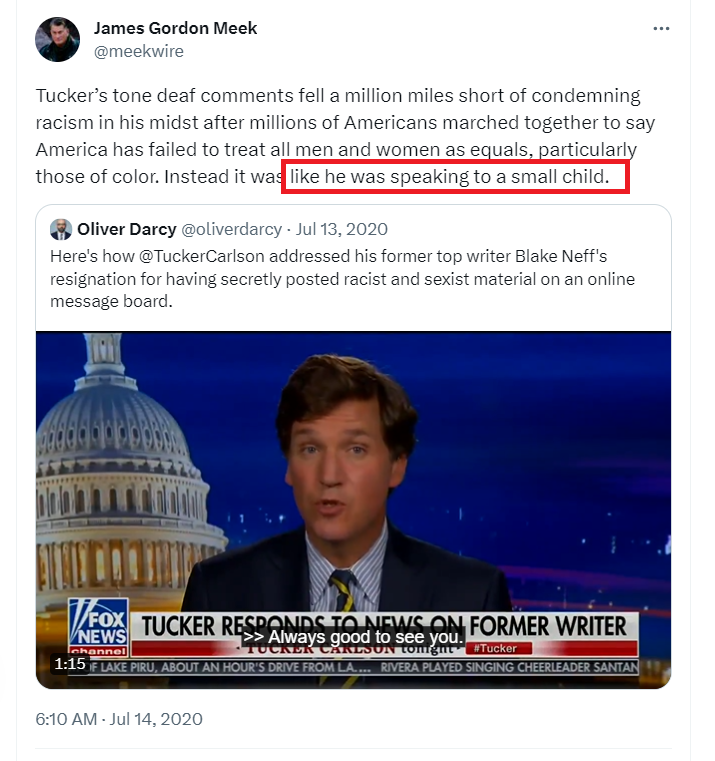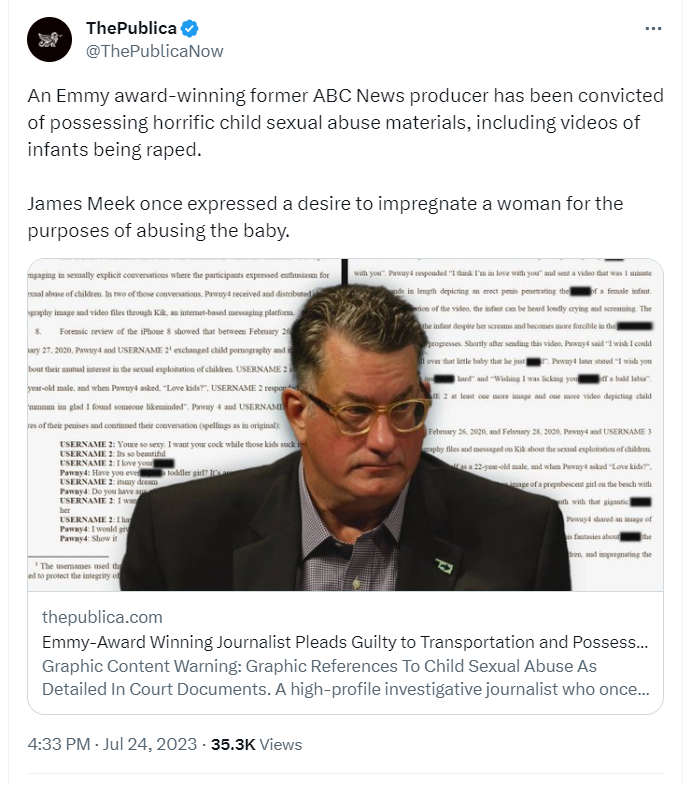 Jack's right, given what we now know — what a disturbing choice of words. They always give themselves away, don't they?
While this ABC journalist was sitting on his high horse, casting judgment down on Tucker and likely other right-wing figures, behind the scenes, he was engaged in some of the most despicable filth imaginable.
James Gordon Meek, a former ABC News producer, has pled guilty to the transportation and possession of child sexual abuse material.

The former journalist is scheduled to be sentenced on Sept. 29 and is facing a mandatory minimum of five years in prison, with a maximum penalty of 40 years in prison, according to the Department of Justice.

Meek's charges relate to a February 2020 visit to South Carolina where the 53-year-old Arlington resident used an unidentified online messaging platform on his personal iPhone to send and receive both images and videos that depicted minors engaged in sexually explicit conduct in addition to discussing his sexual interest in children. He brought the phone containing this material back with him on his return to Virginia.
Obviously, all of the images are disturbing and unacceptable. However, the infant image strikes many as simply unfathomable.
"Some of the images and videos depicted prepubescent minors and minors under the age of 12, including an infant being raped," according to the Department of Justice.

Meek was taken into custody in January following an investigation led by the FBI Washington Field Office's Child Exploitation and Human Trafficking Task Force. They were responding to a March 2021 tip from Dropbox to the National Center for Missing and Exploited Children which alleged that child pornography had been uploaded to an account with a username and IP addresses associated with Meek on March 10.

The FBI obtained a search warrant for the former national security news producer's Virginia home before searching it April 27, 2022, and seizing several devices. That included a personal phone and external hard drive, which allegedly contain evidence related to his initial charge.
What's most infuriating is that a dangerous predator like this was allowed to plea bargain and wipe out the most serious charge, allowing this animal back on the streets sooner.
In March, Meek was indited on three counts, including transportation, distribution and possession of child porn. Meek pled guilty to transportation and possession only, according to The Daily Beast, with his plea agreement dismissing the distribution count
Meanwhile, there are non-violent January 6th protesters rotting away in prison, facing harsher sentences than this demonic ABC reporter who preyed on innocent children and infants. Welcome to Joe Biden's America…
---
SUPPORT REVOLVER — DONATE — SUBSCRIBE — NEWSFEED — GAB — GETTR — TRUTH SOCIAL — TWITTER