MAGA is fighting back against the mob and so are we… but we need your help. Join our growing army and click here to subscribe to Revolver. Or give the gift of Revolver—simply select the annual subscription and select "This is a gift" on the next page. If you want to give extra during this critical time, you can make a one-time or recurring monthly donation — whether it's $1 or $1,000, every bit goes towards the battle to save our great nation.
---
Mike Pence never had a snowball's chance in hell of getting the GOP nomination, and that's common knowledge. Many people are questioning why he's running, particularly after endorsing what a majority of conservative Americans believe was a fraudulent election.
Mike Pence has also played a role in J6 and collects his gold coin and his salary from Nancy Pelosi. pic.twitter.com/lzD2x3P4lN

— Bella Smith ❤️ (@BelllllaSmith) June 4, 2023
What Mike Pence said in his CNN town hall will surely seal his political coffin. He boldly announced that he won't grant pardons to any of the political prisoners from January 6th. Bye Mike, Nice knowin' ya.  Don't let the door hit ya on the way out…
Mike Pence says he would not pardon J6 prisoners

— ALX ?? (@alx) June 8, 2023
Trump demanded that Pence, in his role as president of the Senate, throw out electoral votes for Biden and essentially re-elect Trump to the White House. Pence said he had no legal authority to do that and that Trump violated his oath of office in asking.

Trump is under investigation by a special counsel for actions leading up to Jan. 6, as well as the classified documents case.

The Jan. 6 investigation generated another unique aspect of Pence's candidacy: He once testified before a grand jury about the former president and front-runner for the 2024 GOP nomination.

Pence also told CNN he has no intention of pardoning anybody who vandalized the U.S. Capitol on Jan. 6, 2021, a subject that Trump has broached.
The CNN town hall took a dramatic and somewhat comical turn when the topic of the infamous Mike Pence "gallows" came up — a  haphazard "art project" quickly put together to express an idea ended up becoming the emblem of "violence and death" on January 6th. It's interesting how everything the right does is often interpreted as 100 percent literal, while controversial political statements from the left are brushed off as just "art."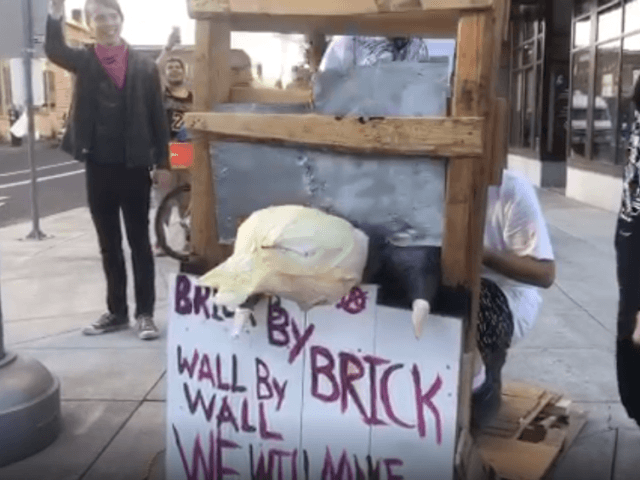 It's really no surprise that Mike Pence would abandon political prisoners. After all, he turned his back on millions of voters on January 6th. This seems to be a pattern with this disgraceful guy.
Many non-violent Americans are being handed unjustifiably harsh prison sentences for simply walking around the Capitol with a police escort.
Chansley got 4 years in prison for a non-violent, police-escorted tour!?

Dave Chapelle was violently assaulted on stage by a guy with a knife. That guy got a $3000 fine & no prison time. https://t.co/qDRWxozD8B

— Elon Musk (@elonmusk) March 10, 2023
During his CNN town hall, President Trump made it clear that he would be pardoning a large number of January 6th political prisoners.
Former President Donald Trump promised Wednesday night that if he is elected he will pardon a "large portion" of the people convicted of federal offenses for their participation in the Jan. 6, 2021, attack on the U.S. Capitol.

"I am inclined to pardon many of them," Trump said at a town hall hosted by CNN at Saint Anselm College in New Hampshire. "I can't say for every single one, because a couple of them, probably they got out of control."

He added that "most likely" he would pardon "a large portion of them."

"And it'll be very early on," Trump said.
However, Mike Pence, who claims to care about the "Constitution," doesn't seem to give a damn about these Americans suffering in jail, like political prisoners in some communist hellhole.
U.S. politics is all theater, and Mike Pence just wrapped up his final act on a stage in Iowa with CNN. Good riddance, RINO.
---
SUPPORT REVOLVER— DONATE — SUBSCRIBE — NEWSFEED — GAB — GETTR — TRUTH SOCIAL — TWITTER