MAGA is fighting back against the mob and so are we… but we need your help. Join our growing army and click here to subscribe to Revolver. Or give the gift of Revolver—simply select the annual subscription and select "This is a gift" on the next page. If you want to give extra during this critical time, you can make a one-time or recurring monthly donation — whether it's $1 or $1,000, every bit goes towards the battle to save our great nation.
---
The regime is determined to remove President Trump once and for all. It's remarkable to see the feverish anxiety as our corrupt government scrambles to prevent a "man of the people" and a political outsider from entering the White House again. The regime are willing to go to great extremes, such as weaponizing the justice system and throwing Trump in prison for the rest of his life to make that happen. It really makes you wonder what they're hiding and just how corrupt and wicked our government actually is. It's far worse than we can even imagine. We got a hint of how evil they are on Tuesday, when Hunter Biden was given a "sweetheart" deal. The man who smoked crack, had sexual relations with very young-looking women, and illegally owned a gun just got a gentle slap on the wrist.
Speaker McCarthy reacts to the Hunter Biden plea deal: "If you are the president's leading opponent, the DOJ tries to literally put you in jail and give you prison time. If you are the president's son, you get a sweetheart deal."

— Benny Johnson (@bennyjohnson) June 20, 2023
This is the kind of thing you'd expect to see in North Korea, not in the United States. However, the desperate attempts to remove an outsider have completely revealed the true wickedness of our corrupt Marxist government. The regime's plan seems to have three parts. First, Hunter will get probation and Joe will step aside. Second, Trump is locked up and dies in prison. And third, Gavin Newsom will be "elected" president in 2024. It's pretty scary to actually see this plan unfolding right in front of our eyes. Take a look at how well orchestrated the Hunter sweetheart deal was. Mike Davis, former law clerk for Neil Gorsuch connected the dots, and you can actually see their plan coming to life. Here's what Mike shared in his tweet about one of the federal prosecutors on Hunter's sweet deal.
FYI, Derek Hines is one of the federal prosecutors on Hunter Biden's sweetheart deal.

Derek Hines served as special counsel to former FBI director Louis Freeh from 2013 through February 2015.

In April 2016, Louis Freeh gave $100,000 to 2 of then-VP Joe Biden's grandkids' trust. pic.twitter.com/TdPNIZ5J4B

— ?? Mike Davis ?? (@mrddmia) June 20, 2023
Here's a closeup of the images Mike shared: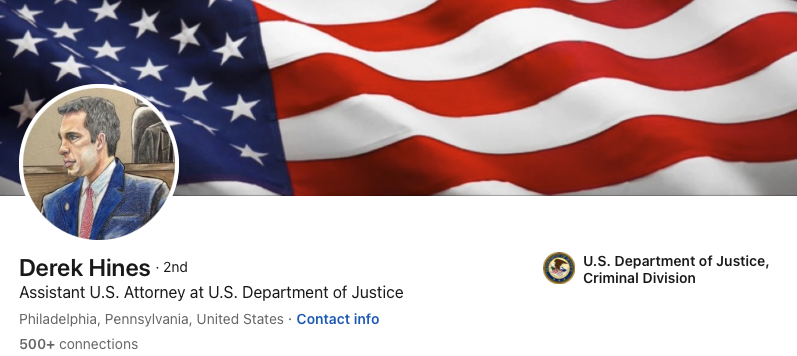 Here's the link to Derek's LinkedIn.
Back in 2021, the New York Post reported on that sketchy $100K donation to Joes grandkids. These kids are already among the most privileged in the world, so it raised eyebrows as to why they would  need more money.
But let's be honest, we all know it had nothing to do with helping the grandkids.
Former FBI Director Louis Freeh gave $100,000 to a trust for two of President Biden's grandchildren as he sought to pursue "some very good and profitable matters" with him, newly surfaced emails revealed Thursday.

Freeh apparently made the gift in April 2016 — when Biden was the outgoing vice president — and shortly before he told Biden's son Hunter, "I would be delighted to do future work with you," according to the emails.
Mr. Freeh says that working with the Bidens on legal matters will be "fun and rewarding." Indeed.
"I also spoke to Dad a few weeks ago and would like to explore with him some future work options," Freeh wrote on July 8, 2016.

"I believe that working together on these (and other legal) matters would be of value, fun and rewarding."

In another email to Hunter Biden the following year, Freeh described seeing Joe Biden at church earlier in the day "and he said hi walking back from communion–I didn't get the chance to return greetings."
Mike then goes on to share another stunning Twitter thread that clearly explains how Biden and the DOJ strategically placed political operatives on Trump's case.
Biden's Attorney General Merrick Garland and the Biden Justice Department put Democrat political operatives on Trump cases.

Here's just one example.

Sophia Brill worked on Biden's unprecedented raid on Trump.

Now, Sophia Brill is working in the Biden White House. https://t.co/ZO6Y5ds1rK pic.twitter.com/PP74f21wBX

— ?? Mike Davis ?? (@mrddmia) June 20, 2023
Mike goes on to disclose yet another instance of a political operative, Matthew Colangelo, who held a prominent position as a political appointee in the Biden Justice Department. The media portrayed Matt as a "former senior DOJ and NY AG official," and very conveniently omitted his role as a political appointee in both the Obama and Biden Administrations.
It's all one big club, and "we the people" are not invited.
Fact Check: True.

In December, Soros-funded @ManhattanDA @AlvinBraggNYC hired senior Biden Justice Department political appointee (and longtime Democrat political operative) Matthew Colangelo.

To resuscitate the "zombie case" against Trump.

Based upon a laughable legal theory… pic.twitter.com/QvCK4GJnFq

— ?? Mike Davis ?? (@mrddmia) June 2, 2023
Now, let's delve into the backstory of Jack Smith, the man on a mission to see President Trump locked up for the rest of his life. Jack was handpicked by Merrick Garland to serve as a special counsel and take out Trump in 2024. And yes, he's a card-carrying member of the club.
2020 was a big year for Katy Chevigny.

She produced a film about Michelle Obama.

And donated $1,000 to Biden's presidential campaign.

Now her husband Jack Smith indicted Biden's chief political enemy.

The day after Biden got caught taking a $10 million foreign bribe. pic.twitter.com/aYrj9fjt6K

— ?? Mike Davis ?? (@mrddmia) June 10, 2023
As you can see, this situation is unfolding with meticulous coordination, like a well-rehearsed ballet at the Bolshoi. Each participant understands their role, working separately, but coming together to execute a cunning strategy aimed at installing yet another unelected president in the White House.
Democracy at its finest. Let freedom ring.
---
SUPPORT REVOLVER — DONATE — SUBSCRIBE — NEWSFEED — GAB — GETTR — TRUTH SOCIAL — TWITTER