MAGA is fighting back against the mob and so are we… but we need your help. Join our growing army and click here to subscribe to Revolver. Or give the gift of Revolver—simply select the annual subscription and select "This is a gift" on the next page. If you want to give extra during this critical time, you can make a one-time or recurring monthly donation — whether it's $1 or $1,000, every bit goes towards the battle to save our great nation.
---
Well, just when you think things can't get any worse for Fox News, they go and prove you wrong by hitting new, unimaginable lows. These new disastrous numbers are actually the absolute worst in Fox News history. Yes, the former "KING" of cable news is now plummeting to historic lows. It's remarkable how swiftly these media royals have fallen.
these are the worst demo numbers in primetime that @FoxNews has ever posted https://t.co/pTFt2FBfYx

— Gregg Re (@gregg_re) June 13, 2023
Check out this closeup of the ratings. Take a look at how much time it takes for The Five to make an appearance. That once mega-popular show is sitting at an embarrassing number seven in the rankings with the key demographic. MSNBC is now the undisputed "King of the Demo" by a huge margin. Wow. This is incredible to see, nearly two months after Fox fired Tucker.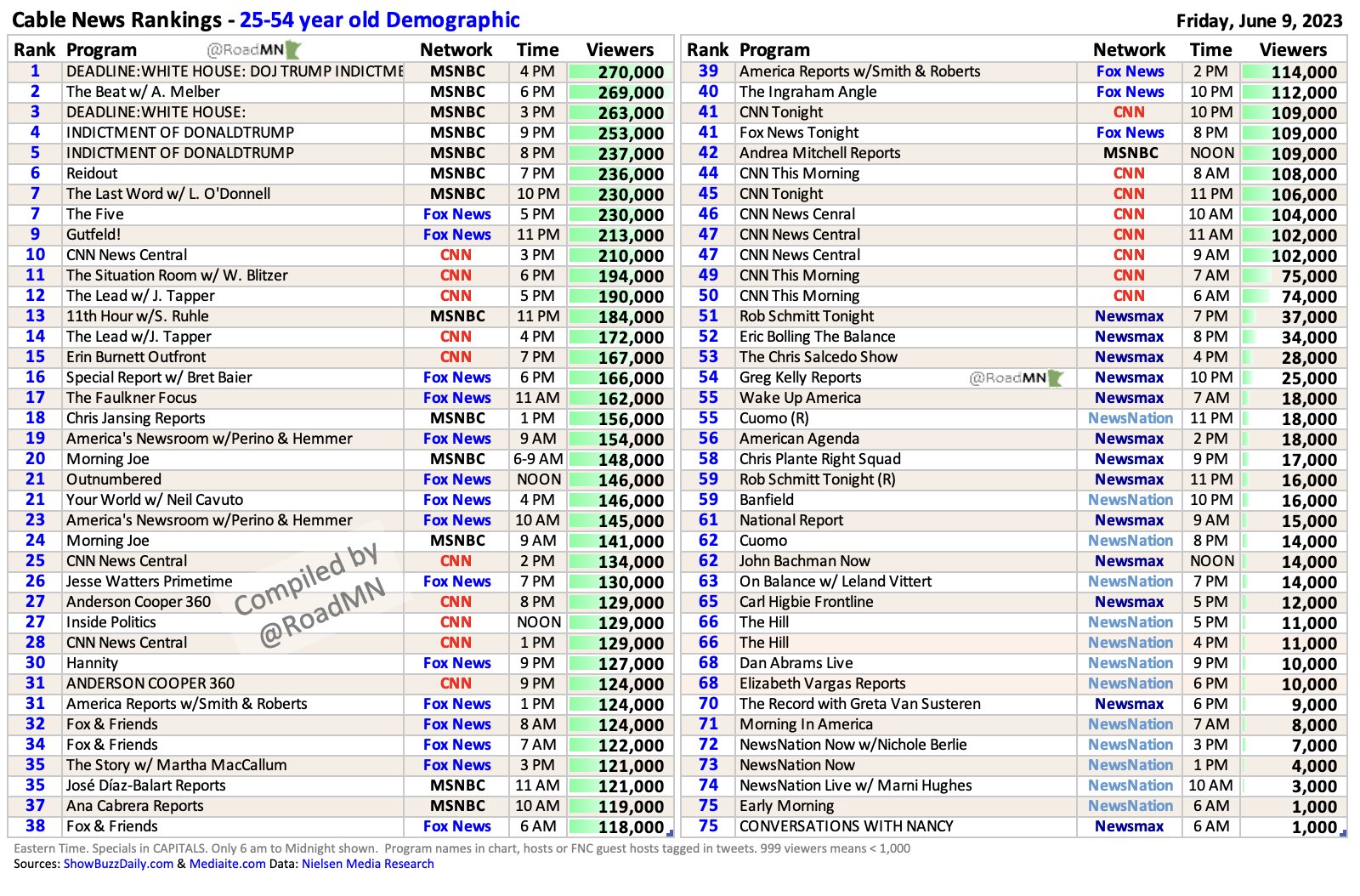 Fox News is getting increasingly desperate as they try to regain their top spot. In the 8 p.m. hour, which was previously occupied by Tucker Carlson, they introduced a rather "edgy" chyron, probably in an attempt to attract his former audience. However, they quickly took it down once Hannity's show began. Although the chyron contained a true statement, the reason behind Fox News posting it was simply cringe-worthy.
Fox News ends its 8pm hour w/ the chyron: "wannabe dictator speaks at the White House after having his political rival arrested"

Chyron went away when Hannity took over at 9. pic.twitter.com/EpWpqqzMqH

— Alex Thompson (@AlexThomp) June 14, 2023
Here's a closer look at the Fox News chyron correctly referring to Biden as a "dictator."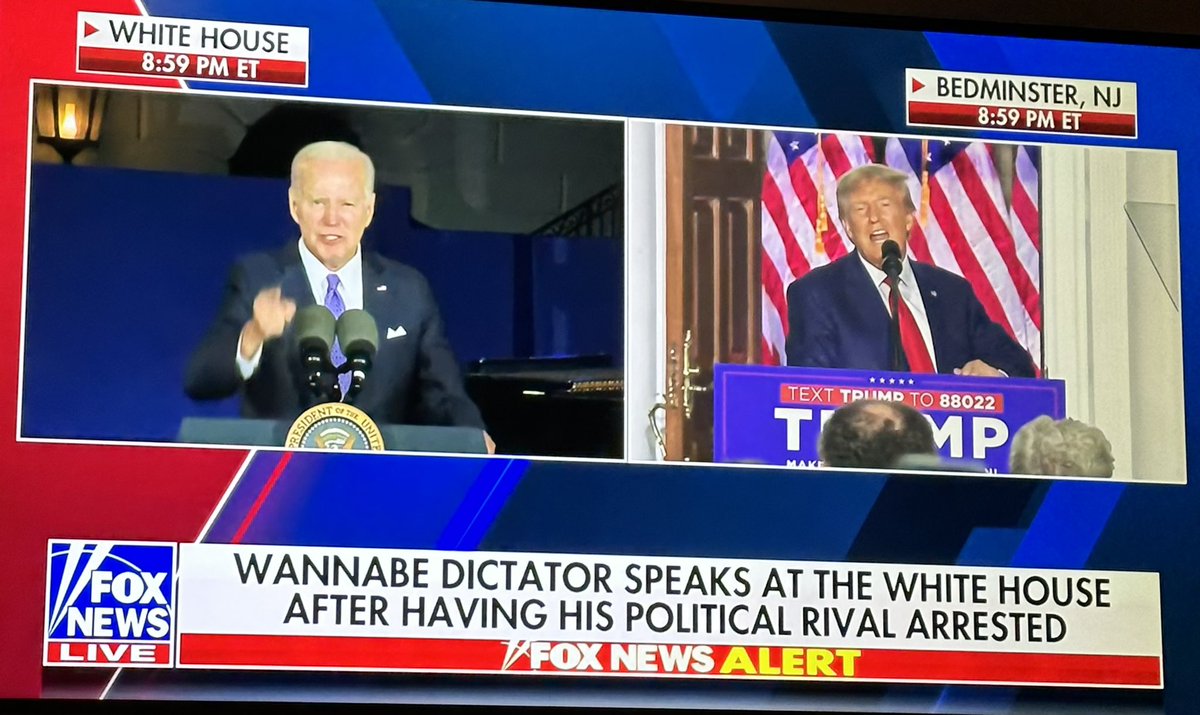 Even with the Trump indictment, Fox News is beyond saving. When the indictment was announced last week, Fox News went all-in, replacing commercials with non-stop coverage. However, their efforts fell short as they couldn't come close to the viewership numbers they had when Tucker was hosting.
We're already two months into the aftermath of Fox News shooting itself in the foot and axing their top host. It all started on April 24th when Fox News gave Tucker Carlson the boot; that marked the beginning of the end for the network. Well, it should be the end, considering that Fox, which used to be conservative, has now transformed into a haven for globalist elites ever since Paul Ryan joined the board. Despite Fox's blatant disrespect for its viewers with the disastrous AZ election call, the suspension of Judge Jeanine, and the firing of Tucker, you would expect their ratings to fall below MSNBC. However, for some unknown reason, conservatives continue to tune in to the cable network. Nevertheless, Fox News is definitely feeling some major decline and Trump's indictment has revealed just how far they have fallen in a relatively short span of time.

Surprisingly, even with the elimination of all commercial breaks and continuous coverage of the politicized sham Trump indictment, Fox News failed to get even 2 million viewers during the highly coveted 8:00 p.m. time slot. This is quite a downfall considering Tucker used to dominate that time slot with an average of around 3 million viewers per show.
despite killing all commercial breaks and going wall to wall with trump indictment, @foxnews did not even crack 2 million viewers in the 8pm hour last night https://t.co/E9PRQnONex

— Gregg Re (@gregg_re) June 9, 2023
All of this is too little, too late, Fox. You can't just cancel commercials or throw in some edgy chyrons to fill Tucker's shoes.
But don't worry, in perfect establishment fashion, Fox has already "apologized" for the chyron.
Fox News sent out a statement acknowledging a chyron that ran late Tuesday during former President Trump's post-indictment remarks that called President Biden "wannabe dictator."

"WANNABE DICTATOR SPEAKS AT THE WHITE HOUSE AFTER HAVING HIS POLITICAL RIVAL ARRESTED," the Fox News chyron read just before 9 p.m., as the network showed a split screen of both Biden speaking at the White House and and Trump giving remarks at his New Jersey golf club.

"The chyron was taken down immediately and was addressed," the network said in a statement to The Hill Wednesday afternoon.
And let's talk about Tucker himself. His Twitter show keeps pulling in amazing ratings, and that's precisely why Fox News had to resort to sending him a ridiculous "cease and desist" letter, desperately attempting to muzzle his voice. This move will probably backfire, driving their ratings even lower, sinking them beneath those fake news scumbags at CNN.
---
SUPPORT REVOLVER— DONATE — SUBSCRIBE — NEWSFEED — GAB — GETTR — TRUTH SOCIAL — TWITTER