MAGA is fighting back against the mob and so are we… but we need your help. Join our growing army and click here to subscribe to Revolver. Or give the gift of Revolver—simply select the annual subscription and select "This is a gift" on the next page. If you want to give extra during this critical time, you can make a one-time or recurring monthly donation — whether it's $1 or $1,000, every bit goes towards the battle to save our great nation.
---
The 2024 race is really heating up, and there's already a lot of fur flying. It's no surprise that things have turned ugly quick; that's expected when going up against a political and cultural phenomenon like President Trump. However, his main rival, Ron DeSantis, might have just crossed a line with his latest campaign move. Team DeSantis decided to incorporate AI-generated images of Trump and Fauci embracing in a new ad campaign and it's causing quite a stir. Many people are uncomfortable with this questionable tactic. It's one thing to use clearly satirical memes, but it's a whole different story when a campaign starts using photos that look eerily real.
Donald Trump became a household name by FIRING countless people *on television*

But when it came to Fauci… pic.twitter.com/7Lxwf75NQm

— DeSantis War Room ? (@DeSantisWarRoom) June 5, 2023
The ad also takes aim at President Trump for not "firing" Dr. Fauci. However, according to the Twitter community note attached to the tweet, Trump couldn't simply fire Dr. Fauci. A move like that would have to go through a lengthy and nearly impossible administrative process.
At a rally Sunday in Opa-locka, Florida, that stretched late into the night, President Donald Trump entertained the raucous crowd with the idea that he might fire Dr. Anthony Fauci, the nation's top infectious disease expert, after the election.

…

Such an endeavor, however, would be seriously complicated if not impossible in the near term, even for a norm-busting president.

Fauci is a career civil servant, not a political appointee, and his protected by law from political retaliation. If the president wanted to fire Fauci, he would have to claim some kind of performance problem or misconduct – a tall order for a doctor has served six presidents and is highly regarded among public health experts.

Also, among Fauci's fiercest defenders is his own boss: Dr. Francis Collins, director of the National Institutes of Health. Fauci, who was highly regarded as a top HIV/AIDS researcher, was named head of NIH's National Institute of Allergy and Infectious Diseases in 1984 under President Ronald Reagan.

Even if an administrative law judge agreed that Fauci had acted inappropriately, Fauci could appeal that decision before the Merit Systems Protection Board, a federal body that Trump has let languish without enough appointees to establish a quorum and is sitting on a massive backlog of cases.

"He can fire him," said Max Stier, president and CEO of the Partnership for Public Service, which recently designated Fauci as "Federal Employee of the Year." "But in my view it's unlikely to withstand scrutiny."
Could Trump have used an Executive Order to oust Fauci? Maybe, but it would have been fiercely contested every step of the way by the left and right and would likely have been shot down by an activist judge.
Trump's only path to pushing Fauci out effectively might be an executive order he signed recently that pledges to jumble up some of the 2 million civilian government jobs to allow for more political appointments.

That executive order, which doesn't take effect until January, promises to create a new category of federal employees that could be fired without cause and without the protections traditionally given to career employees who can appeal wrongful termination. The order would allow agency heads to recommend employees that work on policy to be put into this new category, called "Schedule F."
Back in 2020, DeSantis stated that the White House task force, which included Fauci, would "carry a lot of weight with him" if they recommended a state wide lockdown.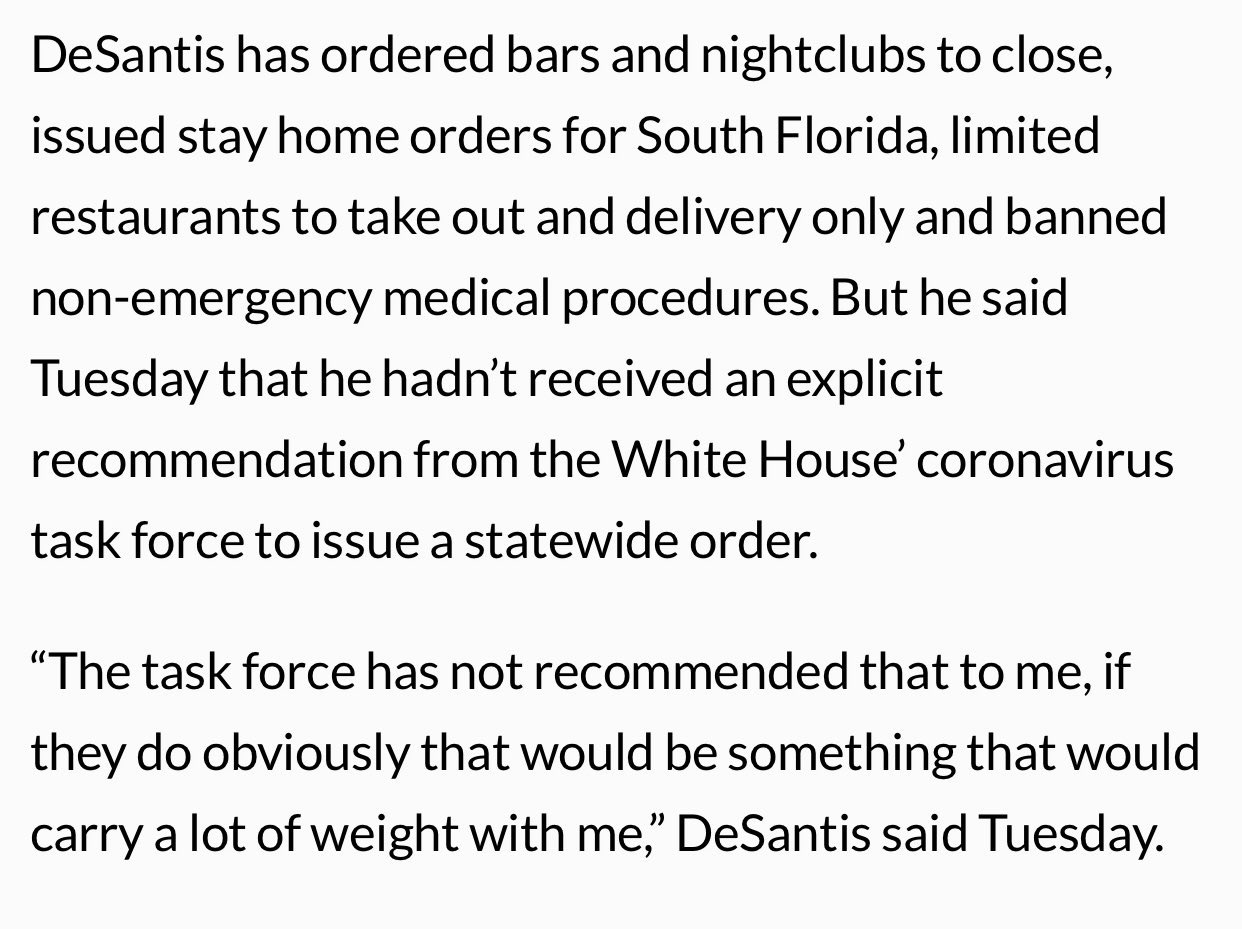 Perhaps that's why his campaign resorted to using AI-generated images to drive the point home; a move that has infuriated many on the right. But it's not only hardcore Trump supporters who are bothered by this tactic; even some independents who were previously undecided between Trump and DeSantis are expressing outrage. One of those people is popular podcaster Tim Pool, who claims that this sneaky move has solidified his support for Trump. In addition, he is now demanding that DeSantis publicly disavow the use of such tactics.
I was 55/45 for Trump/DeSantis

Now Im 0% for DeSantis

Using AI images to smear Trump is a hard fuck you

DeSantis must disavow https://t.co/yH06jfhznV

— Tim Pool (@Timcast) June 8, 2023
Here's what other folks online are saying about this tactic:
"DeSantis campaign is using Al in their campaign ads against Trump. There's nothing lower than that."

"Tacky and stupid. Loser"

"This clip reeks desperation. It smells like a bad poll came out or something"

"I liked DeSantis a lot before he jumped into this race."

"When you can't hold a candle to the real leader, lie… what a joke Rob's campaign is. If you goons are successful in removing DJT from the ticket, I will vote for RFK or not at all. I will never vote for your establishment shill – shame really as RdS had my vote at one time."

"This is a total scumbag move, and I say this as someone who isn't a fan of Trump"

"This campaign and DeSantis are total scum!!"

"DeSantis needs to come out and denounce this tweet."

"You all crossed the line. Pathetic."
It's unclear whether DeSantis will distance himself from the ad.
---
SUPPORT REVOLVER— DONATE — SUBSCRIBE — NEWSFEED — GAB — GETTR — TRUTH SOCIAL — TWITTER