They canceled Tucker, now they're coming for us… but you can fight back. Cancel Fox Nation and instead click here to subscribe to Revolver. Or give the gift of Revolver—simply select the annual subscription and select "This is a gift" on the next page. If you want to give extra during this critical time, you can make a one-time or recurring monthly donation — whether it's $1 or $1,000, every bit goes towards the battle to save our great nation.
---
We deserve better false flags. It's as if the FBI isn't even trying anymore. That's the consensus from most conservatives, who are calling "BS" on the latest "Nazi" stunt that unfolded in D.C., and are calling it just another poorly-orchestrated FBI psyop.
Here's what reportedly happened at the White House according to Insider Paper:
US Secret Service officers detained the driver of a U-Haul box truck in Washington on Monday night after the vehicle crashed into a barrier near the White House, the agency said in a statement.

"There were no injuries to any Secret Service or White House personnel and the cause and manner of the crash remain under investigation," the statement said.

Secret Service spokesman Anthony Guglielmi later said in a tweet that a "preliminary investigation reveals the driver may have intentionally struck the security barriers at Lafayette Square", adding that charges would be filed over the incident.
Oh, and right on cue, a Nazi flag was pulled from the cab of the truck and perfectly laid out on the ground for everyone to see.
BREAKING: Apparently a Nazi flag has been pulled from the cab of a U Haul truck that rammed the security barrier at Lafayette Square near White House pic.twitter.com/IMxBdloRVf

— Insider Paper (@TheInsiderPaper) May 23, 2023
A local CBS affiliate, WUSA9, reported that what appeared to be a Nazi flag had been found during a search of the U-Haul, though no other information on the flag was provided.

The crash took place just before 10 pm (0200 GMT) on the northern edge of the square, a few hundred yards from the White House in an area home to several upmarket hotels.

A local Fox affiliate reported that some hotel guests said they had been told to evacuate after the crash.

A journalist with the station posted video from the scene showing a robot searching the cargo area of the truck.
We're now hearing that the driver may be an Indian man from Missouri.
Why are these "Nazis" never white? https://t.co/ZwXHlF8fXb

— ALX ?? (@alx) May 23, 2023
Many people are not buying it.
Let me get this straight… so you are telling me a guy with a Nazi flag in an empty Uhaul Truck randomly plowed into a White House barricade at low speeds, then gave up immediately and got arrested, and the FBI laid out the flag in front of the truck for the perfect photo op? pic.twitter.com/zm9MS4lAyz

— Matt Wallace (@MattWallace888) May 23, 2023
Some even believe that an epic "false flag" is coming that will involve the missing fertilizer — something on the level of the OKC bombing. God, let's hope not.
A major false flag on the level of OKC is coming, there is zero doubt.
The missing nitrogen fertilizer, this "Nazi Uhaul White House" dry run.
"Patriot Front" (pure fed gay op) right after Biden speech
Buckle up, the big false flag is going to be blamed on WHITE SUPREMACY. pic.twitter.com/RQxzAGaxyL

— Matt Bracken (@Matt_Bracken48) May 23, 2023
AOC is inconsolable.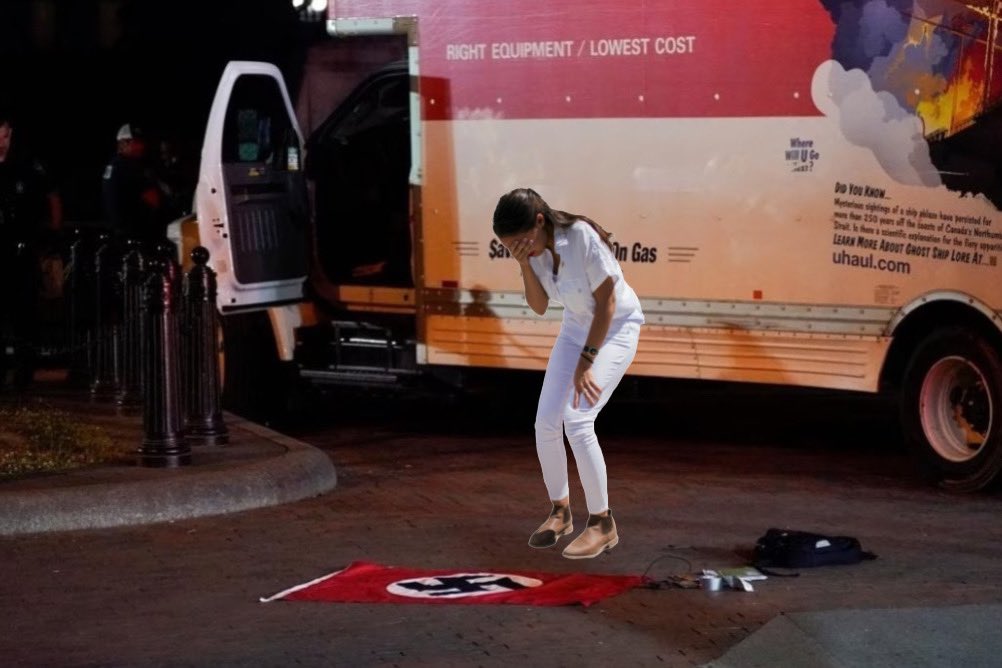 There are countless legit reasons why conservatives don't buy this incident, starting with the disgraced FBI's involvement in orchestrating the Russia Hoax, suspicions surrounding FBI's involvement in January 6th, and the FBI's proven involvement in the sketchy "Whitmer kidnapping" plot, just to name a few.
In addition Joe Biden, who was best buddies with a KKK Grand Dragon named Robert Byrd, just delivered yet another divisive speech, where he declared "white supremacy" was the most dangerous threat facing the United States.
President Joe Biden denounced white supremacy as the "most dangerous terrorist threat" to the nation in his commencement address to Howard University's graduating class Saturday.

"White supremacy … is the single most dangerous terrorist threat in our homeland," Biden said. "And I'm not just saying this because I'm at a Black HBCU. I say this wherever I go."
Right after Joe's speech, a bunch of so-called "white supremacists" called Patriot Front, who everyone thinks might actually be a government setup, magically rolled in.
Every time Biden talks about white supremacy.
Patriot Front appears to do their little march.
These people are Feds
Covered faces, khaki pants, and same haircut.
Real Patriots show their faces.

— American ?? Alley ? (@Freedom_Alley3) May 14, 2023
Here's some additional comments about this suspicious U-Haul story from folks online:
"This has FBI written all over it."

"So pathetic. They need to hire new believable writers and stagers for their ploys. I guess the writer strike is still ongoing…"

"I especially like how they lay the flag out flat in the middle of the street, to ensure that it's seen. Is that typically how "evidence" is handled?"

"Let me guess: as they drove the Uhaul into the WH fence they screamed "This is MAGA country!"

"it really wasn't even a good and proper crash, it was more like the truck lurched up over the curb, and kind of bumped into things… what does it say about the state of America that somebody can't even properly execute a false flag event… are there really no good bad actors out there anymore?"
Maybe the FBI believes that a most folks in America aren't the sharpest tools in the shed (and let's face it, they might have a point), which is why they don't go all out anymore.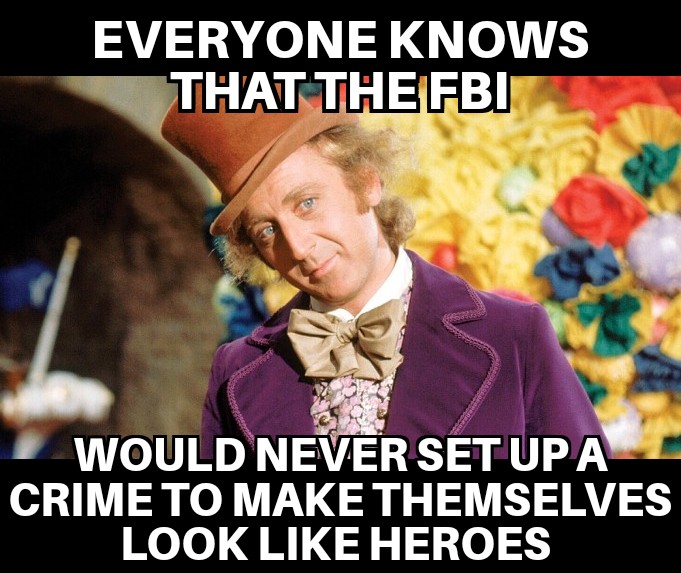 ---
SUPPORT REVOLVER— DONATE — SUBSCRIBE
NEWSFEED — GAB — GETTR — TRUTH SOCIAL — TWITTER