They canceled Tucker, now they're coming for us… but you can fight back. Cancel Fox Nation and instead click here to subscribe to Revolver. Or give the gift of Revolver—simply select the annual subscription and select "This is a gift" on the next page. If you want to give extra during this critical time, you can make a one-time or recurring monthly donation — whether it's $1 or $1,000, every bit goes towards the battle to save our great nation.
---
Retail chain Target has faced significant backlash from conservative customers due to their recent launch of a sexually-driven "pride collection" aimed at kids. Making matters worse, Target featured products created by a trans artist known for promoting Satanism on social media. And just when you think you've seen it all, more "stuff" hits the fan. As the boycott heats up, a leaked memo intended for Target employees only, has just surfaced, triggering further criticism online, after the folks inside target referred to anyone who's uncomfortable with their creepy pride collection as "extremists."
What Target did with this memo was insult millions of moms — their main consumer base. What a disaster.
An internal Target memo attempts to paint those boycotting Target as "extremists." News flash Target, we're not the extremists here, your flagrant profiteering off of selling groomer merchandise to kids is extreme. But go ahead, double and triple down. See how that works out. pic.twitter.com/14jgm6S8y8

— Charlie Kirk (@charliekirk11) May 26, 2023
Here's a closeup of the memo: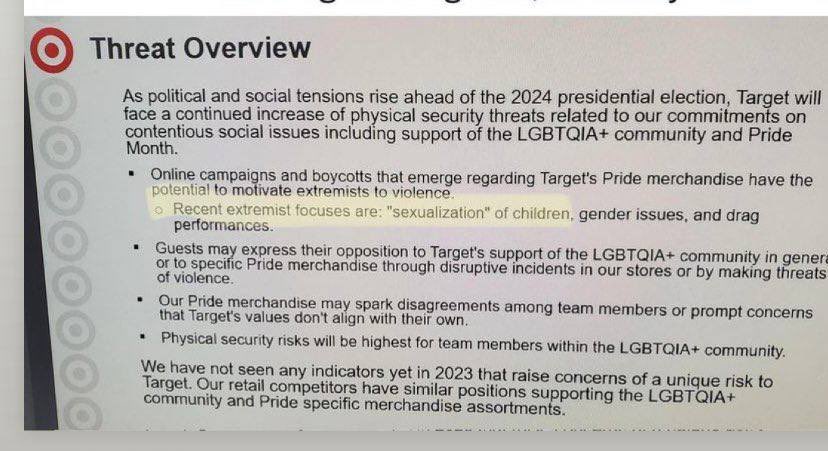 This "extremist" nonsense is a typical left-wing response to anybody who doesn't agree with their twisted ideology, and Target is definitely being run by radical leftists.
Target CEO Brian Cornell explains his goal to "advance" Diversity, Equity, and Inclusion at Target in order to "make a big difference in this country". pic.twitter.com/tNg76AHxSv

— Mythinformed (@MythinformedMKE) May 27, 2023
Speaking of "extremists," Target should tone down the social activism and politics and focus on their core business of selling regular clothes, birthday cards, and shampoo. Otherwise, they risk jeopardizing their entire enterprise.
---
SUPPORT REVOLVER— DONATE — SUBSCRIBE — NEWSFEED — GAB — GETTR — TRUTH SOCIAL — TWITTER