They canceled Tucker, now they're coming for us… but you can fight back. Cancel Fox Nation and instead click here to subscribe to Revolver. Or give the gift of Revolver—simply select the annual subscription and select "This is a gift" on the next page. If you want to give extra during this critical time, you can make a one-time or recurring monthly donation — whether it's $1 or $1,000, every bit goes towards the battle to save our great nation.
---
Those who claim liberalism is a mental disorder might have a point. There's something inherently off in people who dive headfirst into this woke nonsense. It's like being part of a cult where they're trapped in a little bubble and can't see the real world around them. But let's not write off this fanatical, cult-like devotion as just some funny woke illness — it's far from it. It's a calculated strategy to keep pushing and pushing until they make even the tiniest bit of progress towards their goals. Liberals may be unhinged, but they won't stop until they've beaten you into submission, and before you know it, you're begrudgingly accepting whatever perverted lifestyle they're promoting.
A perfect example of this unrelenting campaign can be seen in the current efforts of corporate America to promote everything related to "women" and "trans." Whether it's movies centered around women or beer marketed towards transvestites, it's evident that the left is determined to exclude and demonize men in every aspect of society.
However, this hasn't been an easy journey for the left. We witnessed the consequences for Bud Light when they disregarded their male customer base and tried to appeal to a small group of crossdressers who weren't even their beer consumers. They collapsed and now their parent company Anheuser-Busch is also feeling the heat.
The company's flagship Budweiser brand took an 11.4% sales hit for the week ended April 29. Sales of Anheuser-Busch's Michelob Ultra brand — the third-biggest-selling in the U.S. behind No. 1 Bud Light and No. 2 Modelo Especial — were down 4.4%, according to Bump Williams data.

"It's not just a Bud Light issue," said Bump Williams, chief executive of the consultancy. "It's an Anheuser-Busch portfolio problem now."

Anheuser-Busch's other U.S. brands also got dinged, with its Natural Light brand down 5.2% and its Busch Light seeing a 1.8% drop.

The widening sales declines mark a painful hit for the dominant U.S. beer business. Last year, sales of Bud Light topped $4.8 billion, according to the Connecticut-based firm. Modelo Especial had $3.75 billion in sales, while Michelob Ultra generated $3.3 billion in sales.
The Bud Light ad blunder was a big deal that showed future marketing students exactly what not to do when dealing with loyal customers. But don't expect it to be seen that way. The progressive corporate world tends to see failure only through their own distorted lens. They'll likely think the ad failed because Americans are homophobic and racist. This belief gives them a reason to keep pushing their message even harder, knowing that eventually you'll cave and accept the inevitable.
Sticking to the same idea, there's another Miller Lite beer ad that jumped on the woke bandwagon and slipped by unnoticed just two months ago. Some might argue that this ad is even worse than the Bud Light/Dylan Mulvaney partnership. After all, Bud Light just made one silly "can" for Mulvaney. Miller, on the other hand, created an entire ad campaign for their latest woke message.
The Miller Lite ad called "Bad Shit to Good Shit" aired during "Women's History" month and sought to undo all the "bad shit" beer companies have done to women by supposedly exploiting them in their bikinis.
Did NOBODY learn from Bud Light's COSTLY mistake?

Miller Lite just dropped this WOKE advertisement!!!

When will these beer companies learn???? pic.twitter.com/Zhbja6v77x

— Graham Allen (@GrahamAllen_1) May 15, 2023
How on earth would a boring, dark, dreary ad like that sell even one bottle of beer?
Miller Lite is making the same mistake as Bud Light. They're sacrificing their massive core customer base to cater to a small group that don't really drink their beer.
But this goes beyond mere "beer." Ads like this revolve around the relentless pursuit of an ideology and pushing you until you finally succumb and conform to their beliefs.
Miller Lite has had some pretty sexist advertisements over the course of its nearly 50 years of existence.

So, in honor of Women's History Month, they've committed to not only cleaning up their past, but also turning it into something good in their new campaign, "Bad $#!T to Good $#!T," to collect sexist advertisements and turn it into compost to grow hops for women brewers.
Of course, it's another woman in charge of marketing. Women destroying corporate America, one "woke" idea at a time.
Elizabeth Hitch, senior director of marketing for Miller Lite, says the brand's position in the industry gives them a chance to create real change and to turn some "bad $#!t, old objectifying beer advertising into good $#!t, literal fertilizer to grow hops that will be donated to female brewers." "We recognize that Miller Lite played a contributing role in this in the past," she says. "We've been collecting our and other brands outdated, old sexist ads, displays and posters for months. We have been buying and removing any pieces we could find on the internet."
Hitch appears to have deleted or hidden her LinkedIn page. Here's some of her Corporate Wokespeak in an interview with Portada about some Latino outreach effort:
"Our media plan for Miller Lite's partnership with J Balvin this year revolves around giving back to Latino business and communities," says Hitch. "We've had the pleasure of working alongside J Balvin since 2021 and this year, we wanted to not only bring back the Balvin-inspired limited-edition pints as a continuation of our mission to support and empower the community, but also donate a portion of proceeds from the limited-edition pints purchased during the program, up to $150,000, to Accion Opportunity Fund. This donation can help provide funding for up to 50 Latino business owners across the country."
Of course, there's nothing better than consulting some lady in a pantsuit with a Master's degree if you're looking for a "meaningful interaction". Portada:
How does Molson Coors marketing team measure brand lift and sales related to the J. Balvin – Miller Lite Latino Business Owners Initiative? "We know that awareness and sales go hand-in-hand. We look at total sales, retail execution and consideration with drinkers who interacted with the program for a wholistic look at program impact. At the end of the day, we are always striving for meaningful interactions with our drinkers that increase brand affinity."
It's all about being "authentic" (lol) and finding those precious "new beer drinkers" — at the expense of the current market, apparently. Portada (emphasis ours):
The light beer category is extremely competitive how does Molson Coors marketing implement campaigns in order to stand out? Hitch answers that "whether it is partnering with global superstar and entrepreneur, J Balvin, or creating a OOH plan or store display, we want to capture the attention of our drinkers by doing something that resonates. Miller Lite has been giving people light beer with great taste for many years now. While we continue to serve up the same great quality, it's important that the beer continues to fit into people's lives and resonates with new drinkers. Miller Time is all about sharing real moments and the Miller Lite and J Balvin's Tab program creates way to authentically give back to the Latino community as well as engage new beer drinkers."

…

"It's hard to say what the future holds as the landscape changes very quickly. But we will continue to show up where our consumers want to be and incorporate our brands into their lives in interesting and authentic ways," Hitch concludes.
Okay then.
Considering who is running marketing at the company, it's no surprise Miller Lite engaged in an all-out effort to undo all the past bikini beer advertising that everybody loved and replace it with boring, drab women-centric ads that make you want to drink arsenic, not beer.
The idea behind this campaign is to recognize that the beer industry as a whole hasn't recognized women or given them the credit they deserve, Hitch says. "We can't change the past, but we can help rectify the damage that was done alienating women from beer. We're on a mission to clean up not only our mistakes but those of the whole beer industry by finding these bad ads and turning them into something that will have a positive impact."
Miller treated this ad like a "gun buyback" campaign by encouraging people to mail in their old Miller Lite bikini posters. This idea is beyond cringeworthy, it's bordering on agonizing.
They're inviting consumers to ship them their old, sexist ads, too, and the brand has teamed up with Ilana Glazer, noted comedian and actor, to promote this campaign.

To create the good stuff, they're taking the objectifying advertisements, and they're putting them into a large compost pile, which after several months of composting, the compost gets fed to worms, which then create castings (worm poop) that then become a compost fertilizer that will be added to hops crops to help them grow. Right now, they're aiming to grow more than 1,000 pounds of hops.
Miller thought this ad was a "tongue-in-cheek" way to address the so-called issue of "bikini beer ads." The problem is, nobody who drinks beer was complaining about those ads. We liked them, and want them back. Forbes:
"Through our campaign efforts, we're hoping to achieve both measurable impact and feel-good vibes," Hitch says. "While we wanted to take a tongue and cheek approach to acknowledge the past, Miller Lite is also on a larger mission to make the beer industry more inclusive for women."
In actuality, the Miller Lite beer commercial took on an annoyingly preachy and serious tone, completely lacking any sense of fun or humor, except for a desperate attempt to grab attention by repeatedly throwing in a crude swear word for "shock" effect. It made women look serious, stuffy, and homely. That's what beer now stands for? Humorless schoolmarms in ugly outfits, swearing up a storm?
Awesome. I'm sure it'll be flying off the shelves.
The whole style is reminiscent of those old anti-suffragette cartoons or (ironically) the teetotalers movement:
Sorry, but we think most people would prefer to have this back: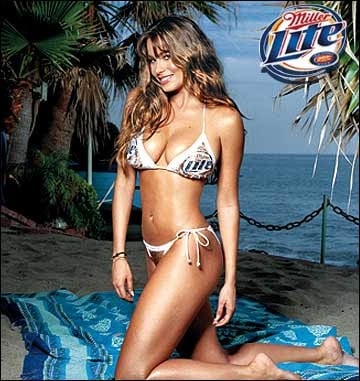 The positive news is that the "Bad Shit to Good Shit" ad was such an underwhelming flop that the website has been disabled.
Perhaps Miller Lite brass took one look at the Bud Light bloodbath and pulled the plug on Fraulein Frump A. Dump as their next spokeswoman.
But don't celebrate too quickly. They'll regroup and be back. Once the left sinks their teeth into a cause, they'll never let go.
---
SUPPORT REVOLVER— DONATE — SUBSCRIBE
NEWSFEED — GAB — GETTR — TRUTH SOCIAL — TWITTER