They canceled Tucker, now they're coming for us… but you can fight back. Cancel Fox Nation and instead click here to subscribe to Revolver. Or give the gift of Revolver—simply select the annual subscription and select "This is a gift" on the next page. If you want to give extra during this critical time, you can make a one-time or recurring monthly donation — whether it's $1 or $1,000, every bit goes towards the battle to save our great nation.
---
The FBI received a severe backlash in the damning Durham report, adding another blow to their already tarnished reputation. Despite being political elites who seemingly evade consequences, individuals like Comey and McCabe have once again been exposed as traitors and election meddlers.
Here is some of what John Durham stated in his report regarding the disgraced and politicized FBI.
"Our investigation … revealed that senior FBI personnel displayed a serious lack of analytical rigor toward the information that they received, especially information received from politically affiliated persons and entities," Durham wrote in his report. "In particular, there was significant reliance on investigative leads provided or funded (directly or indirectly) by Trump's political opponents. The Department did not adequately examine or question these materials and the motivations of those providing them before opening a full-scale investigation."

In his final report, Durham alleges that the investigation into Trump in its early days was handled differently from how the FBI approached prior matters, including allegations of "foreign election interference plans" purportedly aimed at Hillary Clinton's 2016 presidential campaign, which Durham's team also examined.

"In short, it is the Office's assessment that the FBI discounted or willfully ignored material information that did not support the narrative of a collusive relationship between Trump and Russia," the report says. "An objective and honest assessment of these strands of information should have caused the FBI to question not only the predication for Crossfire Hurricane, but also to reflect on whether the FBI was being manipulated for political or other purposes. Unfortunately, it did not."

While Durham does not appear to say outright that the FBI's Russia investigation should not have been launched, he strongly suggests that is the case — while using sharp language to admonish former FBI leadership and agents and describing his findings as "sobering."
The FBI responded to the damning report, which essentially branded them as a SuperPac for the Democrats, with a statement on Twitter that received a much-deserved brutal ratio.
Here's the tweet:
Statement on Report by Special Counsel John Durhamhttps://t.co/lcow0ea3mG pic.twitter.com/T4vXqoOMrp

— FBI (@FBI) May 15, 2023
Here's a closeup of the FBI statement: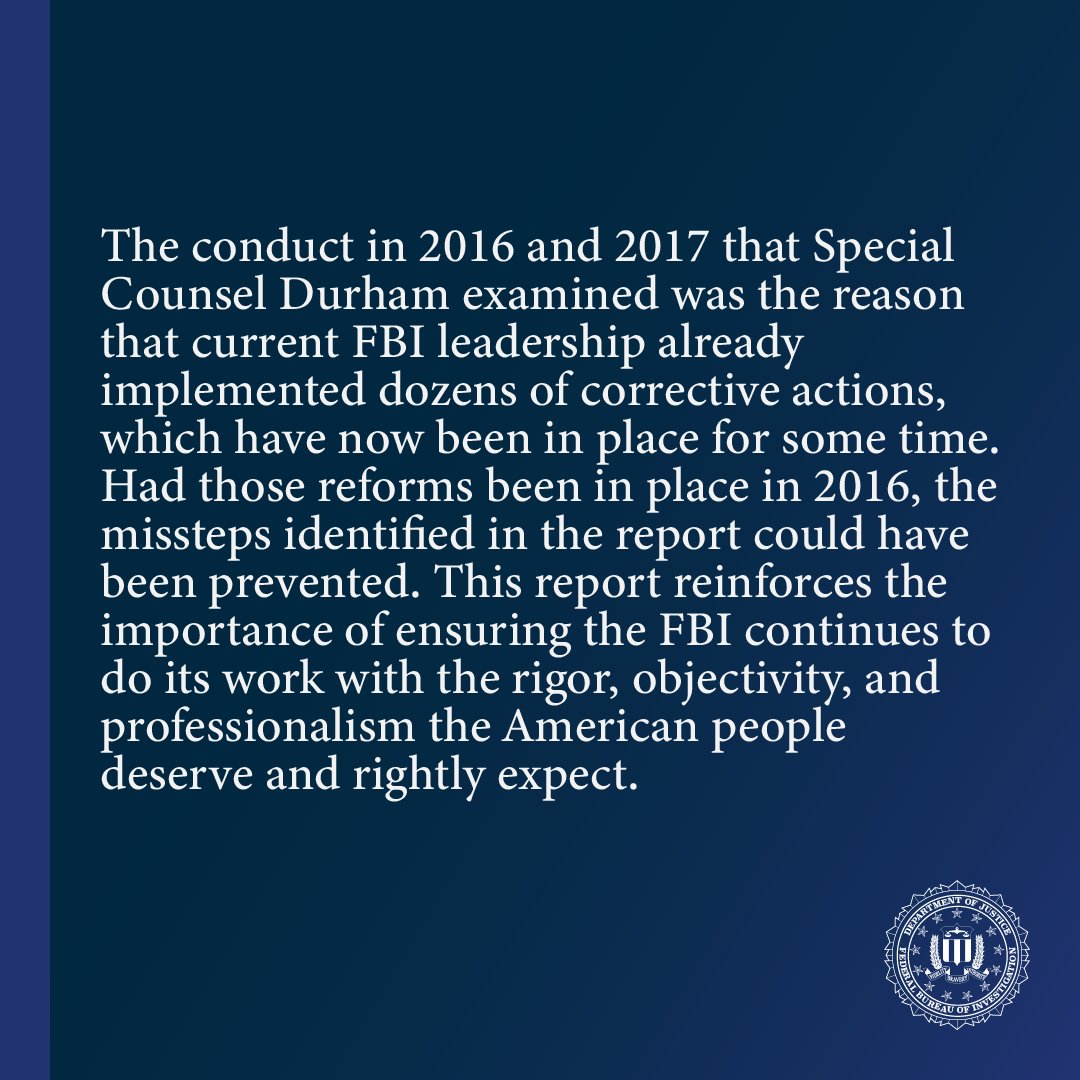 Here's a small sampling of some of responses from folks online:
"DEFUND this criminal organization of progressive thugs."

"You called me a domestic terrorist, put me in prison, and tried to ruin my life, but it was you who betrayed our country."

"I will never respect the FBI again. Y'all are nothing but bullies for the Democratic Party. It's a true shame what you've done."

"You're never going to change. People belong in jail for what you've done. You should be defunded and dismantled."

"Humor us: what "reforms" fix a completely politicized FBI?"

"Missteps". Interesting way to spin election interference."

"You're so full of crap. So you instituted some policies to prevent opening a full investigation when you shouldn't have! Instead you cover for people you should be investigating. When you find crimes and find to they are named Biden, you cover-up the story! "

"CORRUPTION, SEDITION AND TREASON IN ALL AGENCIES. THIS IS TYRANNY AGAINST THE PEOPLE. I haven't seen any officials relieved of duty nor any wrongdoing corrected. If you people want this then stop going about in a dishonest cowardly way…"

"Misstep". IT WAS INTENTIONAL, CRIMINAL AND A COUP!"

"Oops, we got caught. We already fixed it, we promise. Trust us, we aren't lying – this time."

"The FBI fell on it's sword to protect Hillary Clinton, Barack Obama, and now Joe Biden… Congress needs to ratchet up the oversight and the next President needs to break up the FBI, that's why we demand no new office near DC."

"You're worse than the KGB ever was. You're nothing but political tools for persecuting enemies of the regime."

"You not only do not stop criminals; you are criminals."

"The FBI thinks you're stupid."
Never forgive or forget what the FBI did to this great nation and the American people and never stop fighting to dismantle this criminal organization.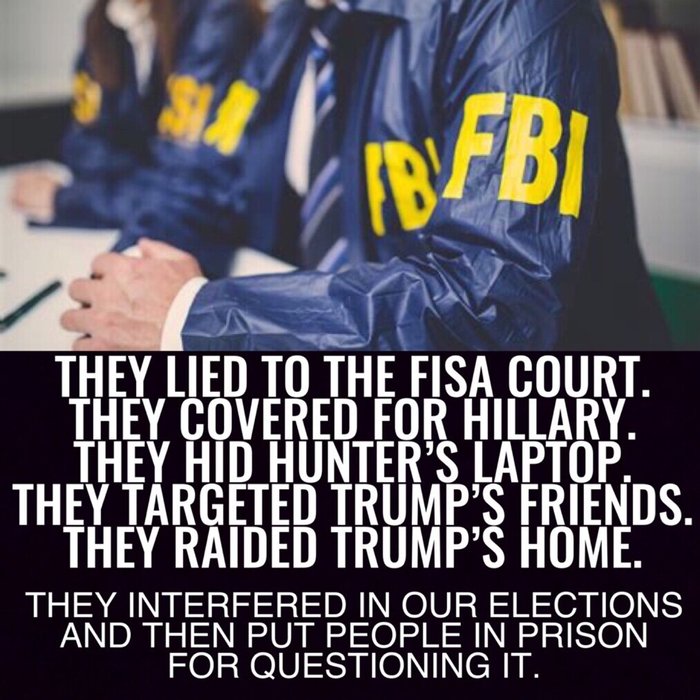 ---
SUPPORT REVOLVER— DONATE — SUBSCRIBE
NEWSFEED — GAB — GETTR — TRUTH SOCIAL — TWITTER