Revolver must be doing something right because the entire woke communist regime and cancel culture apparatus is coming after us, night and day.
Join the Revolver family and our fight to save America with a $49 per year ad-free subscription. And if you want to give extra during this critical time, you can make a one-time or recurring monthly donation — whether it's $1 or $1,000, every bit goes towards the battle to save our great nation. Or, give a friend or loved one a Revolver annual subscription simply by checking the "Gift" option.
---
The city of Chicago gave Lori Lightfoot the boot after just one miserable term in office. During her failed progressive reign, serious crime rose by more than 33 percent and gang violence became an even bigger plague on the city.  And who can forget those countless viral videos of organized thug-mobs bum-rushing and looting retail stores across the city.
And what was Lori doing while all of this was going on?
Dancing.
? This is Lori Lightfoot dancing on the graves of the 2,278 homicide victims who have died since she took office pic.twitter.com/U6GvYjgALV

— Matrix Memez ? (@MatrixMemez) February 1, 2023
And while it's obvious that Lori Lightfoot was a disgraceful and terrible leader, her replacement is even worse. Much, much worse.
On Tuesday, Chicago elected a new mayor, and instead of backing away from failed and divisive progressive politics that have eroded the city, Chicago citizens doubled-down by electing a radical progressive whose entire campaign centered around anti-whiteness and race-baiting.
His name is Brandon Johnson, and he's the former Cook County commissioner, and he makes Lori Lightfoot and Rahm Emanuel look like "America First" warriors.
This new mayor is so dangerous, it looks like he trying to start a race war on the streets of Chicago.
Brandon Johnson was in his element at Kenwood Academy high school.

Johnson, who now serves as a Cook county commissioner, has joked in the past that he didn't become a pastor like his father or sister because they weren't unionized. But it's clear that his family's work in the church has shaped his commanding presence in secular spaces – as it did that day.

"This is about Black labor versus white wealth. That's what this battle is about," Johnson responded. "This is about providing community access to the very public accommodations which Black people fought for, especially after emancipation. It's what the descendants of slaves in this room are fighting for: public education, public transportation, affordable housing, healthcare and access to jobs."
Brandon Johnson ran his entire campaign on anti-whiteness

He just won his race for Chicago mayor pic.twitter.com/46JYXYUzlU

— End Wokeness (@EndWokeness) April 5, 2023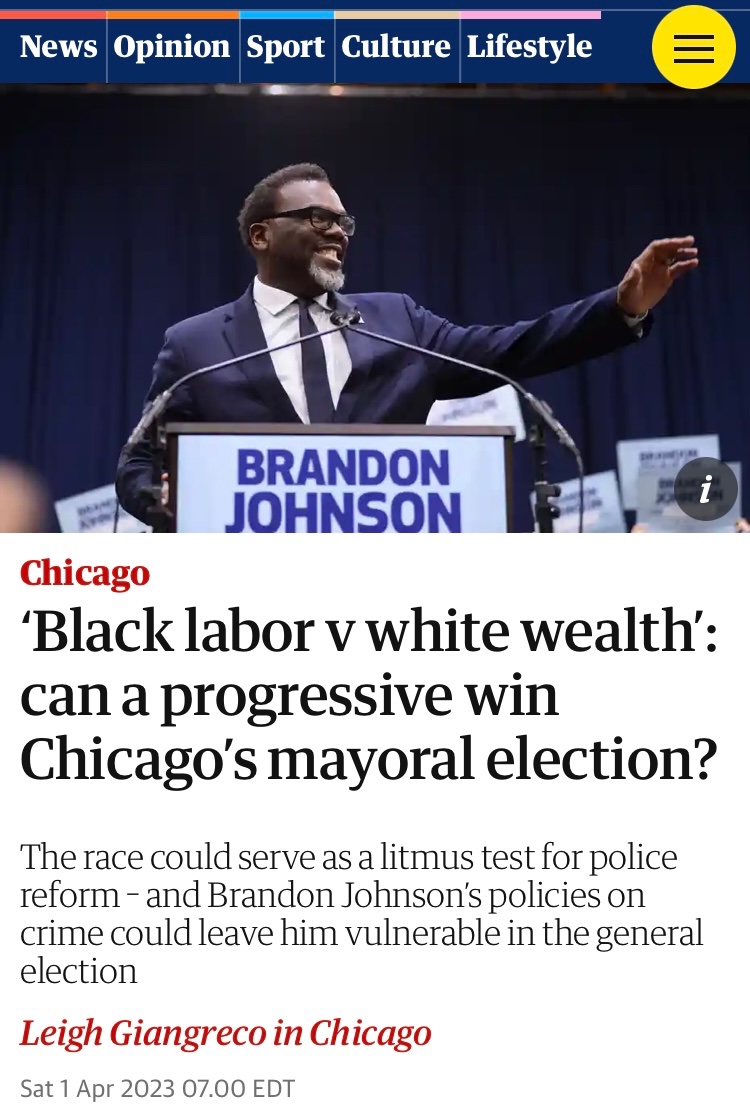 When it comes to Brandon Johnson, everything is all about the color of your skin.
Mr. Johnson faced-off against his opponent, Democrat Paul Vallas. Mr. Vallas was laser-focused on crime, and was also endorsed by the police unions, while Mr. Johnson was busy peddling radical, Marxist racism against white people.
Vallas has consistently held a narrow lead in the polls, as crime has been the top issue Chicago voters have been considering. Meanwhile, Johnson supported defunding the police in the past and has spent much of the campaign trying to hide that fact. With little of a case to make on public safety, he has instead moved toward the kind of racism that progressives love in order to sell his campaign.

Race-baiting has become Johnson's go-to campaign tool. Last week, he all but outright stated that Vallas was racist, accusing him of "being dismissive of a black man who taught for four years in Chicago Public Schools." His concern with the COVID-19 pandemic was "to make sure that black and brown people in particular did not continue to die."

All criticism of his campaign is just "yet another attack on a black man as an elected leader."
The biggest issue facing Chicago right now is crime, not "racism." However, if Mr. Johnson has his way, starting a race war will be his only focus.
Many believe that Brandon Johnson is a BLM "thug" who hates the police, and white people, and will likely do more damage than Lori Lightfoot ever could.
Time will tell, but in the meantime, what's frustrating to many is that over one million Chicago citizens didn't even bother to vote in Tuesday's elections. When good people stay home, bad people get elected. And race wars start.
---
SUPPORT REVOLVER NEWS — Donate HERE
Subscribe to ad-free and ditch the ads… just $49 per year or $5 per month…
NEWS FEED — GAB — GETTR — TRUTH SOCIAL — TWITTER