Brief note: Soros-funded harridans are still trying to cancel Revolver. We are extremely grateful and fortunate to be supported by our generous readership. Subscribers and Donors help Revolver weather any cancel culture storm. Buy a $49 per year Subscription for yourself and for that special someone, and if you are able and willing to give more, don't hesitate to make a recurring monthly donation — whether it's $1 or $1,000, every bit helps. You can also now easily give the gift of a Revolver ad-free Subscription. Simply go to the Subscribe page and check the "gift" option. Don't be a cheap date! — make it an annual subscription.
---
Following the deadly shooting at a Tennessee Christian school by a transgender woman masquerading as a man, trans mobs across the country are lashing out in violent and aggressive ways.
Audrey Hale, an emotionally disturbed and very confused woman, entered her former elementary school and murdered six people, including three 9-year-old children.
Right after the deadly rampage by their "sister-brother" in arms, the increasingly violent and unhinged trans community vowed to hold their "day of vengeance" on April 1st in DC.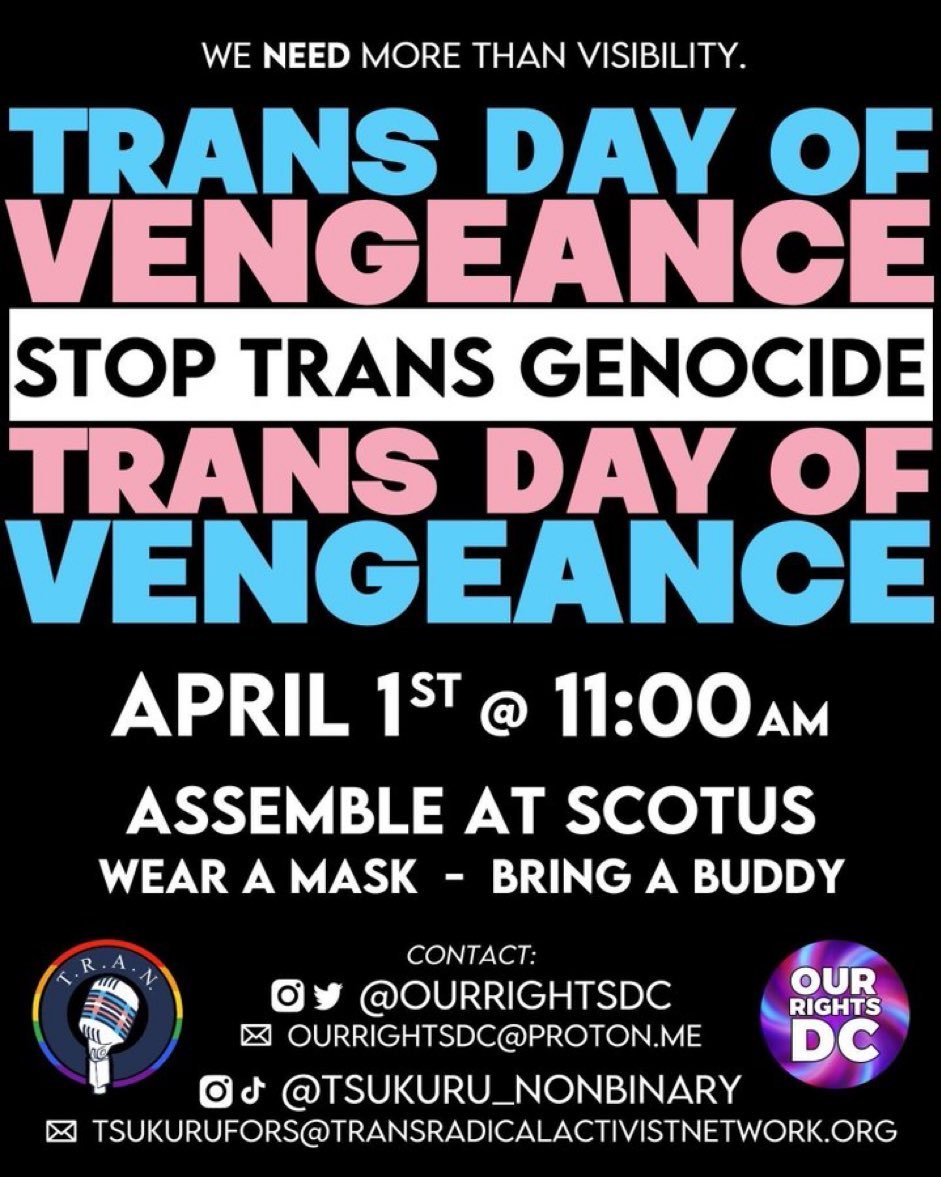 However, it seems as if they're kicking off the vengeance early; as mobs of angry trans soldiers storm US state capitols.
The militant "trans army" is suited up, ready for combat, apparently.
BREAKING: THE MILITANT TRANS MOVEMENT IS HEREhttps://t.co/qitecxtOVU pic.twitter.com/CJSglAWQzA

— Jack Posobiec ?? (@JackPosobiec) March 30, 2023
And it's no wonder these mentally ill people are so worked up. The Biden White House is actually egging them on, even after six people were slaughtered just days ago.
Just days after a transgender terrorist murdered 7 Christians, the WH @PressSec is calling for a transgender uprising against "hateful, hateful bills" in red states like Kentucky; the trans community, she said, "is under attack" pic.twitter.com/FZdrBpuw3m

— Tom Elliott (@tomselliott) March 30, 2023
One can't help but wonder if this "vengeance" has been thoughtfully crated and delivered by design.
And speaking of vengeance, the meele started in Kentucky, where things got heated after GOP lawmakers overrode Dem governor Beshear's veto on a transgender bill that seeks to ban surgical procedures on minors.
The angry trans mob stormed the capitol and attempted to disrupt the people's business.
It was a "transurrection" that was reportedly worse than 9/11 and Peal Harbor combined.
Here's video footage of the transurrection in Kentucky.
A group of trans protesters stormed the Kentucky Capitol pic.twitter.com/kQQdsJNvqE

— Jack Posobiec ?? (@JackPosobiec) March 30, 2023
And then they all played dead.
Kentucky trans are having a 'die-in' at the State Capitol, after the anti-trans bill was passed. pic.twitter.com/7aHeYV2MyC

— ??ProudArmyBrat (@leslibless) March 29, 2023
Two dozen people were arrested.
Nearly two dozen people were arrested and cited for criminal trespassing at the Kentucky Capitol on Wednesday after protesting a bill in the Bluegrass State pushed by Republicans to ban transgender procedures for minors.

The protest — which came as the state House voted to override Democratic Gov. Andy Beshear's veto of Senate Bill 150 — resulted in the arrests of 19 people, according to a statement shared with Fox News Digital from Captain Paul Blanton, a spokesperson for Kentucky State Police (KSP).

"The Sergeant of Arms requested that KSP assist in restoring order today in the House gallery chambers. KSP gave each individual the option to leave without any enforcement action or be placed under arrest," Blanton said. "KSP arrested 19 individuals. They have been cited for criminal trespassing 3rd degree. The Franklin County District Court authorized that the individuals could be released on their own recognizance."

Last week, Beshear vetoed the legislation that prohibits transgender procedures for minors, as well as restricts bathrooms based on biological sex. Additionally, the bill also bans instruction about sexual orientation and gender identity in schools and empowers teachers to decline using a student's preferred pronoun.
But the vengeance didn't end there.
In Tennessee, three Democrat lawmakers actually joined in with the belligerent trans mob storming the capitol.
The trans mob demanded a ban on assault weapons after one of their own slaughtered six innocent people.
Notice none of them are protesting about "mental health."
Three Democratic lawmakers in the Tennessee state House joined pro-gun control protesters who invaded the state capitol following the tragic Monday shooting in Nashville.

Chants of "no justice, no peace" and "save our children" echoed through the Tennessee House of Representatives chamber as pro-gun control protesters posted up both inside and outside the state capitol building.

Three Democrat state lawmakers — Reps. Justin Jones, Justin Pearson, and Gloria Johnson — brought the Tennessee lower chamber to a halt when they joined in chanting with the protesters.
These cops look overwhelmed by this aggressive and nasty crowd.
?? Nashville: Trans-activists protest and attempt to push through state police at Tennessee State Capitol. pic.twitter.com/mmFL2Kgmqy

— strawberrygirl (@Strawberygirli) March 30, 2023
The trans mob actually went into the chamber:
BREAKINGL: Leftists protest inside Tennessee capitol building, exploit trans terrorist shooting to push gun control. pic.twitter.com/TXGl1tKzjF

— Cassandra (@CassyWearsHeels) March 30, 2023
TRANSURRECTION: Leftists targeting Tennessee lawmakers block hallways of state capitol in Nashvillepic.twitter.com/qIbsYoNDXL

— Jack Posobiec ?? (@JackPosobiec) March 30, 2023
It's incredible that after January 6th, and the abusive clamp down by the DOJ, that this angry, agressive trans mob didn't hesitate to "storm" a US capitol.
They were fearless. Why?
It's almost as if they know we have a two-tier justice system, and that they're held to a completely different standard and can basically get away with murder.
---
PLEASE SUPPORT REVOLVER NEWS — Donate HERE
Subscribe to ad-free and ditch the ads… just $49 per year or $5 per month…
CHECK OUT THE NEWS FEED — FOLLOW US ON GAB — GETTR — TRUTH SOCIAL — TWITTER