Brief note: Soros-funded harridans are still trying to cancel Revolver. We are extremely grateful and fortunate to be supported by our generous readership. Subscribers and Donors help Revolver weather any cancel culture storm. Buy a $49 per year Subscription for yourself and for that special someone, and if you are able and willing to give more, don't hesitate to make a recurring monthly donation — whether it's $1 or $1,000, every bit helps. You can also now easily give the gift of a Revolver ad-free Subscription. Simply go to the Subscribe page and check the "gift" option. Don't be a cheap date! — make it an annual subscription.
---
Believe it or not, the AZ governors race is technically still not over. As a matter of fact, it's heating back up, thanks to a huge court victory for Kari Lake.
On Wedneday, Arizona's State Supreme Court agreed with Kari Lake's argument that lower courts made a mistake when they dismissed her challenge to the "signature verification process" during 2022 midterms.
The justices accepted Lake's contestation of the signature verification process; however, they ruled against Lake on six of seven other claims of voting irregularities. Chief Justice Robert Brutinel wrote in the ruling that the court will adjudicate Lake's claim that Maricopa County failed to comply with Arizona law on ballot tabulation.

Lake is being compelled to show that "votes [were] affected 'in sufficient numbers to alter the outcome of the election'" based on a "competent mathematical basis to conclude that the outcome would plausibly have been different, not simply an untethered assertion of uncertainty."
Kari Lake trails Katie Hobbs by only 17,000 votes.
HUGE: AZ Supreme Court Rules In Favor of Kari Lake, Forces Lower Court to Look at Signature Verification Issues

— Kari Lake (@KariLake) March 23, 2023
And this tremendous victory wouldn't be possible if Kari Lake wasn't such a relentless fighter.
After the controversial 2022 Arizona midterm election, which was tarnished by voting machine problems and ballot issues, Lake vowed to keep fighting.
A series of technical glitches disrupted ballot counting on Tuesday at about one in four voting centers in Republican-led Maricopa County, Ariz., rekindling embers of baseless voter fraud claims in the right-wing media and politicians.

Officials in Maricopa, one of the nation's most populous counties and a focus of efforts to overturn the 2020 presidential election, said the problem affected ballot tabulation machines in about 60 of the county's 223 voting centers.

In the afternoon, the county said it had isolated the problem: printers were not making dark enough markings on the ballots.

Bill Gates, chairman of the Maricopa County board of supervisors, and Stephen Richer, the county recorder, both Republicans, said the problems were disappointing but that voters could still cast ballots and that nobody was being denied a vote.
And that righteous fight just might pay off; as many are now wondering if Kari Lake could actually become the rightful governor of Arizona.
At a recent prayer rally, Kari opened up about her election loss and how God played a significant role in that as well.
At her church prayer rally, Kari Lake implied God told her she would lose her election but still have "the victory."

Lake then said her movement "was led by God" and implied her election loss would "open more eyes and wake more people up." pic.twitter.com/GgUoXHkEuT

— PatriotTakes ?? (@patriottakes) March 22, 2023
Kari is the type of fighter the GOP needs, so of course, the Dems are doing whatever they can to stop her, including their new favorite go-to move: arrest.
Kari took to Twitter where she shared the latest politcal weaponization being used against her for what she says is punishment over speaking out against election fraud.
However, Kari remains defiant.
They want to ARREST me for exposing fraud in the 2022 Election.

Now, the AZ Supreme Court has ruled that the very fraud I highlighted has to be looked at. This is big, folks.

Hit me with your best shot.
I will never, ever back down.

Try me. pic.twitter.com/YDIuprUM1W

— Kari Lake (@KariLake) March 23, 2023
Here's a closeup of the headlines: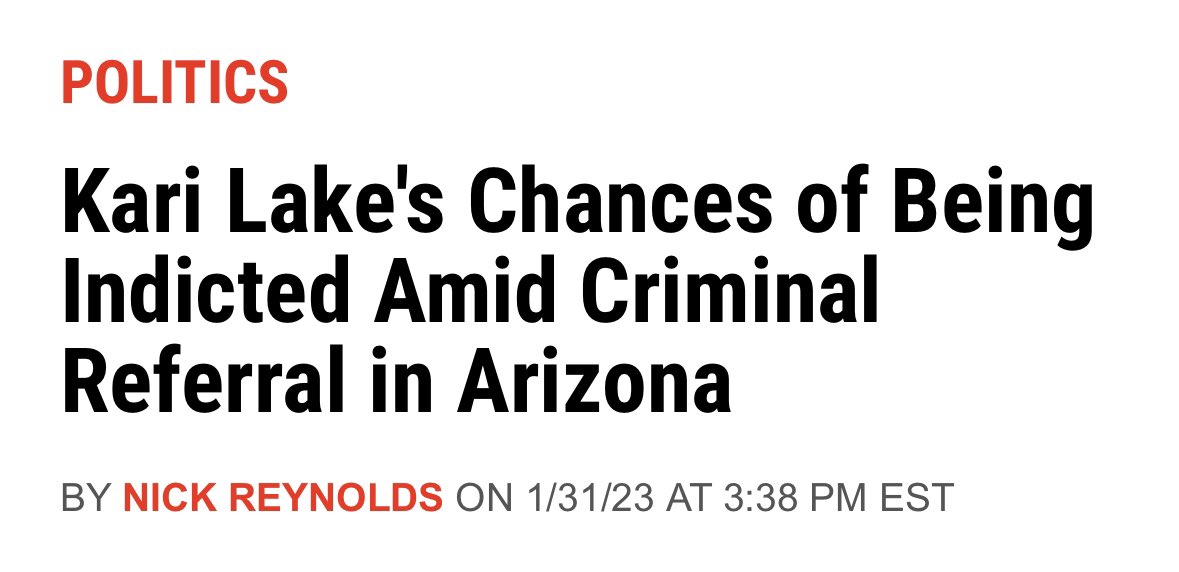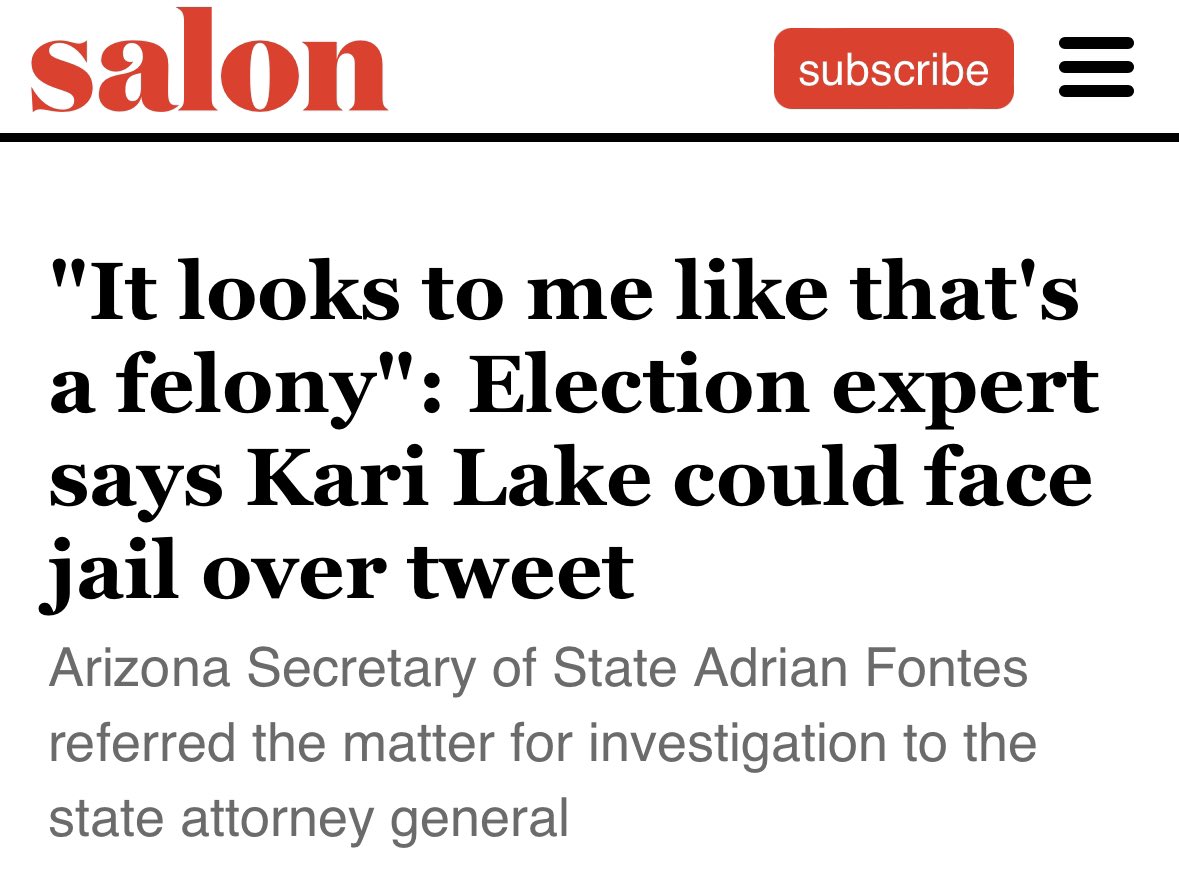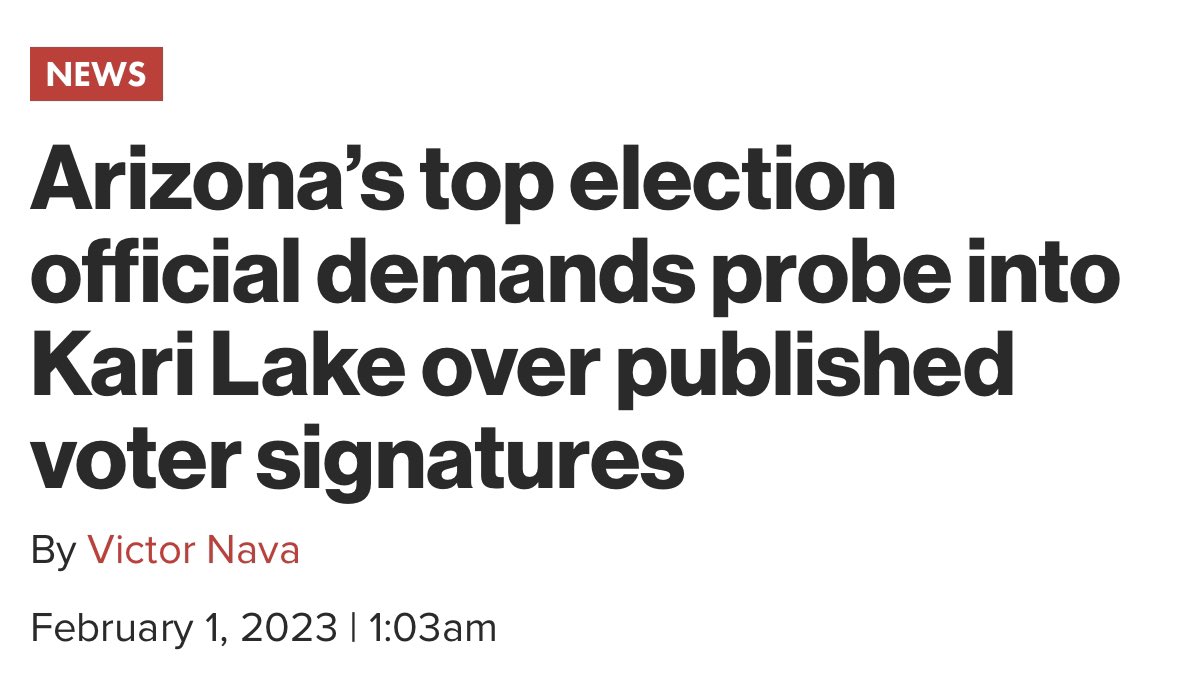 If you can't beat 'em, arrest 'em. That should be the new Democrat mantra.
Thankfully, much like President Trump, Kari is fearless in the face of this new style of  political persecution and warfare, and as a result, the GOP base is behind her 100 percent.
Let's hope Kari wins this epic fight and winds up where she belongs – as the next elected governor of Arizona.
---
PLEASE SUPPORT REVOLVER NEWS — Donate HERE
Subscribe to ad-free and ditch the ads… just $49 per year or $5 per month…
CHECK OUT THE NEWS FEED — FOLLOW US ON GAB — GETTR — TRUTH SOCIAL — TWITTER